Authors
A-E | F-J | K-M | N-R | S-Z | Complete List
« Prev Author (Ian Brinton) | Next Author (Paul Buck) »
Ceri Buck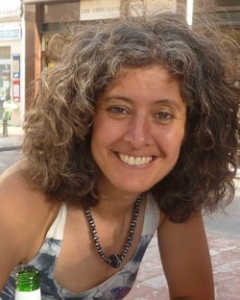 Biography
Ceri Buck studied English at the University of Sussex, then fled the country in the mid 90's to France, then Brazil where the experiences of learning and teaching languages triggered a relationship with language as material -- as sound comprising phonemes, words, lexical chunks, register and style -- in which the acquisition of language necessitated a dedication to newness and experimentation. In Brazil, she also learnt skills with groups committed to social experimentation and, how one might 'sculpt oneself' in Michel Onfray's term, not theorizing a revolution before first creating it in one's everyday life, in permanent struggle with mechanisms of this era of control, micro-control and self-control. Upon returning to London in 2003 she studied on the MA in Poetic Practice at Royal Holloway and since then has been struggling to find ways her writing practice could be a vehicle for or embodiment of her politics.
Notes
Her work considers present convergences between the practices of writers and artists, and the theories and practices of movements for radical social change. On a practical level her work configures how poetic experimentation and social experimentation can dip into each other's box of tactical tricks to create new forms for language and living that can resist the disenfranchisement of the individual and find ways of (re)constructing politicised subjectivities. Other concerns are how the body that performs writing and the site of writing itself address the social issues facing us at this current moment? Does the concept of relational aesthetics help poetic experimentation to materialise consensus, dissensus and other human interactions existing within the political framework. What kind of skills, in relation to one's environment, is one gaining in the act of experimenting in text? Is it possible for writing itself to be a form of activism?
Recordings
Mining for Gold show, Resonance FM, 2005
'Characters out in their thousands' was broadcast live on on the Mining for Gold show, Resonance FM on 17th November 2005. Read by Ceri Buck, Sue Keen and Tam Dean Burn. Sound by Johny Brown & Alisdair McGregor. Violin by Chris Brierly. Found instruments by Alistair.
South London Gallery
The following recordings were done at the South London Gallery.
Bibliography
Sample Text
from 'Characters out in their Thousands'
Let go!
Entrusted handing over of
Bullet
If she's not a troublemaker, then why does she
Vote? I love that feeling when I release the
Ballot into his head
Seven times and once in the neck
It flutters down to the bottom of the box
Which someone greased earlier
Think of the impact.
Dark dim and backwards
Says Bush
Has the SAS gone down the tube?
I'm superficially appalled
Life begins with broadband
And ends with reward cards
See the closed leaf(let)
Daily Express:
BOMBERS ARE ALL
SUFFERING ASYLUM SEEKERS
If you choose to pay by direct debit
This could save, on average
The elite firearms section
Working under enormous pressure
Rest assured in peace
We're doing all we can to keep you
Under enormous pressure
Yours sincheerly
This isn't a democracy,
it's a blue peter competition                     And who remembers Bobby Sands?
She's lost it - yeah
Inroads: Invitation for text game in Central London, 2005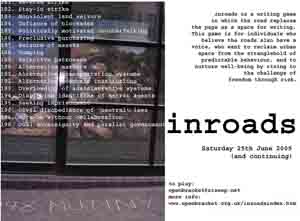 Home of ice arts project: logo for a collaborative writing project, 2006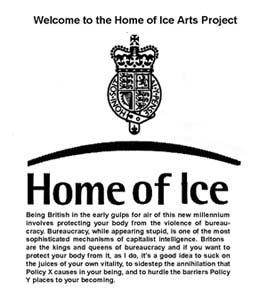 A-E | F-J | K-M | N-R | S-Z | Complete List