Authors
A-E | F-J | K-M | N-R | S-Z | Complete List
« Prev Author (Ceri Buck) | Next Author (James Byrne) »
Paul Buck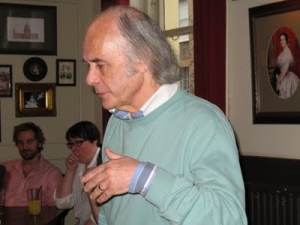 Biography
Paul Buck works as a poet, writer, playwright, artist, performer, translator and teacher in the visual arts. As well as founding the seminal magazine Curtains, which blasted French contemporary writing into British culture, he is the author, editor and translator of numerous published and unpublished works.
Recordings
Stamford Hill, North London, 2006
This reading was recorded on 22 November 2006 in a house in Stamford Hill, north London.
Bibliography
A Public Intimacy (A Life Through Scrapbooks) (Bookworks, 2011)

A-E | F-J | K-M | N-R | S-Z | Complete List