Authors
A-E | F-J | K-M | N-R | S-Z | Complete List
« Prev Author (Nat Raha) | Next Author (Tom Raworth) »
Elaine Randell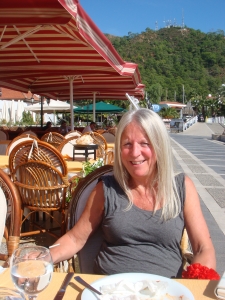 Biography
I have been writing since 1968 and have been published since 1970. I first started published Amazing Grace Poetry Magazine in the 1960's/70's, which became a highly acclaimed small press literary magazine which was published quarterly. I ran the Secret Books Press publishing Tom Rayworth, Allen Fisher and Paul Matthews.
I have always worked full time and have a background socio legal work.
Over the years I have had a number of books published and have also contributed widely to anthologies, some of which are listed.
I served on the Poetry Society Council in the troubled 1970s.
My poetry and prose utilises the skills used in my daily work as a Psychotherapist; listening carefully and closely to what people say and observing what they do. I use those forensic skills in writing. The Guardian newspaper article in 1996 described me as 'working with the casework fable -- a brilliant poet. What elevates the dramatic monologues above raw emotion to real art is Randell's ear for the way language reveals character.'
Recordings
British Library Sound Archive, 2009
This recording was made by Steve Willey on 3 April 2009 at the Sound Archive at the British Library.
Bibliography
Books
Songs of Hesperus (Curiously Strong, 1972)
Telegrams from the Midnight Country (Black Suede Boot, 1973)
Seven Poems (Transgravity, 1973)
A Taper to the Outwarde Roome (Laundering Room, 1974)
The Larger Breath of all things (Spectacular Diseases, 1978)
This, our frailty (Oasis Books, July 1979)
Songs for the Sleepless (Pig, 1982)
Beyond All Other (Pig, 1986)
Gut Reaction (North and South, 1987)
Prospect into Breath Interviews with writer (North and South, 1991)
Selected Poems 1970 to 2005 (Shearsman, 2006)
Faulty Mothering (Shearsman, 2010)
Anthologies
Grandchildren of Albion (New Departures, 1992)
The New British Poetry (Paladin Books, 1988)
Other, British and Irish Poetry since 1970 (Weslyan University Press, 1999)
Broadcasts
Southern TV with Adrian Mitchell (1985)
BBC Radio 4 Midweek Programme (March 2006)
Significant Poetry Readings
Cambridge Contemporary Poetry Festival (1982 & April 2006)
Conference of Translation and Translated poetry British Council (Paris 1985)
Cheltenham Festival (1988)
In July, 2006 composer Bill Connors responded to Songs for the Sleepless and composed a wonderful piece. This was performed as part of the Cardiff Festival 2006.
In 2013, a collaboration with the artist Catherine Jacobs was short listed for the Adrian Henri Prize.
A-E | F-J | K-M | N-R | S-Z | Complete List