Authors
A-E | F-J | K-M | N-R | S-Z | Complete List
« Prev Author (J. H. Prynne) | Next Author (Elaine Randell) »
Nat Raha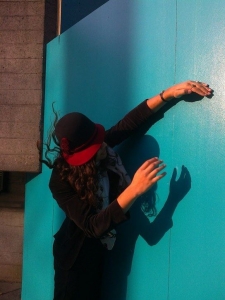 photo by Mendoza
Biography
Nat Raha lives in South London. She is the author of two books - countersonnets (Contraband, 2013) and Octet (Veer 2010), and of pamphlets including radio / threat, two treatise on affective dialectics (sociopathetic 2014), mute exterior intimate (Oystercatcher, 2013), polemics for loudhailer (in Viersomes 001, Veer Books 2012) and Notes on Tauheed (Arthur Shilling Press, 2009). Her work has been anthologised and published in numerous small press magazines. She is undertaking a PhD in Marxist queer theory and contemporary poetry at the University of Sussex, and is co-editor of ninerrors press.
Recordings
Recorded at QMUL 2014
Recorded in the recording studio at Queen Mary University of London by Kester Richardson-Dawes on 27 June 2014.
from 'countersonnets'
from 'radio / threat'
A-E | F-J | K-M | N-R | S-Z | Complete List
« Prev Author (J. H. Prynne) | Next Author (Elaine Randell) »