Authors
A-E | F-J | K-M | N-R | S-Z | Complete List
« Prev Author (Nick Potamitis) | Next Author (Katy Price) »
Frances Presley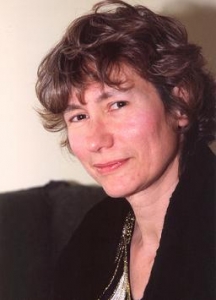 Biography
Born Chesterfield, Derbyshire 1952, of English and Dutch-Indonesian parents. My father's family were miners and farmers in Derbyshire, although he became a teacher.  My mother lived in the Dutch colony of Indonesia until the Second World War, and met my father after being liberated from a Japanese concentration camp.  I have one brother.  We lived first in Derbyshire, then Lincolnshire and finally moved to Somerset. I grew up in the country and had freedom to roam, although the agribusiness was already changing the landscape. My secondary education was at Grantham Girls' Grammar School, where I rebelled against the rounded vowel, and later at Minehead Upper School.
My defining moment in poetry came in 1969 when I first read Ezra Pound's 'Lustra'. My poetic and political interests developed as an undergraduate in the 70s at the University of East Anglia (UEA), studying American literature and history.  I also spent a year in the United States at Franklin & Marshall College where I wrote about contemporary American poetry.  However, in the States I realized that I was European and not just English, and decided to learn more about  European poetry.  My MA thesis at the University of Sussex compared Ezra Pound and Guillaume Apollinaire, and their response to the visual arts.  It was followed by a year at the University of Neuchatel, and research in modern French poetry and surrealism.  Returning to UEA, I completed an M Phil, which was a critique of the contemporary French poet Yves Bonnefoy, and of 'logocentrism' in French poetry.
In 1980 I moved to London to work as a librarian, and later specialized in research and information for community development and anti-racism projects.  More recently I worked part time for the national Poetry Library.  I joined a housing co-operative in North London, which is where I still live.  Although I had been writing throughout the 70s, and publishing in university arts magazines, my own writing and performance came into focus in the 80s.  I was involved in the Sub Voicive readings in their various incarnations, and it was through these that I met my partner Gavin Selerie.  I was a member and later co-ordinator of the Islington Poetry Workshop.  I was also closely involved in the small press North and South, with Peterjon and Yasmin Skelt and David Annwn.  North and South published my first collection of poems and prose: The Sex of Art.
In the early 90s I established my own small press, the Other Press, and published my second book Hula Hoop.  Ian Robinson, of Oasis Books, published my third collection, Linocut in 1997.  I embarked on a major collaboration and performance with the artist Irma Irsara, based around the fashion industry and women's clothing, and part of this project is available in book form as Automatic cross stitch (Other Press, 2000).  I also collaborated on an innovative simultaneous email text and performance with the poet Elizabeth James – Neither the One nor the Other (Form Books 1999).
Somerset Letters (Oasis, 2002), which began as a collaboration with the poet Elaine Randell, experiments with the prose poem, as well as exploring the themes of landscape and rural communities. The sequence Paravane originated with discussions on the How2 editorial board post 9/11, but then focused on the IRA bombsites in London.  It was published  as part of New and selected poems, 1996-2003, from Salt.  Since then I have worked on other landscape sequences: Myne (Shearsman, 2006) takes its title from the old name for Minehead in Somerset.  Lines of Sight (Shearsman 2009) includes an approach to Neolithic stone sites on Exmoor, part of a multi-media collaboration with Tilla Brading, published as Stone settings (Odyssey, 2010).  My current project, Halse concerns trees and tree names and 'halse' is Exmoor dialect for hazel (published by Shearsman in 2014).  My latest book is An Alphabet for Alina (Five Seasons, 2012), a collaboration with artist Peterjon Skelt, which exploits the lexical and visual possibilities of a girl's alphabet.

I have also written various reviews and essays, about my poetic practice and that of other poets, especially British women poets (see bibliography).
Recordings
British Library, 2008
This recording was made by Penelope Woods at the British Library on 14 May 2008.
Lines of Sight launch reading
3 November 2009, Shearsman, Swedenborg Hall, London, 25 mins (no individual tracks).
Set 1: Stone settings
Introduction
Hazel Eardley-Wilmot
White ladder
Brer               
Dina Portway-Dobson
Set 2: Longstones
Triscombe stone
Triscombe stone (4)
Naked boy drunk
Naked boys beaten
The naked boy David
Naked Boy as linguistic confusion
Naked boy
Caratacus stone
& Note on the inscription
West Anstey longstone
Xing the Line
The Apple Tree, Mount Pleasant, 16 July 2012.  Recorded by Colin Still, Optic Nerve, London SE3 7UE.
Bibliography
Poetry Books:
The Sex of Art (London: North and South, 1988)
Hula Hoop (London: Other Press, 1993)
Porous, an art book by Irma Irsara, with words by FP (London: Irma Irsara, 1995)
Linocut (London: Oasis, 1997)
Private writings (Exeter: Maquette, 1998)
Neither the one nor the other, a collaboration with the poet Elizabeth James (London: Form Books, 1999. CD version also available)
Automatic cross stitch, a collaboration with the artist Irma Irsara (London: Other Press, 2000)
Somerset letters (London: Oasis, 2002)
Paravane: new and selected poems 1996-2003 (Cambridge: Salt, 2004)
Myne: new and selected poems and prose, 1976 - 2005 (Exeter: Shearsman, 2006)
Lines of sight  (Exeter: Shearsman, 2009)
Stone settings, with Tilla Brading (Minehead: Odyssey Books, 2010)
An Alphabet for Alina, with Peterjon Skelt (Hereford: Five Seasons, 2012)
Selected Anthologies:
Prospect into Breath: interviews, ed. Peterjon Skelt (North and South, 1991)
Climbing through Fire, editor (Other Press, 1993)
The Smallest Poetry Festival in the World, ed. Robert Sheppard (Ship of Fools, 1994)
Feminist subjects, multi-media: new approaches to criticism and creativity, ed. Penny Florence & Dee Reynolds (Manchester University Press, 1995)
Odyssey 20, Spring 1996, guest ed. Elizabeth Bletsoe
Sub-Voicive Poetry 20, 1996; 24, 1997
Angelaki, 5(1), April 2000, ed. Anthony Mellors & Robert Smith
Oasis, 100, June 2000, ed. Ian Robinson
In the Company of Poets, ed. John Rety  Hearing Eye, 2003
Wozu Vogel, Bucher, Jazz: Gedichte aus England, ed Hans Thill  Heidelberg: Verlag Das Wunderhorn, 2005
Gertrude Stein Awards in Innovative Poetry   ed Douglas Messerli, Los Angeles: Green Integer, 2006
>2: an anthology of new collaborative poetry  ed.  Sheila E. Murphy and M. L. Weber Colorado: SugarMule.com, 2007
quickflip: a How2 e-chap ed Frances Kruk, 2007
The Reality Street Book of Sonnets, ed Jeff Hilson (Hastings: Reality Street, 2008)
Infinite Difference: other poetries by UK women poets, edited by Carrie Etter (Exeter: Shearsman Books, 2010)
The Ground Aslant: an anthology of radical landscape poetry, edited by Harriet Tarlo (Exeter: Shearsman, 2011)
Entanglements: new ecopoetry, ed. David Knowles and Sharon Blackie (Uig: Two Ravens, 2012) 
Cusp: recollections of poetry in transition, ed. Geraldine Monk (Exeter: Shearsman Books, 2012)
Catechism: poems for Pussy Riot, ed. Mark Burnhope and others (London: PEN, 2012)
Critical writings
MA dissertation on 'The convergence of art and poetry in the work of Guillaume Apollinaire and Ezra Pound' (Univ Sussex, 1976)
MPhil thesis on contemporary French poet and art critic, Yves Bonnefoy  (Univ East Anglia, 1986).
"Surrealism and Women, edited by Mary Ann Caws", Word & Image, 9(1), 1993, pp. 90-92
"Cultural and poetic constructedness: review of Nicole Brossard", PQR (Poetry Quarterly Review, 8, 1997, pp. 2-3
"The grace of being common: the search for the implicit subject in the work of Denise Riley", Southfields 5(2), 1999, pp. 47-55.  Also in How2, September 1999.
"Dream drover by Geraldine Monk: a review" in How2, February 2000
"foil: defining poetry 1985-2000, edited by Nicholas Johnson: a review" in How2, March 2001, as above
"Collaboration: Neither the one nor the other by Elizabeth James and Frances Presley, with an introduction on working practice", in How2, Fall 2001, as above
"Neither the one nor the other: aspects of performance within a feminist collaboration", in Additional Apparitions (ed. David Kennedy & Keith Tuma, Cherry on the Top, 2002), pp 172-180.
"September 11: a view from London", part of "Poetry post 9/11: witnessing dissent" in How2, Spring 2002, as above
"Nomadic: a folio for Fanny Howe", PQR, 19, Spring 2002, pp. 19-20
"Sign language and babble: David Miller and Richard Price" Poetry London, 51 Summer 2005, pp. 45-47
'Writing outdoors and outside: Harriet Tarlo and elizabeth james'  Poetry London, 52, Autumn 2005, pp. 33-36
"Common pink metaphor: from The Landscape Room to Somerset Letters", in How2, 2008
"Ring a-ring a-rosy: girls' games in the poetry of Geraldine Monk", in Salt companion, ed Scott Thurston, 2007
"Humour and gravity: the poetry of Alice Notley"  Poetry Salzburg Review, 12, Autumn 2007, pp 173-178
"Inventories", Poetry Review Winter 2008  pp 102-105
"Briggflatts, by Basil Bunting and The Land Between, by Wendy Mulford", Poetry Wales, Winter 2009/10 pp 59-61
"Notes on 'Fluid Canvas'" Forum for Modern Language Studies, 46(4) 2010, pp. 388-390
"Hazel Eardley-Wilmot: a search for origins", Exmoor Review, 52, 2011, pp. 48-50 and longer version in Junction Box, 1, 2011
Translation
One of a group of poets co-translating the long modernist poem by Paul Van Ostaijen 'Bezette Stad', organised by Karlien Van den Beukel.
Salt on the eye: selected poems  Hanne Bramness  (co-translated by Hanne Bramness and Frances Presley)  Exeter: Shearsman, 2007
Outside the Institution: selected poems  by Lars Amund Vaage, co-translated by Hanne Bramness and Frances Presley  (Exeter: Shearsman, 2010)
No film in the camera  by Hanne Bramness, translated by Frances Presley and Hanne Bramness  (Exeter: Shearsman, 2013)
Journals and websites
Sample Text
Naked boy
1
nest more
perforce
range up
naked boy
nay   nay    ced
head truculent cede
it has its spine
like a boy leaning
like a boy stripped bare
a green coat for the quartz
a pelt
let us pelt
2
the naked boy
rests into the stone
put him up against
what did he say
he's disappearing
he's going to turn right
he's climbing over the gate
two bodies that prop each other up
one animal one human
3
fossilised face
worn down
ossified
turn away
we have gone down
we have gathered
we have emerged
watching the wind farm
leave
drink
protest
high flown pheasant
4
he holds a lap
it shapes a lap
shIPS that we need?
SHAPES
shiplap
just the common name for over
lapping
slates    and  plates
we have overlapped
at Naked Boy, a Neolithic standing stone on Exmoor
12 April 2007
from Lines of Sight
c
corn or finding spaces
to insert a body a core as if
in sand  cupped corn crushed
sinking body  singing cornflower
at the end of summer   corn  o tone
cactus corner a lexis can spike
can needle the finger that would
touch that would explore a corner
cupboard capacity to close to exclude
she keeps a collection that says look out
john barleycorn is dead
they came and cut him down
but a bloodless combine has left
three days stubble and the capacity to
cut you are too cutting and break the code
Reviews
'Frances Presley's writings range from vivid human stories to a bareness where it's as though one is witnessing the process of creating language. We're invited to enter a landscape of intimate histories, past and present: the marvels and mysteries of other people's lives, their 'ordinary' lives, and the natural world that surrounds them. It's a poetry that pulls us in, that involves us in conversations and questions. There's an immediacy that makes us look again at our shared world.' -- Lee Harwood
'Frances Presley is a splendid and authentic poet whose work shines with exact edge and luminous presence of what she notices and chooses to translate into language' -- Kathleen Fraser
'Presley's poems are minesweepers working below the surface to explode the breezy assumptions of Thatcherist consumer capitalism, or to explore what has already caved in' -- Meredith Quartermain
'Frances Presley's writing engages with serious political concerns underscored with deeply personal experience. The world 'out there' of unrest, injustice and conflict is not something to be compartmentalised but co-exists with the domestic on equal terms. A summer flower or childhood memory in Somerset blossoms next to the exploding horrors of semtex. She is not a poet to shy away from life but pushes language into its face until it yelps.' -- Geraldine Monk
'In Automatic cross stitch Presley achieves an intricate interstitching of voices, narratives and linguistic textures. She exploits the multivalency of the language of cloth, allowing individual words to raise questions of body politics.' -- Harriet Tarlo
See also:
'Go Quotiently: contemporary British poetry from Shearsman', by G. C. Waldrep, Kenyon review, Spring 2012
 'Pattern needs another stone: Lines of Sight' by Anna Reckin Jacket 40 (2010)
 'Remembering & interpretation: Lines of Sight', by Steve Spence Stride
 'Leading off the path: a review of Frances Presley, Myne: new & selected poems and prose' by Clive Bush Jacket 31 (October 2006)
A-E | F-J | K-M | N-R | S-Z | Complete List