Authors
A-E | F-J | K-M | N-R | S-Z | Complete List
« Prev Author (Frances Presley) | Next Author (Richard Price) »
Katy Price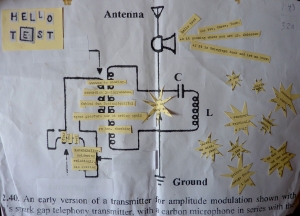 'Hello Test' for voice, foghorn, phonograph and disagreeable noise. With Aleksander Kolkowski.
Biography
Katy Price lives and works in London, UK. She is a historian of science and popular culture, and teaches English Literature at Queen Mary, University of London. Her texts works and performances in collaboration with Aleksander Kolkowski engage with the history of sound technology.
Recordings
QMUL recording studio
Recorded by Kester Richardson-Dawes in the Queen Mary University of London recording studio on Monday 10 March 2014.
Bibliography
'Hello Test' for voice, foghorn, phonograph and disagreeable noise. With Aleksander Kolkowski. Science Museum, 19 May 2014. Broadcast on Resonance FM, 27 May 2014
Babble Machine, a sound installation at the Science Museum, November 2012, with Aleksander Kolkowski and Alison Hess
'Accessories', in Catechism: Poems for Pussy Riot, edited by Mark Burnhope, Sarah Crewe & Sophie Mayer. English PEN: 2012.
'Kippered (Edison) Herring' (overdubbed poem on wax cylinder, 34 lines) in Phonographies (2011), curated by Aleksander Kolkowski.
'Singing in Tongues' (poem, 14 lines) in Collective Brightness: LGBTIQ Poets on Faith, Religion & Spirituality (2011), edited by Kevin Simmonds.
Three hangings, created with Andrew Nightingale, wired by Richard Hoadley and used in 'Triggered' at King's Place, London, 13 June 2011.
'Under the Yoke', with Tom Hall, for narrator, electric guitar, flute, trombone, percussion, laptop with 8 channel sound. SuperCollider Symposium 2010, Berlin. Performed by members of Ensemble United Berlin and the composers, Friday 2010-09-24, Kleiner Wasserspeicher, Diedenhofer Strasse, 10405 Berlin.
'Not at the Bovine Sex Club on Queen West' (fiction, 2830 words). Chroma: a queer literary and arts journal. 11 (2010). Excerpt read at BFI, 2 July 2010.
Bookmachine, for voice, books and computer. 8 minutes. Performed by Katy Price and Andrew Nightingale. Kettle's Yard, Cambridge, 9 May 2010.
'deposition' (poem, 19 lines). ekphrasis: poems in response to paintings by Tom de Freston, ed. Kiran Millwood Hargrave. Freewood Publications. 2010. ISBN 978-0-9565268-0-9. Performed at the Brick Lane Gallery, 7 April 2010.
BlastUp! (interactive digital poem-manifesto, collaboration with babel, a contemporary celebration of Vorticism), October 2009.
Haibun/Haiku, for voice and computer playback. 7 minutes. Kettle's Yard, Cambridge, 10 May 2009.
'Ship's Radio,' (poem) Blackbox Manifold 1, 2008.
'The day the blue track died,' (poem) Seam 27, 2007.
A-E | F-J | K-M | N-R | S-Z | Complete List
« Prev Author (Frances Presley) | Next Author (Richard Price) »