Authors
A-E | F-J | K-M | N-R | S-Z | Complete List
« Prev Author (Peter Brennan) | Next Author (Ian Brinton) »
Andrew Brewerton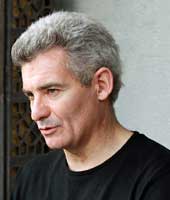 Biography
Born Wolverhampton (1958) and lives in Devon. Read English at Sidney Sussex College, Cambridge (1977-80); Lettore in English at Università dell'Aquila (1980-2).
Principal of Dartington College of Arts since September 2004, following eight years as Dean of Art & Design and Professor of Glass at the University of Wolverhampton, where he had been Head of Glass for two years after a decade working in the glass crystal industry -- five years respectively in glass production at Stuart & Sons Ltd., and as Head of Design & Development at Dartington Crystal. Honorary Professor of Fine Art at Shanghai University since 2000. Visiting Professor, University of Plymouth.
Recordings
Stamford Hill, North London
The recording was made on 17 January 2007 at a house in Stamford Hill, north London.
From 'Raag Leaves for Paresh Chakraborty'
Bibliography
Published work includes Sirius and Cade l'uliva (Poetical Histories, Cambridge 1995 and 2003) and inclusion in FOIL: Defining Poetry 1985-2000 (Etruscan Books, 2000). Work has appeared in The Gig (7 & 16); Sneak's Noise (infernal Histories/Poetical methods, Cambridge 1998); and Two Entangled Events (2005). 'The hour the swallow keens, a translation of Dante Alighieri, Purgatorio IX, appeared in A Meeting for Douglas Oliver (Cambridge, infernal methods/Street Editions/Poetical Histories, 2002); and three poems under the title 'Da'ud' can be found online at /seconds issue 04. A lyric sequence, Raag Leaves for Paresh Chakraborty, will be published by Wild Honey Press in 2007.
Critical writing, principally on contemporary glass, has been translated variously into Chinese, Danish, French, German, Italian, Spanish and Malay, and includes essays on the work of Keith Cummings, Antoine Leperlier, Colin Reid, and Ann Wolff. Three recent texts are available as internet publications: Stair Spirit: Observations of Ann Wolff; Touching the Void on Heidegger, Daoism and lost wax casting; and 'Antoine Leperlier: tralucentes novi liquores fluxisse', in Antoine Leperlier: La métaphysique du verre (Paris, Editions Réunion des musées nationaux).
Sample Text
Four sample texts
                                                touching so
to speak        phænomenal distance        what is there
here        slips between here        and there        horizons
edges        bed        to table coffee        cup water        jug
glass open        window outside        tall hedgerow        insects scaling slant evening light        new moon unseen        all this 
thirsting        after presence        in your eyes        love
making touching so        stripped thread        bare melody
                                light catches        like
blown graphite        grainy         draws your eye
in a negative snow cast        wintering light in shadow
scree        pictures     the news        a spilt figure        blood 
proof        boot stamp blood        shed in snow        some
rearguard mandate that was         it was neither
a staying nor a going        says the diplomat        just
a quiet reduction        to safe areas
plunge pool          over the wrist slipt
ice lit        noose of water        takes
my hand away        streaming hand
to mouth taken in        drinks in the hollow
of its making        open gifts pour
through thin        skin my emptying
hands        flying white        without haste
and without rest
                                a strip of gauze
unwinding        diesel fabric        coarse day
light fibres        loosely bound        a stone's 
throw        from there        but there        is a path
even to that distance        vertiginous        given the lie
of the land    beyond words        choking song
throat burns        and gags        stop your mouth
with rags
Reviews
Review of Total Writing London (2003) reading by Nate Dorward in ParisTransatlantic
Review of 2006 Cambridge Conference of Contemporary Poetry (CCCP16) reading by Chris Goode in nypoesi (Norway)
Review of FOIL by Tim Allen at Terrible Work
A-E | F-J | K-M | N-R | S-Z | Complete List