Authors
A-E | F-J | K-M | N-R | S-Z | Complete List
« Prev Author (Drew Milne) | Next Author (Avaes Mohammed) »
Carol Mirakove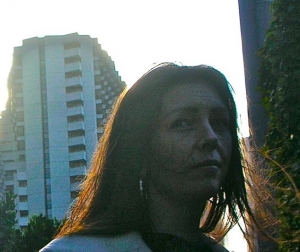 Biography
Born in Queens, New York, my love of poetry began at a young age and ignited while studying at University of East Anglia in Norwich. Following a mentorship with Lee Upton at Lafayette College I earned my MFA at George Mason University with Carolyn Forché as my advisor, during which time I became involved with the very vibrant poetry community in Washington, DC, organized by Mark Wallace, Rod Smith, Buck Downs, Joe Ross, and Heather Fuller.
I am a founding member of the subpress collective, with whom I published Fractured Humorous by Edwin Torres. I lived in NYC from 2001-2009, during which time I was a workshop leader at The Poetry Project and I served the arts newspaper Boog City as poetry editor and, with Jen Benka, as politics co-editor.
As of 2011, I live in San Francisco, California, where I am on the Board of Directors at Small Press Traffic and a member of Nonsite Collective.
Recordings
Festival
The following recording was made at the Contemporary Women's Experimental Poetry festival, held 6-8 October 2006 in Cambridge, UK and organised by Emily Critchley with help from Catherine Brown.
Bibliography
Recordings
PennSound

, recordings of readings in NYC, Philadelphia, and Oakland

Women in the Avant Garde

, a 90-minute double-CD featuring Laura Elrick, Heather Fuller, Carol Mirakove, Kristin Prevallet, and Deborah Richards recorded at St. Mary's College in Maryland, UDA, as part of their women in the avant garde poetry series

The Social Mark at Slought Foundation

organized by Aaron Levy and Louis Cabri; "[T]here cannot be a situation where the writer creates something that does not carry its social mark." —Osip Brik
 Books and Pamphlets
The Collective Task

poems and art by Tim Davis, Monica de la Torre, Stacy Doris, Robert Fitterman, Sabine Herrmann, Klaus Killisch, Carol Mirakove, Yedda Morrison, Kim Rosenfield, Lisa Sanditz, Rod Smith, and Juliana Spahr (Patrick Lovelace Editions, 2010)

1,138

, poems in collaboration with Jen Benka (Belladonna, 2007)

Occupied

, poems (Kelsey St. Press, 2003)

temporary tattoos, poems (BabySelf Press, 2002)

WALL

, poems (ixnay, 1999)
Journal publications
Include The Brooklyn Rail, The Capilano Review, Dusie, The East Village Poetry Web, How2, Jacket, MiPOesias, Quid, Rattapallax, Tool a Magazine, Try, West Coast Line, and West Wind Review.
Conversation
Sample Text
Reviews
A-E | F-J | K-M | N-R | S-Z | Complete List