Authors
A-E | F-J | K-M | N-R | S-Z | Complete List
« Prev Author (Mendoza) | Next Author (Carol Mirakove) »
Drew Milne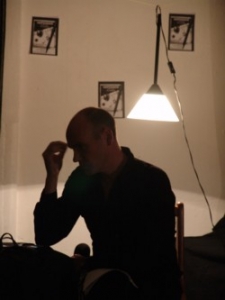 Drew Milne reading at the Openned series, The Foundry, London, September 27th, 2006.
Biography
Drew Milne was educated in Edinburgh and Cambridge. He has previously taught at the universities of Edinburgh and Sussex and since 1997 he has been the Judith E Wilson Lecture in Drama and Poetry, Faculty of English, University of Cambrige. In 1995 he was poet in residence at the Tate Gallery, London. He is married to Dell Olsen.
Recordings
Highbury, North London, 2005
This recording was made on 20 August 2005, at Drew's flat in Highbury, north London. The brief recorded texts are from Go Figure (Cambridge: Salt, 2003), with titles supplied from the initial lines of pages from this book sequence.
Bibliography
His principle books of poetry are:
Sheet Mettle (London: Alfred David Editions, 1994)
Bench Marks (London: Alfred David Editions, 1998)
The Damage: new and selected poems (Cambridge: Salt, 2001)
Mars Disarmed (Barrington, M.A.: The Figures, 2002)
Go Figure (Cambridge: Salt, 2003)
With Simon Jarvis he edited the journal Parataxis: modernism and modern writing. He continues to edit the occasional imprint Parataxis Editions. With Terry Eagleton he edited the anthology Marxist Literary Theory: A Reader (Oxford: Blackwell, 1996). He also edited the journal Modern Critical Thought (Oxford: Blackwell, 2003). He has published a number of essays on critical theory, poetry, drama and performance criticism, and has a number of forthcoming critical books.

His work has been featured in a number of anthologies, including:
Conductors of Chaos, ed. Iain Sinclair (London: Picador, 1996)
foil: defining poetry 1985-2000, edited by Nicholas Johnson (Buckfastleigh: Etruscan Books, 2000)
Anthology of Twentieth-Century British & Irish Poetry, ed. Keith Tuma (New York and Oxford: Oxford University Press, 2001)
Justified Sinners: an Archaeology of Scottish Counter-Culture (1960-2000), edited by Ross Birrell & Alec Finlay (Pocketbooks / Morning Star Publications / Polygon, and others, 2002)
Vanishing Points, eds. Rod Mengham and John Kinsella (Cambridge: Salt, 2004)
Links
homepage: (currently under reconstruction).
Salt's author page, which includes links from which to buy some of his books.
Penn Sound, which includes recordings of Drew Milne reading from his work and being interviewed by Charles Bernstein.
Reviews
'Drew Milne's striking and vigorous sequences of poems collected here show that non-bogus modernism, i.e. the outward push of aesthetics and politics together, did not die the death as some have thought. Beckoning disjunctions and witty deformations shine their torch on tawdry contemporary reality, but lyrical moments and Scottish echoes fill the interstices with pleasing difference.' Edwin Morgan on Sheet Mettle
'No one could accuse Drew Milne of not having a way with words. He wrings them together to produce a skewed luxuriance.' Phil Baker in The Guardian

'A complex, resourceful, clear-eyed drive and continual eruptions of material difference result in a genuinely original and unplaceable set of articulations which can combine efforts of serious ethical inquiry with a freewheeling aleatoric delinquency.' Robin Purves in Object Permanence

'Lyrical social critique becomes a plausible art in Drew Milne's Go Figure, which gives us radical-informed iconoclastic arrays that are not so bitter as they are bittersweet.... Milne's rhetoric displays a subtle, internalized argument that draws one to its cause.' Marjorie Welish
A-E | F-J | K-M | N-R | S-Z | Complete List