Authors
A-E | F-J | K-M | N-R | S-Z | Complete List
« Prev Author (Siddhartha Bose) | Next Author (Peter Brennan) »
Andrea Brady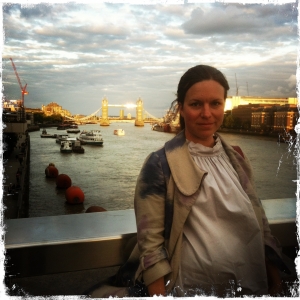 Biography
Born in Philadelphia, USA, 1974. Studied at Columbia University in New York and then at Cambridge University in the UK, where I wrote a PhD on seventeenth-century poetry. Now Professor of Poetry at Queen Mary, University of London.
I have given many public readings in the UK, Europe, the US and Canada, including at the Kootenay School of Writing in Vancouver; the Centre Internationale de Poésie Marseille; Poetry Hearings Berlin; the Foundation Louis Vuitton, Paris; and a reading tour of the rust belt USA in April 2007. The US tour was mounted in support of the recent special issue of Chicago Review (53.1) on New British Poetry, which focused on my work along with that of Chris Goode, Peter Manson, and Keston Sutherland. I have been invited to speak as an expert by the British Council, the BBC, the Arts Council, and the Poetry Society. My work has been translated into Finnish, French, German, Greek, Spanish, Slovene, and Slovak.
I was interviewed by Andrew Duncan for The Argotist website and by Sarah Howe at praccrit. With Keston Sutherland I run the small press Barque which specialises in contemporary English language poetry.
I am the Director of the "Archive of the Now." I discussed the Archive with Rosheen Brennan in an interview for How2.
@archiveofthenow
Recordings
Drone Poetics

Reading from the long sequence 'The Blue Split Compartments' and talk on 'Drone Poetics' at Stillpoint, London, 15 April 2018.

Reading at Hi Zero 28

Performance at the Hope, Brighton, on 14 October 2014, at a reading with Stuart Calton and Luke Roberts. Hi Zero is organised by Joe Luna.

Book of the City of Ladies

The Book of the City of Ladies was performed at POLYply 30 on 5 June 2014. The sequence of readers was as follows: Andrea Brady, Kristen Kreider, Prue Chamberlain, Nisha Ramayya, Francesca Lisette, Andrea Brady. Thanks to Jeff Hilson for making the recording.

Reading at Kootenay School of Writing

This performance took place in Vancouver on 17 September 2005.

Cambridge Women's Experimental Poetry Festival 2006

The following recording was made at the Cambridge Women's Experimental Poetry festival, held 6-8 October 2006 in Cambridge, UK and organised by Emily Critchley and Catherine Brown.

from 'Wildfire'

Crossing the Line

Most of this recording was made at Crossing the Line, the Plough, Museum Street, London, on 7 October 2005.

Video