Authors
A-E | F-J | K-M | N-R | S-Z | Complete List
« Prev Author (Ben Borek) | Next Author (Andrea Brady) »
Siddhartha Bose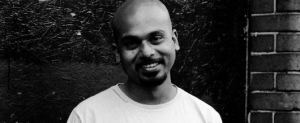 Biography
Siddhartha Bose is a writer, poet and playwright based in London.
Siddhartha's books include two poetry collections, Kalagora and Digital Monsoon (Penned in the Margins, 2010/ 13), a monograph on the grotesque, Back and Forth (Cambridge Scholars Publishing, 2015), and a play, No Dogs, No Indians(Penned in the Margins, 2017).
Siddhartha's poetry has appeared internationally in Voice Recognition: 21 Poets for the 21st Century (Bloodaxe, 2009) Dear World and Everyone in It: New Poetry in the UK (Bloodaxe, 2012), The HarperCollins Book of English Poetry (HarperCollins, India, 2012) among others. He has been featured on BBC 4 (TV), BBC Radio 3, BBC Asian Network, BBC Radio London, and was dubbed one of the 'ten rising stars of British poetry' by The Times. He has been a featured author at festivals and venues like the Edinburgh International Book Festival, Latitude, Alchemy, the British Council Showcase, Berlin Poetry Hearings, Turku Poetry Week (Finland), New York University, Oxford University, Kings College London, Royal Festival Hall, Ronnie Scott's Jazz Club, and the House of Lords at the British parliament among many others. A selected readings and performance history is available here.
Siddhartha's theatre work includes a one-man play, also called Kalagora (2010-12), which had an acclaimed run at Edinburgh Festival Fringe 2011, London's Perverted Children (2013-14), long-listed for an Oxford Samuel Beckett Theatre Trust Award, and The Shroud (2014). His shows have sold out the Brighton Festival, Southbank Centre, Norwich Arts Centre, RichMix London, and The Yard, among others.
Siddhartha has co-edited a special issue of the leading literary journal Wasafiri (Routledge, UK/ USA) on international urban writing. He was a Leverhulme Fellow in Drama at Queen Mary, University of London (2011-13). A selected awards and grants history is available here.
Siddhartha has made an ethnographic film on Bombay, Animal City. He also plays with street photography in his spare time.
Siddhartha is an Associate Artist at Penned in the Margins.
Video
A-E | F-J | K-M | N-R | S-Z | Complete List