Authors
A-E | F-J | K-M | N-R | S-Z | Complete List
« Prev Author (Alan Hay) | Next Author (Oli Hazzard) »
Sarah Hayden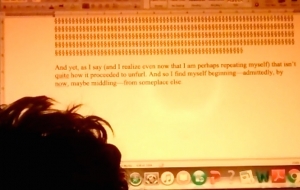 Sarah Hayden
Biography
Sarah Hayden writes poetry, prose-for-art and criticism.
Her poems have appeared in the chapbooks Exteroceptive (Wild Honey, 2013), System Without Issue (Oystercatcher, 2013) and Turnpikes (Sad Press, 2017), in magazines including Tripwire and Golden Handcuffs Review, and online in Datableed and elsewhere. Her work has been performed in the UK, Germany, Ireland, US and Czech Republic and has been translated into German and Czech.
She is a Lecturer in the Department of English at the University of Southampton, where she currently directs the Centre for Modern and Contemporary Writing and runs the Entropics reading series. She is the author of Curious Disciplines: Mina Loy and Avant-Garde Artisthood (University of New Mexico Press, 2018) and co-author, with Paul Hegarty, of Peter Roehr: Field Pulsations (Snoeck, 2018). From 2013-2017, she was on the organizing board of the SoundEye Festival in Cork.
Recordings
Bibliography
Chapbooks:
Selected Individual Poems:
In Translation:
Sample Text
While she sleeps, new steel sprouts. She stirs to find the floorplan rearranged. Fittings have been remoulded to curb new insertions. The hill that was, isn't. Low alpines are already bedded in. Their roots insinuate, indiscriminate. There is even moss. Nowhere is there clear line of sight. Lenses swerve near to far. Bile rolls tidal with each creaking jump convergence. She cannot be sure that this was her orientation on retiring. She does not know it for the same bed, until she sniffs the sheets and they do not jar at least and so she pulls a flattened still clammy pillow across her face which is tautening like drying canvas and while she sleeps, new steel sprouts.
Reviews
'Turnpikes is primarily concerned with this first exclusion: the animal from the human world – but also the very existence of a division between the animal and human world; and the articulation of the existence of the human in the animal world. "Though the aperture is known to exist, its operation must never be assimilated." The book asks why we assume the necessity of this division. Perhaps the most interesting parts of the book are where it accepts the division, and through this acceptance, carves away at it, blurs it, until the performance of that question becomes a kind of expression of "humanimality. [...] John Berger wrote that "animals first entered the imagination as messengers and promises." It is interesting to try and write into an animal. Repeated assumptions come into clear relief. The writing itself becomes the process as each sentence is put down and the next sentence refines it. This wonder and refinement is performed in Turnpikes."'- Mike Saunders, Hix Eros 8
' "Sitevist", on the other hand, presents us with a caustic rendition of architecture as power and power as architecture: "it would teach you... it would have you leave... it would have you believe... it seeks to hold you forever." Its self-aggrandising belief in its own capacity is laughable yet performative, ensuring its effect. It sets out to engulf, to optimise life through structure: "no expanse is spared". It has thought of everything and it thinks of itself as generous. It reproduces a thin slime of desire magnetised by its virility: "they want what is in each other / they would turn each other inside out/ ...<you had me at [important earthworks]>."
'Critique here refuses to separate itself from its object, because separation is the mode of its object (plan vs. the space planned). Through this refusal to separate, the critique becomes caught up in the libido of the planners.'- Charlotte Thießen, Joel Scott & Sam Langer, Artichoke 10
'Hayden purports to examine through poetry the workings of the senses. However, the senses can be deceived, and perhaps more to the point here, deranged. Hayden is more interested in simulating exteroceptive disruption, through language use, than straight-forward, "accurate" description/imagery, which quickly becomes obvious in the first section of "Optic": "this exhibit has been removed from view / but pulses still in its tang in a high-chem vibrato".'- Mike Begnal, Burning Bush 2
'That enamelled combination of the smooth, the glossy and the perfected sets a scene for a remarkable sequence of poems which, whilst at some moments eschewing any personal air, at other moments play within the linguistic associations of a lyrical tradition. One of the fascinating qualities of this writing is its ability to both keep the reader at arm's length and at the same time to present an echoing yearning for attachment. The 'system' may be without issue but the interweaving of linguistic associations determine some very palpable issues.' – Ian Brinton, Tears in the Fence
A-E | F-J | K-M | N-R | S-Z | Complete List