Authors
A-E | F-J | K-M | N-R | S-Z | Complete List
« Prev Author (Rishi Dastidar) | Next Author (James Davies) »
Ian Davidson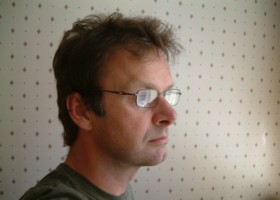 Biography
I live in Wales, where I've been most of my life. I studied as an undergraduate and postgraduate at the University of Essex and, after working at a variety of different jobs, teach literature and creative writing in the School of English at the University of Wales in Bangor. My poetry has been published in magazines, pamphlets, booklets and full-length collections since the early 1980s.
two web spaces: http://partlyinriga.wikispaces.com and http://www.seedwiki.com/wiki/stitch_in_time.
Recordings
Hill Street, Menai Bridge
The reading on this website was recorded and edited by Alan Holmes in his studio at Hill Street, Menai Bridge. My thanks to him
Bibliography
Poetry Pamphlets, Chapbooks and Books
1983    It is Now as it Was Then (With John Muckle), Actual Size, London. 24 pages.
1989    No Passage Landward, Open Township, Hebden Bridge. 24 pages.
1991    Human to Begin With, Poetical Histories, Cambridge. 8 pages.
1991    The Patrick Poems, Amra Imprint, London. 24 pages.
1995    Wipe Out, Short Run, Cheltenham. 8 pages.
2003    Human Remains and Sudden Movements, West House Books, Sheffield. 24 pages.
2003    Harsh, Spectacular Diseases, Peterborough. 48 pages.
2004    At A Stretch, Shearsman Books, Exeter. 112 pages.
2005    No Way Back, West House Books, Sheffield. 8 pages.
2006    As if Only, Shearsman, 112 pages (forthcoming January 2007).
Work has also been published in a variety of magazines and journals including: Fire, Shearsman, Oasis, Jacket, Poetry Wales, Ecopoetics, Chicago Review, The Gig, The Paper, Masthead and others. My thanks to all the editors.
I have read my work at Subvoicive, Verbals, Soundeye, Schiporst Avant Garde Festival, CCCP, Bay Lit Festival and others.
Ideas of Space in Contemporary Poetry is forthcoming from Palgrave MacMillan in May 2007.
Sample Text
No Way Back

Sun shifts position
wind from another
quarter blockages
the movement of water
concentration poor or off centre
heart turned over love and
sex the worn rock undercut
a wash from the west

There is no second chance only the
rearrangement of the senses the
pull of the heart sings discordant
across the generations of the things that
move us most; bone, muscle, blood
the desire for the perception
of beauty the desire for the
attainment of beauty

There is no second wind
air moving past or the blow
to the head and catch as catch can
a few words clutched beyond the
point of no return he turns and
disappears as a figure of speech
points to the horizon look at
that

I compose myself a series of
crotchets minims things I could
well do without membership
expired and the aspiration
to fulfil the task of a
better world I arrange
organs of speech clear my
throat begin to say something

The sea drags shingle
over and over the stone in
heaps of stone more smooth
granite pebbles more marble
and what can politics tell me
of the soft landscape
of the body or the hard wiring
of sex or what can landscape

Tell me of the soft politics
of the body of the first
fix the performed
operation as the
memory of a warm body etched
in the soft tissue as it drips
word by word as it
tears itself sentence by

Sentence as it storms
image through dirty image and
the arguments go on in a parody
of logic as if the answer is
buried in the disorganisation
as if once the bits and pieces
of the past are finally slotted
into place or maybe the

Unexamined life is the better
option or the air from an open
window and what can
intelligence tell me I don't
already know as if the tips of
the fingers or the mobile lips
could lie and in confidence here's
the lines from around my eyes

From staring at the setting sun
from a westerly coast where
the rocks in layers lower themselves
into the sea and the guillemots
come and the choughs flash their
legs or the puffins and I'm still
scared to go up high into the
lighthouse still and scared to look back
Reviews
In his article on Human Remains and Sudden Movements and At a Stretch in the literary journal Welsh Writing in English, Matthew Jarvis said: 'In the terms set up by Ian Davidson, ecocritics fail to accept their full responsibilities as environmental literary critics unless they pursue an understanding of space and place which takes due account of their 'human remains' and politicised 'sudden movements' ...'
In Chicago Review the critic Eric Elshtain said: 'Deceptively simple, Davidson's poetry is some of the best political poetry this reader has encountered in a very long time.'
Peter Finch, reviewing At a Stretch for the journal Planet says: 'The music is one of dissonance and the feel one of continuous present..... Davidson is a poet of conviction with rare touches of humour, mainly puns, and an agenda of onward shift, connecting the local with the global and "terminal with terminal".'
And Matt Jarvis again in the journal English said of Human Remains and Sudden Movements:'The result is a spectacular mosaic which, whilst clearly demanding close and sustained readerly attention, becomes an exhilarating journey through a variety of half-seen vistas which build upon one another with distinct power as the collection progresses.'
Nate Dorward in the Canadian magazine The Gig says: 'I picked up Ian Davidson's Human to Begin With (Poetical Histories, 1991) from Peter Riley (Books) years ago and was fascinated by its picaresque seriocomedy, pitched somewhere between James Kelman and Tom Raworth... some of [his work] could be called "nature poetry," I suppose -- but a nature poetry completely wired, plugged-in and mediated, verging on the territory of John Wilkinson's contemporaneous Welsh sequence Sarn Helen.'
A-E | F-J | K-M | N-R | S-Z | Complete List
« Prev Author (Rishi Dastidar) | Next Author (James Davies) »