Authors
A-E | F-J | K-M | N-R | S-Z | Complete List
« Prev Author (Ian Davidson) | Next Author (Amy De'Ath) »
James Davies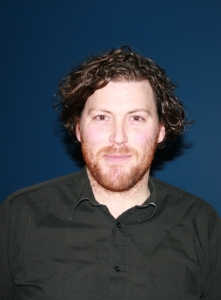 Biography
A text version of Acronyms was published in 2010 in issue 11 of the online magazine onedit, as a video artwork in the exhibition WRITING/EXHIBITION/PUBLICATION and has had other incarnations in live performance. unmades is a sequence from Plants, published by Reality Street, and was featured on BBC Radio 3's The Verb in 2011. Two Fat Boys is forthcoming from Knives Forks and Spoons in 2014 but was written in Copenhagen in 2004. stack is a work in progress. Other works of note, not recorded here, include A Dog published in 2013 by zimZalla and projects made with Simon Taylor as Joy as Tiresome Vandalism. For the last 6 years I have run the poetry night and website The Other Room and edited the publishing house if p then q. I grew up in Clacton-on-Sea and now live in Manchester.
Recordings
QMUL recording studio
Recorded by Jesse Ashman at Queen Mary University of London on 31 January 2014.