Authors
A-E | F-J | K-M | N-R | S-Z | Complete List
« Prev Author (Fiona Curran) | Next Author (Ian Davidson) »
Rishi Dastidar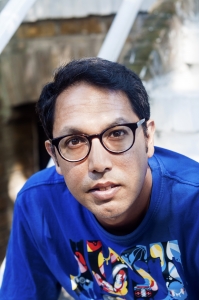 Rishi Dastidar
Biography
Rishi Dastidar's poetry has been published by Financial Times, New Scientist, Tate Modern and the Southbank Centre amongst many others. His work has featured in the anthologies Adventures in Form (Penned in the Margins) and Ten: The New Wave (Bloodaxe). His debut collection Ticker-tape is published by Nine Arches Press, a poem from which is included in The Forward Book of Poetry 2018.
In 2016 he was commissioned by the BBC to write and perform a poem for National Poetry Day. He has been a runner-up in the 2011 Cardiff International Poetry Competition, and the 2014 Troubadour International Poetry Prize, and in 2016 was long-listed in the UK's National Poetry Competition.
A fellow of The Complete Works, the Arts Council England funded programme for BAME poets, he is a consulting editor at The Rialto magazine, and also a member of the Malika's Poetry Kitchen collective. He serves as a chair of the London-based writer development organization Spread The Word, and teaches for the Poetry School.
Recordings
Bibliography
Books
Anthologies
Magazines
Digital
Sample Text
A leopard parses his concern
1. I am concerned about Claudia Cardinale.
2. By 'concerned' I mean 'in lust with'.
3. By 'in lust with' I mean 'I sigh for'.
4. By 'I sigh for' I mean 'my eyes are hungry for her when she appears on screen'.
5. By 'hungry' I mean 'revel in her'.
6. By 'revel' I mean 'enjoy'.
7. By 'enjoy' I mean 'endure'.
8. By 'endure' I mean 'wait in the hope that she might, like a god, pick me out to benoticed, even though I have done nothing noticeable'.
9. By 'pick me out' I mean 'not actually come near me lest my reserves of charmdesert me at a highly inopportune moment'.
10. By 'not actually come near me' I mean 'actually come near me, preferably in adarkened Neapolitan hotel room'.
11. By 'darkened' I mean 'the presence of Lampedusa will be evident; he will besitting in a green damask armchair, his walking stick tapping out the beat of a fugue'.
12. By 'fugue' I mean 'a Morse code translation of his most famous quote'.
13. By 'quote' I mean 'the only appropriate approach to living'.
14. By 'living' I mean 'love'.
http://www.thecompassmagazine.co.uk/rishi-d/
Reviews
"the reader is primed for the poems inside that pop and fizz with wit and modernity – rather like the way the neon pink fluorescence of the cover catches and holds the eye in its day-glo glory. And that quirk of title is indeed reflected in the distinctive tone of the poems themselves. It isn't so much that the poet sounds like no other. That's close to the truth but it's nearer the mark to say that the poet sounds entirely like himself, with a gaze firmly fixed on the digital, pop cultural and musical here and now." – Dzifa Benson on Ticker-tape in Wasafiri
"Reading Rishi Dastidar's Ticker-tape (Nine Arches Press) gives essential insight into what it is to be alive in Britain today. Dastidar's debut full length collection marries project management and social media, politics with good old fashioned unrequited love, and clearly shows a fresh, original and important voice." – Christie Williamson on Ticker-tape at The Poetry School
"Rishi Dastidar, like MacNeice, relishes making catalogues; like MacNeice, Dastidar is also fascinated by idioms, clichés and the hidden codes behind them." – Jeremy Wikeley on Ticker-tape at London Grip
A-E | F-J | K-M | N-R | S-Z | Complete List