Authors
A-E | F-J | K-M | N-R | S-Z | Complete List
« Prev Author (Robert Sheppard) | Next Author (Andra Simons) »
Hannah Silva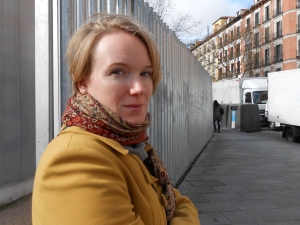 Biography
Hannah Silva is a poet, playwright and theatre maker whose work is characterised by its playful interrogation of language, voice and form. She has performed at the Tokyo Design Centre, Krikri International Festival of Polyphony in Belgium, Poetry Hearings in Berlin and throughout the UK at festivals including Latitude, the London Word Festival and StAnza. She is an associate artist with Penned in the Margins who released her debut poetry collection 'Forms of Protest' in 2013.
Her work for theatre includes a solo show 'Opposition', a play for a large cast of teenage girls 'Orchid' (commissioned by the Lady Eleanor Holles School) 'Total Man' (Electronic Voice Phenomena national tour Spring 2013) and 'The Disappearance of Sadie Jones' (national tour Autumn 2013). Her first radio play 'Marathon Tales' (co-written for BBC Radio 3 with Colin Teevan) won the 2014 Tinniswood Award. 'Total Man' was shortlisted for the 2013 Ted Hughes Award.
Recordings
RichMix, London, 10 May 2014
This recording was made by Alex McDonald. Hannah performed live at the Archive of the Now Silent Poetry Disco at the RichMix cultural centre, Shoreditch, London, following an open mike by undergraduate student poets.
Video