Authors
A-E | F-J | K-M | N-R | S-Z | Complete List
« Prev Author (Hannah Silva) | Next Author (Angus Sinclair) »
Andra Simons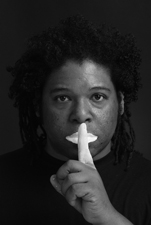 Biography
Andra Simons is a Bermudian writer and performer living in London. He published his debut collection The Joshua Tales (Treehouse Press) in 2009 and is a third of the performance band AMPHIBIA. He is a Creative Writing Visiting Lectuer at the University of Greenwich and is presently editing his next collection of poetry Turtle Men.
Recordings
RichMix, London, 10 May 2014
This recording was made by Alex McDonald. Andra performed live at the Archive of the Now Silent Poetry Disco at the RichMix cultural centre, Shoreditch, London, following an open mike by undergraduate student poets.
Video