Authors
A-E | F-J | K-M | N-R | S-Z | Complete List
« Prev Author (James Wilkes) | Next Author (Steve Willey) »
John Wilkinson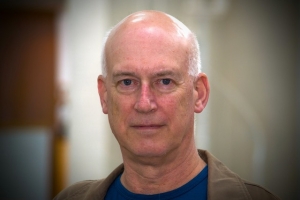 Biography
Born London 1953, and grew up in the West Country. After Cambridge and Harvard Universities, trained as a psychiatric nurse in Birmingham and worked in mental health, latterly with strategic and performance management responsibilities for mental health services in East London. Moved to University of Notre Dame, Indiana, as Poet in Residence in January 2005, before joining the Department of English there, and moving subsequently to the University of Chicago in 2010. Now Professor in the Department of English and has chaired Creative Writing since 2012. Principal Investigator for the Outsider Writing project.
Recordings of John reading from his book Down to Earth are available at the National Humanities Center.
Recordings of several poems are at Lyrikline.
Department of English
University of Chicago
1115 E 58th St
Chicago IL 60637, USA
Recordings
Crown of Nettles'

this text is available on Jacket.

Iphigenia'

the text is that of the Barque Press edition (2004) rather than the version in Lake Shore Drive (Salt, 2006) which revises the final part. Both of these tracks were recorded in Cambridge, 1 April 2005.

Bibliography

Books and Pamphlets:

Useful Reforms (Richmond, Surrey: Arnica Press, 1976)
Aquamarine (Cambridge: Avocado Salad, 1976)
The Central Line. A Novel (Cambridge: infernal methods, 1976)
Tracts of the Country(London: Oasis Books, 1977)
Pornography. An indiscrete series (Cambridge: Sidon Industrial, 1977)
Recent History (London & Southampton: infernal methods, 1978)
Maudie's Umbrella (Horsham, Sussex: The Causeway Press, 1978)
Swarf (Cambridge: Sidon Industrial, 1979)
Clinical Notes (Liverpool: Delires, 1980)
Proud Flesh (Lodz: Equofinality, and Liverpool: Delires, 1986). Reissued with text corrected, introduction by Drew Milne (Applecross, Western Australia, and Great Wilbraham: Salt Publishing, 2005)
Bones of Contention (Kenilworth: Prest Roots Press, 1988)
The Speaking Twins (Peterborough: Spectacular Diseases, 1990)
Stages Along the Lichway (Lewes: Silver Hounds/Ferry Press, 1991)
The Nile (Cambridge: Equipage, 1992)
Writing out of Character. By John Wilkinson, Stephen Rodefer, Rod Mengham (Cambridge: Street Editions, 1992)
Torn Off A Strip (Cambridge: Equipage, 1994)
Chalone (Kenilworth: Prest Roots 2, 1994)
Flung Clear: Poems in six books (Brighton: Parataxis Editions, 1994)
Sarn Helen (Cambridge: Equipage, 1997)
Reverses (Cambridge: Equipage, 1999)
Oort's Cloud. Earlier Poems (Cambridge: Barque Press, and Honolulu: subpress, 1999)
Effigies Against the Light ( Applecross, Western Australia, and Great Wilbraham: Salt Publishing, 2001)
Signs of an Intruder (Cambridge: Parataxis Editions, 2001)
Contrivances ( Applecross, Western Australia, and Great Wilbraham: Salt Publishing, 2003)
Iphigenia (Cambridge: Barque Press

, 2004)

Lake Shore Drive (Salt 2006)
The Lyric Touch. Essays on the Poetry of Excess (Cambridge: Salt, 2007) [critical]
Down to Earth (Cambridge: Salt 2008)
Flung Clear: Poems in six books (Cambridge: Salt, 2010) [reissue of 1994 title]
Reckitt's Blue (London, New York and Calcutta: Seagull Books, 2012)
Schedule of Unrest. Selected Poems. Selected by Alex Pestell (Cromer: Salt, 2014)
Ghost Nets (Oakland CA: Omnidawn, 2016)

Sample Text

Taking Liberties

There was this tiny warp collapsed the sky,
stove the stomach in. This, not to trifle with,
brought to heel the ambient usual,
filling space where it might most matter:

there's a blind eye between us, fluent
smut just off-centre --

Such times, with unmitigated satire,
intensified the small thing keeping step,
a full tilt orchestra
pursued the inclusive chord, ratcheted its din
to screaming point, lugged away cloud.
A fiery babe revealed.

You'd come that close. But then the revealed
will draw down subfusc
In one sense, a whitening disk.
It couldn't settle, finally. A dropped

screw pulverized the milky filter. I see.
Lightning will have assailed me in my cradle.

A-E | F-J | K-M | N-R | S-Z | Complete List