Authors
A-E | F-J | K-M | N-R | S-Z | Complete List
« Prev Author (Denise Riley) | Next Author (Sam Riviere) »
Peter Riley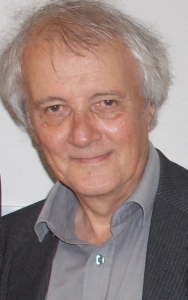 Biography
Born 1940 near Manchester, educated Cambridge, Keele and Sussex, worked at the University of Odense (Denmark) for several years and has since subsisted by casual teaching of various kinds and bookselling, first in the Peak District and then Cambridge, retired from everything in 2005 and moved to Hebden Bridge, West Yorkshire, in 2013.

www.aprileye.co.uk
Recordings
Greek Passages
Reading of one complete work, Greek Passages, in an intimate manner with occasional interspersed comments and self-interruptions. Recorded by the author at home without audience.
XIV Pieces
This reading comprises the contents of a 3-inch CD which accompanied the booklet XIV PIECES, published by Longbarrow Press in 2012. Twelve of the fourteen pieces are read. A 'piece' is defined as a text which the author is unwilling to designate a poem, or prose, or a prose poem.  The third, seventh, ninth and twelfth pieces refer to pieces of music, and excerpts from these are heard after or during them. The seventh piece is read twice, against two different passages by Jonathan Styles. Before the last piece read there was a short item called '!Kung Music', which was not read because of pronunciation problems, but the music is played behind the following piece, 'To a Grandchild'.
I made three errors with foreign words in the booklet, which are duplicated in the reading, which was made at the same time. It should be:
rilievo schiacciata, not schiaccito
Saorge, not Soarge
porchetta, not porcini.
With thanks to Brian Lewis of Longbarrow Press.
Bibliography
Of some twenty books and pamphlets 1968-2006, the principal in-print items are:
Passing Measures [a selection] (Carcanet Press, 2000)
Alstonefield [a long poem] (Carcanet Press, 2003)
The Dance at Mociu [travel sketches etc.] (Shearsman Books, 2003)
Excavations [prose poems] (Reality Street Editions, 2004)
A Map of Faring (Parlor Press, 2005)
The Llyn Writings (Shearsman Books, 2007)
The Day's Final Balance, uncollected writings 1968-2006 (Shearsman Books, 2007)
Greek Passages (Shearsman Books, 2009)
The Derbyshire Poems (Shearsman Books, 2010)
The Glacial Stairway (Carcanet Press, 2011)
Due North (Shearsman Books, 2015). This book-length text was short-listed for the Forward Prize for Best Collection, 2016.
Pennine Tales (Calder Valley Poetry, 2016) Pamphlet
Hushings (Calder Valley Poetry, 2017) Pamphlet
Dawn Songs (Shearsman Books 2017) Three essays on music.
Sample Text
The opening of Greek Passages--
There was no journey. The moment we opened our eyes he was there: / the colours across the bay / the red on the blue / Trinakrian Sea, its / turning islands // Bringing trouble. That lives here like a stone. / Bringing upright posture, anxiety and longed-for repose. That live here like the flowers of the mountain.
At dawn, a white light on the top of a mountain / things start to move / an old woman side-flank on a donkey, at dawn / wobbling up the mountain, picking over the stones / a Mercedes glides past, the light there / in her eye ever shining // Slowness of the dawn beetle / western promise / worth goat-dung.
Sky falcon, dancing slowly towards us across the bay / sun sinking into meaning / Lands lightly on the seashore / gets up and walks over to the bar / and is recognised. // A jovial shout goes up / embracing all of us, our welcome. / Slim as pencils, the leaves / throw themselves at the music.
Reviews
"The conjunctions are dazzling; the motives universal; the shafts of lyrical or grey deathlike speech [...] often overwhelming." Tom Lowenstein in Excavations.
"With all its peculiarities, Alstonefield remains entertaining and frequently enlightening. It contains passages of considerable beauty and intellectual dexterity and has a sweep and ambition that justify its length." William Wooten in TLS.
"Love is a movement beyond ourselves as we respond to a call in the world." Tom Butler in Notre Dame Review.
A-E | F-J | K-M | N-R | S-Z | Complete List