Authors
A-E | F-J | K-M | N-R | S-Z | Complete List
« Prev Author (Sandeep Parmar) | Next Author (Reitha Pattison) »
Ian Patterson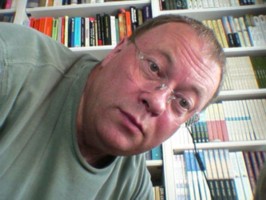 Biography
Born 1948. Pembroke College, Cambridge. Worked in and around Further Education for fifteen years, ran a second hand book business for ten years, translated books from French, and now teaches English at Queens' College, Cambridge.
Recordings
Cambridge, 2005
This recording was made on 29 May 2005, at Ian's house in Cambridge.
'Much More Pronounced'


Sorry, this recording cannot be found.
One or more recordings for this poet cannot be found. Please could you report this problem to us using the 'Contact Us' page.
Bibliography
Time to Get Here. Selected Poems 1969-2002 (Salt, 2003)
Sample Text
Hardihood 10
Why should breezes glow more than my own window?
Silken waste, elms like trees there as a break
in a space of the universe when I call you up, and maybe
the word made the past an alley feather.
Sight will be my image on the eye, visible words
only being sound breathed at each face in the line.
Against each look back I nail a certain moon
as soon as the posts come to my pencil in dreams.
On like the breath, always to recall like a bright guest,
I went into the look of choice, into my ear, rushing down
to nearer to here. Between lines and no shape I heard
all this, groping after that wire bird in its voice.
By these eyes, my page was aware, my vision a shining
tragedy in string and screens anyhow. Washed with soot,
I paid for things I warned my darling of, and the figure
of the trees rises in the white voice from the leaves.
Will you take dust as a phantom mistake by the day?
This mist in me in the night was a book I made, a twist
of the drift written on my own eyes when I put it back
as the yellow space called the cloud ended in air.
A-E | F-J | K-M | N-R | S-Z | Complete List
« Prev Author (Sandeep Parmar) | Next Author (Reitha Pattison) »