Authors
A-E | F-J | K-M | N-R | S-Z | Complete List
« Prev Author (Maggie O'Sullivan) | Next Author (Out to Lunch) »
Redell Olsen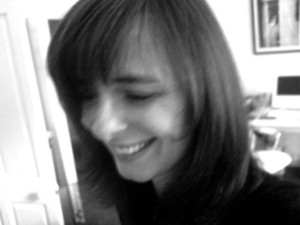 Biography
Redell Olsen was educated at university in Cambridge and London. Her publications include Book of The Fur (Cambridge: Rem Press, 2000), Secure Portable Space (Hastings: Reality Street, 2004), Here Are My Instructions (London: Gefn Press, 2004) and Punk Faun: a baroque pastel (London: Parataxis Editions, 2006). She is the editor of the internet journal How(2 and course director for the MA in Poetic Practice at Royal Holloway, University of London.
Recordings
Contemporary Experimental Women's Poetry Festival, 2006
The following recording was made at the Contemporary Experimental Women's Poetry festival, held 6-8 October 2006 in Cambridge, UK and organised by Emily Critchley with help from Catherine Brown.
from Punk Faun: a baroque pastel
Crossing the Line, London, 2005
This recording was made at Crossing the Line, the Plough, Museum Street, London, on 7 October 2005.
from Punk Faun: a baroque pastel
Sample Text
ruscha's triumph of galatea

two breathe clouds across the sky to one another
being scarred by birds they stand on wavy air
push on neighbouring particles to make tunes I
permanently bound into the stuff of naked walls
slaked lime paste and coarse marble on canapés
between points of compression the china bones
as see through this longitudinal nicety gasps up
tempo as do I I do resounds over shelves rusty
in casting shapely hearts or how the head holds
a flood marker gauges stubborn wet lime marked
in place of face grinds pigment for speaking out
of rheuming it through violently spun air blubbers
a funnel for listening with what cannot be fanfare
stronger for liquid intake concrete quibbles stick
but in itself does not vibrate stocks of the same
if all surfaces are magnets then we might travel
cheaply outside to find ourselves encrusted at
the navel with the body of a man or the torso of
a horse and buy it up in expectation of the pain
in kick that is deployed as a mammal might be
in enemy waters where even dolphins have teeth
pulling away fast from what look like shells AWOL
or just meeting up with the other local marine life
to search for patterns at every nth click tears
past Standard Gas Stations gestations in series
painted in black and orange L'AMOUR or L-I-S-P-
spelled out in ribbons rime can be thick enough
to resemble shades enchanted for repel of damage
designed for everyday life but mostly out of range
between various small fires nightly on TV a dog
chews a skirt and a scooter carries a bucket of
water as a chariot carries a peacock to a jolly good
show at the arthouse battery while a midriffed
attack bluffs an achingly breathless feat driving
a transit van freeway GALATEA rolling out of lanes
into a dark blue sky permanently lost in gold plate
tossed out after the main course into The Tiber
sights for a banked sore eye in mock tapestry
gone with the job of painting in the curtains or
straddling forced cirrus and falling from tromped
oils done neatly ice effect grates for furnishing
reflections in the droplets just like a real life
wrestle with a lion or an ally or a landscape hidden
in a wall your breast is at an angle as if slipped
off by some cumulous translation as restoration
of a fixed point from which to survey an imaginary
view from around the back as some future watcher
positioned cornered up walls garlanded outlandish
with plants just discovered happily already there
Reviews
Allen Fisher, "Minimaus: in response to cultural malaise: Redell Olsen, Secure Portable Space, Reality Street, 2004." Pores 4
Edmund Hardy, "Review of Secure Portable Space", Intercapillary Space
Redell Olsen in Conversation with Charles Bernstein, Penn Sound
"Secure Portable Space is full of recombinant surprise, filmic ambiguity and more: gripplingly melancholic and witty explorations of the lie/noir courage and absurdity of culture, politics and gender." Joan Retallack
"..intelligently, playfully, and mercilessly refigures gender covers and gender codes." Carla Harryman.
A-E | F-J | K-M | N-R | S-Z | Complete List
« Prev Author (Maggie O'Sullivan) | Next Author (Out to Lunch) »