Authors
A-E | F-J | K-M | N-R | S-Z | Complete List
« Prev Author (Gerry Loose) | Next Author (Wendy Lotterman) »
Tony Lopez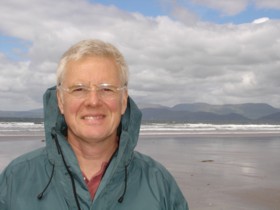 Biography
Author of 20 books of poetry, fiction and criticism, Tony Lopez was born in 1950 and grew up in Brixton, South London, where he was educated at local state schools. He began working as a freelance on short stories for newspapers and magazines in the early 1970s and published five crime and science fiction novels with New English library between 1973 and 77, when he gave up writing fiction and went back to school. He attended the University of Essex (BA 1980) and Gonville & Caius College, University of Cambridge (PhD 1986). During the 1980s he made a series of performance art events that were staged in Cambridge, Liverpool, Edinburgh, London and Amsterdam. His most recent poetry books are False Memory (Salt, 2003) and Devolution (The Figures, 2000). His work is featured in many anthologies including Vanishing Points: New Modernist Poems (Salt, 2004), Twentieth-Century British & Irish Poetry (Oxford University Press, 2001), Other: British and Irish Poetry since 1970 (Wesleyan University Press, 1999) and Conductors of Chaos (Picador, 1996). In 1990 he received a Blundell award from the Society of Authors for research on modern poetry, in 1996 a Wingate Scholarship for creative work in poetry, and in 2005 a creative research leave award for poetry from the UK Arts & Humanities Research Council. His criticism includes The Poetry of W.S. Graham (Edinburgh University Press, 1989) and Meaning Performance: Essays on Poetry (Salt, 2006). He is well known as a poetry performer and has given readings throughout the UK, Europe and North America. He teaches in England at the University of Plymouth where he was appointed the first Professor of poetry in 2000.
Recordings
North London, 2005
This recording was made on 25 May 2005, in a flat in north London.
Bibliography
Meaning Performance: Essays on Poetry (Salt, 2006)
Equal Signs (Equipage, 2004)
False Memory (Salt, 2003)
Devolution (The Figures, 2000)
Data Shadow (Reality Street, 2000)
False Memory (The Figures, 1996)
Negative Equity (Equipage, 1995)
Stress Management (Boldface Press, 1994)
A Theory of Surplus Labour (Curiously Strong, 1990)
The Poetry of W.S. Graham (Edinburgh University Press, 1989)
A Handbook of British Birds (Pig Press, 1982)
Abstract & Delicious (Secret Books, 1982)
Change (New London Pride, 1978)
The English Disease (Skyline Press, 1978)
Snapshots (Oasis Books, 1976)
Sample Text
IN PHOTOGRAPHS

a pair of Iranian twins joined at the head
far from settling this increasingly bitter row
swiftly and grimly appeared to transmit the story
because it had been in the public interest
an inquiry into the good faith of one man
from Hereford to London misrepresented the situation
when an express train hit a transit van
the politics was driving the intelligence
when an express train hit a transit van
let me tell you how the scores have changed
possibly pronounced "STROOD" as far as I know
three people, believed to be fruit pickers, died
and may have been acting in good faith
although we were divided on that issue but otherwise
supporters of the gay priest now not-to-be Bishop of Reading
Iraqis provide information about attacks on Americans
the veracity and honesty of our government
I wondered whether that was worth saying
whether or not the claim was well grounded, well founded, I mean either a cow or a woman with a cow's horns
became prime minister in 1958 and was assassinated
back in apartheid days
Mr Straw calls for an apology from the BBC
let me tell you how the scores have changed
fourteen to Mr Good
this long-range ballistic missile travels 800 miles
without seeing the actual documents
about whom we know nothing
nor do we know his motive on the basis of evidence
whether there was undue pressure
and where exactly is Kim Bauer now?
if the claim was not well founded
chemical or biological weapons could be launched
whether politics was driving the intelligence
which he had typed up on a very long roll of paper
taken from the foreign affairs select committee
in a transit van: a clear and present threat
needed to be established or not
and the evidence was to the contrary
that the 45 minute claim
could have been avoided
and the people were misled and the parliament was misled
denied access to witnesses
about whom we know nothing
and Jack Straw hangs by his thumbs then passes out
tries to pull the rip-cord but passes out
is shocked by a security man rogue element
falling on a dodgy dossier, he passes out
he looks worn out but handsome in Arab dress
they hang him up again by the thumbs
and he is interrogated by Robin Cook
who wants to know about allegations made
by a gay priest from Reading called Elizabeth Bishop
whether politics was driving the intelligence
making this 45 minute speech
or whether it was in fact a sky-dive
a man addicted to risk
making a complete Horlicks
falling out of the sky
but acting in good faith
like a certain celibate not-to-be Bishop
serving on the joint intelligence committee
and not the other way around
Mr Bauer called for an apology between 2am and 3am
when the bomb went off in the desert
as far as possible from Los Angeles: maybe Phoenix
maybe Tucson, maybe Basra, maybe Janin
the verdict NOT PROVEN
I wondered whether it was worth saying
whether or not the claim was well founded
how much it would cost to get a bulldozer
how much should I allow on the arts council application form?
what would be the appropriate delivery system
to get it over the level crossing
and into the settlements in good faith?
Reviews
"Salt published by far my favourite individual volume of poetry this year, Tony Lopez's False Memory, a series of sonnet sequences collaging and remixing the white noise of 1990s Britain into a disorienting, sometimes hilarious, often sinister, and always satirical challenge." Robert Potts, The Guardian, 6 December 03
"My favourite book of this year was Tony Lopez's False Memory, a collection of cento-like sonnet sequences which samples and blends the white noise of 1990s Britain - economics, politics, genetics, fashion, real estate, entertainment, literature - in a surreal and satirical collage, sinister, elegantly amusing, and ultimately asking demanding political questions." Robert Potts, New Statesman, December 03
"Lopez's writing, more than ever, engages with dystopian anxiety the grievous fictions of contemporaneity: it is beset and irked by its inexaustible material on every occasion, but by its denial to Lopez of his own voice, so fully has he read himself into and written himself out of it, genuine horror is forestalled." Andrew Crozier, Jacket
"A garden of Boccaccio attacked by chainsaws, or a Black Magic advert with a bloody ending: as if Baudrillard had invaded our lives far more deeply than we could have imagined." Douglas Oliver
"I've been engrossed in False Memory: the clean implacability of the style is arresting - and to a wretched Faustian like myself - even lovely. The world I see is very like the world I see in these poems, and there are many ways of registering being stunned. 'Brought Forward' is to me beyond praise." Jerome J McGann, Commonwealth Professor of English at the University of Virginia
"Tony Lopez's intricate sonnet sequence is called False Memory, a wonderfully deceptive title for no one 'remembers' better than Lopez, for whom everything that happens, that he reads about or witnesses, becomes grist for the poetic mill. These eleven sets of ten linked unrhymed sonnets are full of startling aperçus and unexpected wisdom. And yet nothing is obvious in Lopez's poetic universe, alternately commonsensical and surreal, down-to-earth and utterly fantastic. The book's 'casualness' is highly crafted and designed: one reads through the sequence without wanting to pause for breath, it's poetic premise being that 'deferred closure is our only chance of attendance / When we finally step out of the taxi and begin to play'." Marjorie Perloff, Sadie Dernham Patek Professor of Humanities, Stanford University
Criticism on Tony Lopez
Tony Baker, Review of False Memory, Harvard Review, 28 (2004)
Tony Baker, 'Fools and Madmen' Review of False Memory and Ken Edwards Eight plus Six, The Gig, 17 (2004) 53-55
Edmund Hardy, Review of False Memory (2003), Terrible Work (internet)
Robert Potts, 'Newly dug plots', review of False Memory (2003), Times Literary Supplement, 2 January 2004
Martin Stannard, Review of False Memory (2003), Tears in the Fence, 38 (2004)
Sara Lundquist, 'Linguistic Gold', review of False Memory (2003), Poetry Review, 94, 1 (2004) 73-75
John McAuliffe, 'In Search of the Second Life', review of False Memory (2003) and others, Poetry Ireland Review, 78 (2004) 84-89
Robert Potts, 'Death by a thousand anthologies', round up of 2003 poetry, The Guardian, 6 December 2003
Robert Potts, 'Books of the Year', New Statesman, 1 December 2003, 46
Elizabeth Eger, 'Priests of the Invisible', review of Data Shadow and others, PN Review, 150 (2003) 76-78
Alan Munton, 'Quoting the Culture: The New British Sentence and the Politics of Parataxis in the Avante-garde 1914-2001', Critical Survey, 14, 2 (2002) 22-36
Steve Spence, Review of Devolution, Terrible Work (2002)
Keith Tuma, Introduction and notes to the poem-sequence 'Brought Forward', Anthology of Twentieth-Century British & Irish Poetry (New York: Oxford University Press, 2001) 790-794
Andrew Jordan, Review of Data Shadow, 10th Muse, 11 (2001) 50-51
Andrew Crozier, 'Writing by Numbers: A Preview', Jacket 11 (2000)
Andrew Duncan, Review of Data Shadow, Terrible Work, 10 (2000), 62-66
Anon, Review of Devolution, Publishers Weekly (USA, 2000)
Kevin Killian, Review of Devolution, Traffic (USA, Fall 2000)
Robin Purves, Review of False Memory (1996), Object Permanence, 8 (1997) 69-70
John Wilkinson, 'Men's Work', Review of Stress Management and Nigel Wheale, Phrasing the Light, Fragmente, 7 (1997) 138-148
Michael Haslam, Review of Stress Management, Angel Exhaust, 13 (1996) 95-98
Tony Baker, Review of A Theory of Surplus Labour, Eonta, 2 (1993) 39-40
Richard Kerridge, 'Common Words', Review of A Theory of Surplus Labour, Parataxis: Modernism and Modern Writing, 2 (1992) 48-50
A-E | F-J | K-M | N-R | S-Z | Complete List
« Prev Author (Gerry Loose) | Next Author (Wendy Lotterman) »