Authors
A-E | F-J | K-M | N-R | S-Z | Complete List
« Prev Author (John Hall) | Next Author (Robert Hampson) »
Alan Halsey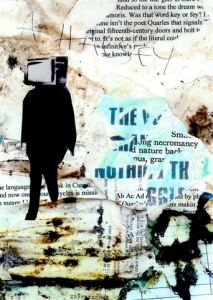 Recordings
Stamford Hill, North London, 2005
This recording was made on 20 October 2005, at a house in Stamford Hill, north London
Bibliography
Principal publications
Yearspace (Galloping Dog 1979)
Present State (Spectacular Diseases 1981)
Perspectives on the Reach (Galloping Dog 1981)
Auto Dada Café (Five Seasons 1987)
Five Years Out (Galloping Dog 1989)
Reasonable Distance (Equipage 1992)
The Text of Shelley's Death (Five Seasons 1995; West House 2001; audio CD, Optic Nerve 2010

)

A Robin Hood Book (West House 1996)
Wittgenstein's Devil: Selected Writing 1978-1998 (Stride 2000; 2nd edn 2002)
Marginalien (Five Seasons 2005): poems, prose & graphics 1988-2004, including CD-Rom of the text-graphic work Memory Screen
Not Everything Remotely: Selected Poems 1978-2005 (Salt 2006)
Term as in Aftermath (Ahadada 2009)
Even if only out of (Veer 2011)
In White Writing (Xexoxial 2012)
Collaborations
Danse Macabre, with David Annwn, Kelvin Corcoran & Gavin Selerie (Ispress & West House 1997)
Fit To Print, with Karen Mac Cormack (Coach House & West House 1998)
Days of '49, with Gavin Selerie (West House 1999)
Your Thinking Tracts or Nations, with Kelvin Corcoran (West House 2001)
Recording, with Geraldine Monk, Poems & Songs by Thomas Lovell Beddoes (Beddoes Soc., 2000)
Editor, with Martin Corless-Smith, Selections from the Works of Thomas Swan (West House 2001)
Illustrator, Blaise Cendrars, Prose of the Trans-Siberian, tr. by Tony Baker (West House 2001)
Editor, Thomas Lovell Beddoes Death's Jest-Book (West House 2003)
Translator, The Epigrams & Fragments of Mercurialis the Younger (West House 2004)
Quaoar, with Ralph Hawkins & Kelvin Corcoran (West House 2006)
Paradigm of the Tinctures, with Steve McCaffery (Granary 2007)
The Last Hunting of the Lizopard, with David Annwn (West House 2007)
Lives of the Poets, with Martin Corless-Smith (Five Seasons 2009)
editor, Bill Griffiths Collected Earlier Poems (1966-80) (Reality Street 2010)
editor, Thomas Lovell Beddoes The Ivory Gate: Later Poems & Fragments (ReScript 2011)
co-director with Martin Archer, Juxtavoices: Juxtanother Antichoir from Sheffield (Discus CD 2013)
Work has appeared in a number of anthologies including Conductors of Chaos (Picador 1996), Other: British and Irish Poetry Since 1970 (Wesleyan UP 1998), Anthology of Twentieth-Century British & Irish Poetry (OUP 2001) and Ahadada Reader 1 (Ahadada 2004); and in many magazines: Agenda, Avec, Boxkite, Chicago Review, Conjunctions, Critical Quarterly, Fence, Ecorch, Figs, Fragmente, Grille, Interstate, Kiosk, New American Writing, New Arcadians Journal, Ninth Decade, North Dakota Quarterly, O Ars, Oasis, Pages, Poesie Europe, Poetica, Poetry Wales, Prospice, Purge, Queen Street Quarterly, Reality Studios, Resurgence, Screens and Tasted Parallels, Shearsman, South West Review, Talisman, The Gig, The Paper, West Coast Line, Writing, 1913, etc. Interviews published in Acumen, Colorado Review and E.ratio. Contributed reviews to PN Review in the early 1980s, and other critical writing includes short studies of Thomas Lovell Beddoes, David Jones, Clark Coolidge and Bill Griffiths.
Alan has read at many venues including the Cambridge Poetry Festival, the Cambridge Conference of Contemporary Poetry, Six Towns Festival, Kings College London, SubVoicive, Colpitts (Durham), The Winding Stair (Dublin), The Pompidou Centre, Torriano, The Zinc Bar (New York), SUNY Buffalo Poetics Program, Spacex, the University of Coimbra, Birkbeck, Morden Tower, Boise State University, The Poetry Center San Francisco, Spare Room (Portland), SubText (Seattle), Kootenay (Vancouver), The Voicebox, Camden Peoples' Theatre, The Poetry Caf, The Language Club (Plymouth), Leicester Poetry Society, Cork International Poetry Conference, the Bury Text Festival, the Cambridge Poetry Summit.
Work appears in a number of webzines: Alterran, Electronic Poetry Review, Fieralingue, GutCult, Interpoetry, Masthead, Pores, Stride, Litter, Word For/Word, etc.
He also works as a painter, collagist & book-illustrator/designer. One-man show at Wyeside Arts Centre, Builth Wells, 1980; graphic work has appeared in a number of group shows, most recently Verba Inter Visual at the Lethaby Galleries, 2001, and Oculus Visual Poetry Biennial, Tokyo 2004. The text-graphic work Memory Screen was shown at the Bury Text Festival in 2005. Publisher of West House Books since 1994, including books by David Annwn, Thomas Lovell Beddoes, Richard Caddel, Kelvin Corcoran, Martin Corless-Smith, Ian Davidson, Johan de Wit, Edward Dorn, Bill Griffiths, Karen Mac Cormack, Geraldine Monk, Gavin Selerie, Glenn Storhaug & Catherine Wagner; with Geraldine Monk he publishes small pamphlets & ephemera under the imprint Gargoyle Editions. He was co-organiser of the reading series Sheffield Poetry International.
Sample Text
A LOOKING-GLASS FOR LOGOCLASTS: LIFE STUDIES

Cumber of immediate impressions left to steep for the 100th time.
I view myself from the outside observing his lowered and gathered a habit.
A jabbered of everything the spider knows to the dead letter office.
B sat qualmish in the porphyry chair with a halo of ghosts to write or drub.
C had enough woods of withered pines more exquisite than anything by Horace.
Nephritic pains and blue-devil verses were his household gods.
Dearest D who knew the want of a want spelt a thousand words wrong.
Not many more Sundays shut an absinthe mistake in his golden cage.
E so fond of his friends doomed to a suburb in the Pindaric style.
My dear Cozwoz dearest Princess my dear Mary so attached to Ovid.
Dear Rock of Names where the thunder sleeps.
When F and G arrive at the summum bonum they'll be boys again.
H had such a fancy as retreat disembrangled.
J's was the barber's talent who talked as he wrote like a perfect gallows.
His jobation unhinged K and L.
My late dead dear sparrow you may expect it to snow stars.
M made a bread-and-cheesish profit from garlic comedies.
What was Hecuba to him but a mess of the poets?
You're not in Arcadia, N told him, when you're in the Post Office reading my letters.
O saw Elyzium transplanted in a pocket glass shaken to atoms.
If ever he was mumped he was doubly nettled.
The world dead around him but himself circumspangled.
P's volcanic dialect was easily confused with Babylonish jargon.
When the frolic had gone off Q could never forgive England.
First it's bogberry and apricots then purging and subliming.
Dear Machiavel.
R told S what T would do tomorrow.
U was Molly Mog's puppet at his time of transmigration.
V went to Italy with money and left W farewelling.
As if the setting sun could be caught unannoyed my dear heart.
The ruinated renovated.
Three words and a half smile sometimes recall the most pastoral of authors.
At the cataclysm X will be sunk in Spinoza in a cabman's shelter.
Where there's a parcel of singers there's a cargo of songs.
Y didn't seem luciferous to Z but meteorous.
Reviews
'His writings unite formal experiment, linguistic precision, and concern for a vital relation between people and place. A master of collage and an inspired improviser, he has worked the patterning of strictly visual material back into the verbal medium.'--Gavin Selerie, Pages
'Time and again, Halsey acts on objectified language by jerking it out of an old, established order to reveal its "other", hidden facets and strands.'--Tim Woods, fragmente
'This is a poetry sensitive to decline and the thin veneer of prosperity both fierce and quiet, determined, and without illusion, the kind of poetry we need.'--Simon Smith, Angel Exhaust
'His grasp of language, or the many layers and interiorities that make a text work, is about second to none.'--Paul Green, Chicago Review
The Text of Shelley's Death: 'A cross-genre masterpiece, a collage examining the desire to fix a text as certain, brilliantly doubled as the desire to locate the poet's body behind the poem. Moving in the way it acknowledges the futility of this desire without dismissing such nostalgia for origins.'--Martin Corless-Smith, The Gig
'Wittgenstein's Devil showcases work that exhilaratingly explores language and ideology, running different jargons and discourses together, playfully using near- and half-rhyme to explore difference and identity, in a poetry of passionate and stoical resistance.'--Robert Potts, The Guardian
'Wittgenstein's Devil is essential reading for anyone interested in what has been happening in British poetry in the last thirty years.'--David Kennedy, PN Review
'Days of '49 is a beautiful and moving volume so brilliant that it points to a whole possible new road.'--Andrew Duncan, Terrible Work
Your Thinking Tracts or Nations: 'These unhinged, doodle-like pictures enact some rarely seen cosmic catastrophe somewhere in deepest space where things are either beginning or ending.'--Ralph Hawkins, The North
'It seems to me Mr Halsey's poetry (like all logoclastic poetry) foregrounds the communicative value of discourse.'--Gregory Vincent St Thomasino, Eratio
'Pure intelligence of various means of departure, refined and sharpened up, exactly located, appropriately geared, and cutting right into ore as we dream. Here is a normally secret and invisible antiquarian language spy, print-mining insect, lizard watcher and dovetailed pistachio piss taker, book dealer and forger, editor and printer's devil, emblem inventor, chiastic satirist, light-fingered anti-lyricist, lingering among the keywords and search engines. It is maybe the last real sense we'll get about how we got to the late last days of New Labour and it is our poetry, in English, not at all what is usually packaged and put out around here.'--Tony Lopez, Stride
'Marginalien is a truly exhilarating volume, delphic and intractable in places, in other parts limpid and lyrical. In the end, one is brought back to Halsey's enormous respect for words and their antonyms, echoes, ghost histories, spectral futures. He continues to create a kabbalah of cultural signs, a dictionary of linguistic possibilities, a stylish verbal music, in his essential role as courteous gadfly.'--Paul Merchant, Chicago Review
A-E | F-J | K-M | N-R | S-Z | Complete List