Authors
A-E | F-J | K-M | N-R | S-Z | Complete List
« Prev Author (Catherine Hales) | Next Author (Alan Halsey) »
John Hall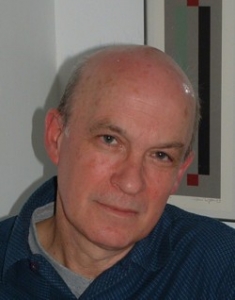 Biography
photograph by Angela Hall
John Hall was born in 1945 in the country since named Zambia. He is a poet (page-based and visual), teacher and essayist. He has worked for many years at Dartington College of Arts, where he was one of the founders of 'performance writing' and where he is now part-time.
His first collection of poems, Between the Cities, was published in 1968 by Grosseteste Press; he was included in the anthology A Various Art; Else Here: Selected Poems came out from etruscan books in 1999. His most recent publication -- though by no means his most recent writing -- is a 'brief textual adventure' called Apricot Pages, from Reality Street (2005).

An exhibition of visual poems is still up at Shearsman, and Changing Lines, a set of variations, can be seen on Great Works.
In recent years he has been active as an essayist, writing about contemporary poets and engaging with questions about grammar, reading and the contexts in which texts and readers come together. Poets he has written about include Andrea Brady, John James (awaiting publication in The Salt Companion to John James), R.F. Langley, Karen Mac Cormack (awaiting publication), Peter Middleton, Douglas Oliver, F.T. Prince, J.H. Prynne, Peter Riley, John Riley and Simon Smith.
Two articles can be accessed in online journals: 'Time-play-space: playing up the visual in writing', in Pores 3 and 'Ventriloquising Against Harm, a review of Douglas Oliver's Whisper "Louise"', in Jacket 29, April 2006.
Other recent essays have appeared in Quid 17 For J.H. Prynne: In Celebration, 24th June 2006, Performance Research, The Gig, The Paper, and PNReview.
He has been interviewed by Tim Allen for Don't Start Me Talking, a collection of interviews with poets due out from Salt Publishing.
Website: www.johnhallpoet.org.uk
Recordings
Changing Lines (Remix)

a remix of one variation by Birdie Hall. A visual screen version of all seven variations of this poem can be found at GreatWorks.

Eluded Readings

'Eluded readings: trying to tell stories about reading some recent poems', a talk given at Birkbeck College, University of London on Wednesday 26th March 2003 and recorded by Birdie Hall for Optic Nerve. The talk is in five parts:

Sample Text

Visual Poems

1. Your faceted heart (A frame from Chris and Jennie Crickmay)

 

2. Textual community (a frame from Lee Harwood)

 

3. You too?

 

4. Tic-tac

 

 

A-E | F-J | K-M | N-R | S-Z | Complete List

« Prev Author (Catherine Hales) | Next Author (Alan Halsey) »