Authors
A-E | F-J | K-M | N-R | S-Z | Complete List
« Prev Author (Michael Grant) | Next Author (Elizabeth Guthrie) »
Bill Griffiths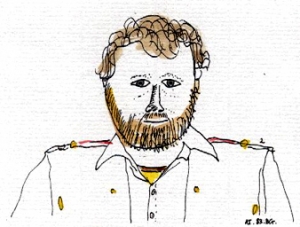 Biography
Bill Griffiths (Brian William Bransom Griffiths) was born in Kingsbury, Middlesex, 1948. PhD in field of Old English, King's College London, 1987. Moved north to Seaham, Co. Durham, 1990. He was engaged in dialect projects for Centre for Northern Studies, Northumbria University when he died suddenly in September 2007.
An obituary by David Caddy, a recording of which is presented as So Here We Are 7: Poetic Letters From England, is available from David Caddy's blog.
Notes
"I only claim for my poems that they are strange. The Buddhist recovering of ways, the multiple regimes of prison, the significance of coal, the Toxteth riots, the invisible population that shares our world and mimics us... There is a signal lack of respect." BG
Recordings
North London, 2005
This recording was made on 19 May, 2005 in a flat in north London.
Bibliography
Principal publications, poetry:
War W/ Windsor (Pirate Press & Writers Forum 1974)
Cycles (first complete edition, Pirate & WF 1976)
Twenty-Five Pages (Pirate & WF 1977)
A History of the Solar System / Fragments: A History of the Solar System (Pirate & WF 1978)
A Preliminary Account of Nordrhein-Westfalen (Arc 1978)
For Rediffusion (New London Pride 1978)
The First Three Novellas of the Second Row (Pirate & Trumpet Press 1979)
Materia Boethiana (Galloping Dog Press & The Poetry Bookshop 1984)
A Tract Against the Giants: Poems and Texts (Coach House Press 1984)
The Book of the Boat: Inland- and Blue-Water Texts (WF 1988)
Morning-Lands (Pirate 1989)
A Book of Legends (Amra Imprint & WF 1991)
Darwin's Dialogues (Amra 1991)
Selected Poems, 1969-89, in Future Exiles: 3 London Poets (Paladin 1992)
Star Fish Jail (Amra 1993)
Rousseau and the Wicked (Invisible Books 1996)
Nomad Sense (Talus Editions 1998)
A Book of Spilt Cities (Etruscan Books 1999)
The Ushabtis (Talus 2001)
Durham and Other Sequences (West House Books 2002)
The Mud Fort (Salt Publishing 2004)
A Tour of the Fairground (Etruscan 2007)
The Lion Man & Others (Veer Books 2008)
Collected Earlier Poems (1966-80) (Reality Street Editions 2010)
Collected Poems & Sequences (1981-91) (Reality Street, for publication in 2014)
Other:
Published by Anglo-Saxon Books:
ed. & intro. Alfred's Metres of Boethius (1991)
ed., trans. & intro. The Battle of Maldon (1991)
trans. The Service of Prime (1991)
ed., trans. & intro. An Introduction to Early English Law (1995)
ed. & trans. Aspects of Anglo-Saxon Magic (1996)
Published by Northumbria University Press:
A Dictionary of North-East Dialect (2005)
Stotty and Spice Cake (2006)
Pitmatic: The Talk of the North East Coalfield (2007)
The Salt Companion to Bill Griffiths, ed. Will Rowe (Salt 2007) includes a full bibliography compiled by Doug Jones
Sample Text
Two extracts from 'A Tour of the Fairground':
PENNY SHOVE

It woz (I can recall)
Flatbed pennies
Acting aza a sorta travelator.
You added coins this end,
Eventually
Other like coins toppled off the far end
A copper rainfall
In minimal ratio
To your profit loss.
Them you kept.
But more are born than die,
More geese than swans.

*

VERTICAL

With a convulsion of the stomach
Th' universe is produced
Shot up volcanic
Bit bile
The ascend
Of blood retch't
In ungobbable stars

Violent churnings
That subside in REGRET

DO NOT REPEAT
Reviews
'Bill Griffiths' passionate intelligence, lexical virtuosity, and rhythmic command of language is second to none in the British Isles. In his poetry lost histories become vital clues to understanding our present condition.' --Clive Bush 
'Bill Griffiths's mix of street-wise academia and boundary dancing poetry have engaged audiences now for at least four decades. He possesses that ability to mix chance with intent, history with fiction and irreverent music with non-received pronunciation in order to deliver what has become one of the most consistently creative bodies of poetic writing made during the past century.' --Peter Finch
'Bill Griffiths is one of the most distinguished poets to come to the fore in British poetry in the 1970s. He is at once erudite and accomplished, drawing from Old English as often as modern and contemporary parlance. From his ground-breaking sequence Cycles to his translations of The Battle of Maldon to his more recent Durham, his work engages with gravitas, humour and song – often in the same poem. Reading and rereading his work continues to be both invigorating and sustaining.' --Allen Fisher
'This is the world according to Bill Griffiths and Griffiths was gloriously out of kilter with the world. It was his very off-centeredness which gave his writing its intense and highly individual insights. A childlike delight in the ordinary is interspersed with the erudite and esoteric, anarchic fervour is coupled with rage at social injustice and everything is tempered by crunchy biscuits. It punches delicately. It dances hard. A unique voice. An irreplaceable poet.' --Geraldine Monk
'These poems take readers through a swirl of things not yet separable as discrete objects: the eye swims in a world that is not yet ordered. Immersion in this primary magma makes the senses alert and revitalizes language. Words cluster and move apart according to their sounds and shapes, the rhythm of things, and the set of sense at any given moment.' --Will Rowe
'There is a delightful obliquity and playfulness to these poems and to Griffiths' tone as it stretches and develops into a unique lyrical voice, musicianly, everyday and querulous, antagonistic and funny. Collected Earlier Poems is an indispensible and definitive gathering of the finest work of the most winning poet of his generation.' --John Muckle
'Cycles and War W/ Windsor make little direct allusion to modernist precedent yet revel in raw disjunction, simultaneously subtle and naive, a poetry of inscrutable origin rooted in London's more woeful streets, squats, prisons and biker cafes stationed out in the nomansland of the North Circular where we are surprised to meet Nebuchadnezzar, M.R.James and John Martin's incendiarist brother while being asked to consider questions of sovereignty and polity rarely addressed in any local discourse.' --Alan Halsey
A-E | F-J | K-M | N-R | S-Z | Complete List
« Prev Author (Michael Grant) | Next Author (Elizabeth Guthrie) »