Authors
A-E | F-J | K-M | N-R | S-Z | Complete List
« Prev Author (Harry Gilonis) | Next Author (Giles Goodland) »
Chris Goode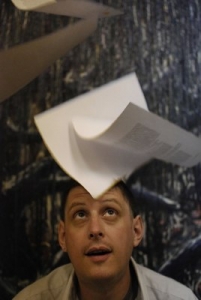 Biography
Born in Bristol, 1973. Studied in Cambridge. Principally a writer and director for theatre and performance, Chris Goode has also been involved in the making and performing of poetry since 1999. During his tenure as artistic director of Camden People's Theatre, 2001-04, the venue hosted the long-running Sub Voicive series and the Writers Forum workshops, and he curated two international poetry / music events under the title Total Writing London. He has a special interest in performing the works of other poets and text artists: in particular Christopher Knowles, around whose writings he developed a full-length reading piece, Yeah Boom: A Christopher Knowles Reader.
Recordings
Stamford Hill, North London, 2005
This recording was made on 20 October 2005, at a house in Stamford Hill, north London.
Bibliography
Sample Text
A-E | F-J | K-M | N-R | S-Z | Complete List
« Prev Author (Harry Gilonis) | Next Author (Giles Goodland) »