Authors
A-E | F-J | K-M | N-R | S-Z | Complete List
« Prev Author (Chris Goode) | Next Author (Michael Grant) »
Giles Goodland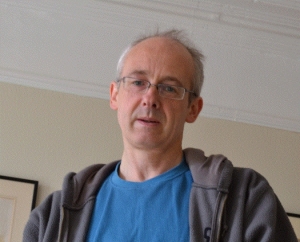 Biography
Giles Goodland was born in Taunton, was educated at the universities of Wales and California, took a D. Phil at Oxford, has published a several books of poetry including A Spy in the House of Years (Leviathan, 2001), Capital (Salt, 2006), What the Things Sang (Shearsman, 2009) and Gloss (Knives Forks and Spoons Press, 2011). He works in Oxford as a lexicographer and lives in West London.
Recordings
QMUL recording studio
Recorded by Alexander McDonald in the Queen Mary University of London recording studio on Friday 7 March 2014.
Sample Text
Ichneumon
Sumer is icumen
are the children all in bed
the wormonger is
unprogramed & sawstruck
by hypoderm of demi-sheath
she feghteth nat gladli wt ye serpent
hascos & to unnerve the worm
embeds a broodthirsty jaberror
or arrowslits a crockadrill.
The Misuscular bride, she arms her
telescopiform eggtube leavalives
the surgical target-grub, its pinhead
with implathable facetism
impregnate severybody
with a heatseaking stickin
jection. Her hourglass
waisted secuitry of motherlove
since the unnameable cry in the night
with unaccountable eyes is hers
until enemerges the unembodied pulpoet,
learns syntax of the pupivorous ventinlet.
The analytical engines of the line
emusculate the bodymelt
for the mechanico-maternal incubust
to eyejack the hostess, hearteaten
nature is telephoning us in sleep
to say, Sumer is no more.
Snail
The water breaks his face.
He pushes it out from sleep,
in the rain, up the wall.
A prolapse of self. Shhe would be
our sex if we were both
felame and enamale,
a selfsamed seacreation
of the collapsible brainpit. S
he camarareadies herhis nolensed
cornicles with worndown inbetweenery.
What processed herm here is that h
she wants hisher eyes. Hisherits
nightingel silverse tongue
longates a thinghinge housing
ornate flowerflows. Totteringly
they headvance their caravantankerous
motorhomes across windows drawing
inaccurate maps of sleep with silver
crayons as spiders shiver, leaves fall.
Treaclumps canopen to deletermine
the tangly tongueye, can also
cocksuck alaturk and self
propel in inverterrestrial alasticates.
The hostile take-over birds enters
the garden discarding husks of
conchies, spacifists, warshy mobile
homoaners, feetischists
as past the thrush-thrusted shelterror
there's a faintest possible moon and
fleeingly they shoehorn brainshell
lapse under two layers of emulsion
they tuck in bucket or flowerpot
rims, or sleep the stones asunder.
On our windows these spendlid
dulcesses of the earthear
and morphemic genitalmen
hodmanwomankendods
glutter the groundown malegazine
and mindstride its somehinge to return
like nevercut thumbnails, trails of self
and I fell to the grass under my feet,
thus animated the stone.
A-E | F-J | K-M | N-R | S-Z | Complete List