Authors
A-E | F-J | K-M | N-R | S-Z | Complete List
« Prev Author (David Berridge) | Next Author (Lisa Jeschke and Lucy Beynon) »
Tom Betteridge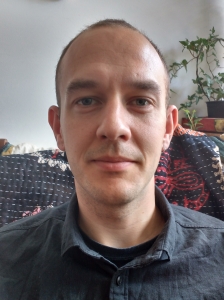 Tom Betteridge
Biography
Tom Betteridge is a writer and researcher living in London. He completed a PhD on Alain Badiou's readings of Paul Celan and Samuel Beckett at the University of Glasgow in 2016. His poems and essays have appeared in Textual Practice, Blackbox Manifold, Datableed, Epizootics!, Guttural, Hix Eros, Intercapillary Space, Jungftak, The Literateur, Scree, Spam, and Zarf. His writing was also included in From London Out: An Antology of Contemporary English Poetry (2017), edited by Luke Roberts. His first poetry collection, Pedicure (2017), is available from sine wave peak press. He co-organised the Peter Manson Symposium at the University of Glasgow in October 2017, and with Ellen Dillon he's the co-editor of The Journal of British and Irish Innovative Poetry's forthcoming special issue on Peter Manson's poetry and translations.
Recordings
Bibliography
Sample Text
PLEXUS
This build, marrow-rooted, cinnabar
scolds and pulls rank on, massing heat
foregrounds stentwork, the upright manner
filamental, thickens to valve cusps
occluding wail red out to jamb, bids
rash gazer screen wipes lumen pigment
on wove that even water carries
an opaque glut across to be fixed
towards you, halted, in spite of ends
°
pallid, emptied, measureless, unphased
an ageless calcite etched from its bloom
sketching in repose, uncumbered trip
spindling fluorspar grained against habit
who can home in without met tissue —
clots those venules, myenteric plaits
unweave and fade, and you address this
outward, rooted to a middle-ground
no more than motion defibrillates.
first published in Seen / Unseen (2017), edited by Katy Hastie
Reviews
"Pedicure remains a pleasure, read at any speed or hovered over. Filtered through a fairy feller's garden of delights, music layers merge as language zooms through thought to focus bracketed by timed description. Pages twitch body pollen mist to drift across purls in wine. All this under a Gulley Jimson foot: on record, grateful."– Tom Raworth
'The book as a whole, in its production values, its vocabulary, its prosody and its diction is a work of singular refinement and frequent beauty...' – Robin Purves, in Zarf 7.
A-E | F-J | K-M | N-R | S-Z | Complete List
« Prev Author (David Berridge) | Next Author (Lisa Jeschke and Lucy Beynon) »