Authors
A-E | F-J | K-M | N-R | S-Z | Complete List
« Prev Author (Simon Smith) | Next Author (Verity Spott) »
Matti Spence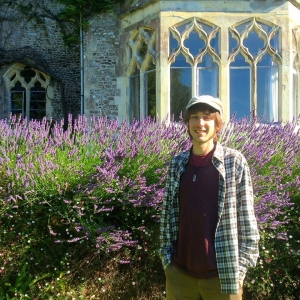 Biography
Matti Spence has been poet-in-residence at Monkton Wyld Sustainable Commune in West Dorset. He has an MA in Creative Writing from UEA. He lives in South Devon and works as a street musician. Tweets mspence_1
Recordings
Sample Text
Barbrook 1
We took this Manhattan of trees apart
had not the coomb-cold mist with us
had not the our lodged enough, the heart
for either's cons. But as a species does
the yard-grown-thing contain the track-grown-thing?
I wouldn't want to paste my own hang-ups
about personal freedom on a plant
there is something I think about cycles
or totem-type conundrums like Richard
said. Like kinder-eggs the seed like kinder-
eggs the trough-caught rain oh deep sea plastic
stack of built-up discarded shells where is
the everywhere-toy that becks through rain hum,
that Mamtor angles like a dancer from?
See? There are two parts
See? There are two parts, the road's eighty sharps
perhaps I talk to someone and they are
not from here the moment's cot death carts
me backward-oh the track the caves the county
Things (again) living and dying they come
to the Dove the generations they come
from cities the stepping stones what is it
to leave a bike-bright Saturday and cross
The Dove? Through Ashbourne's stack steep grit trucks
pick-rough face at peak or down from Buxton
where the weak light is grand on the houses

Crossing the Staffordshire Moorlands
border, near Longnor
Immortal light, cold-bit blue slight-of-beam
we tireless rivers, endings combined
in triple-flow, in black-as-crow cold seam.
A place's history, what does it sing?
A moment's chuckled mystery, does it
contain what in a single breath condensed
is but a match away from heat, a tense
of stone-known weight, of waiting on time's fence?
A-E | F-J | K-M | N-R | S-Z | Complete List