Authors
A-E | F-J | K-M | N-R | S-Z | Complete List
« Prev Author (Thom Donovan) | Next Author (Ken Edwards) »
Andrew Duncan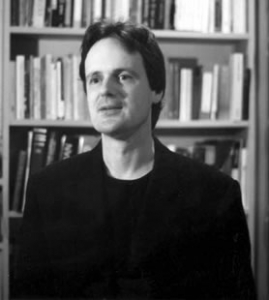 Biography
Born Leeds, 1956, grew up in Loughborough. studied Modern Languages and then Anglo-Saxon, Norse, and Celtic at Cambridge University. worked for a telecomms manufacturer for nine years and then for the Stock Exchange, writing software, for three. Left to write poetry full time, which was followed by the traditional poverty. Went back to full-time work and now works for the inspectorate of schools.
Main languages French and German, I also have passing relationships with Russian, Swedish, Welsh, Latin, etc. Maybe I should mention doing a degree in Anglo-Saxon, Norse, and Celtic. This was part of my enthusiasm for David Jones, and was too short to afford in-depth knowledge, but did give me some acquaintance with languages like Old Irish, Middle Welsh, and Old Norse. Learning languages has been a permanent preoccupation over several decades, and feeds the part of my brain which I use for writing poems. I did an evening course in (Scottish) Gaelic in 2000-1 (paid for by my employer, for reasons I can't explain), and have been slowly absorbing more over the last 4 years I found Irish very hard to learn as an undergraduate, and it's still hard to learn, because the phonology is so unusual, but I am getting somewhere with the Scottish variant. I have just read a whole book in the language (Rioghachd nan Eilean). It was a TV spin-off (ulp). Learning all these languages doesn't mean I am an expert on modern poetry written in them - modern poetry is cryptic and tricky, as we know. In the case of Gaelic and Welsh, the mediaeval poetry is even trickier and more cryptic. I admit to reading modern poetry in German sometimes. Shopping for the books is an abiding problem. I am always impressed by Kevin Nolan's ability to go to a country and pick up what is happening, poetically speaking. I'm sure I always go to the wrong place and buy the wrong books.
This notion of moments when structure becomes visible is important. One wants a poem to be rare but also typical. Comparing cultures gives you that sort of Nolan moment, where a whole social structure swims to the surface; hard to put into human language, and to stage as a scene. Probably I have never written such a poem, but I am thinking about it. David Jones used to quote phrases of Welsh or Latin in a very disciplined way; a single burst of Gaelic speech, say 100 words, holds so much of the sound structure of the language, of the broad/narrow articulatory distinction and so on. Language is small enough for everyone to own it, but one language is amazingly different from another one. Social structure is what everyone has a copy of in their head, it is distributable - and so, perhaps, small enough to expose itself in a poem. I don't think my idea of sociology pours itself into objects in quite the way Jones' does.
My website is at www.pinko.org
Recordings
Highbury, North London, 2005
This recording was made on 20 August 2005, at Drew Milne's flat in Highbury, north London.
Bibliography
Books of poetry include In a German Hotel, Cut Memories and False Commands, Sound Surface, Alien Skies, Pauper Estate, Switching and Main Exchange, Skeleton Looking at Chinese Pictures, Anxiety before Entering a Room (new and selected poems), Surveillance and Compliance, The Imaginary in Geometry, Savage Survivals. Work appears in the representative avant-garde anthologies the new british poetry, Conductors of Chaos, and Vanishing Points.

Irritated by the lack of recording of modern British poetry, began a project which includes The Failure of Conservatism in Modern British Poetry (Salt, 2003), Centre and Periphery (in modern British poetry) (Liverpool University Press, 2005), Origins of the Underground (Salt, 2008), and The Council of Heresy (Shearsman, 2009). This project lasted from 1993 to 2009. It covers the period 1960 to 1997. The Long 1950s, a study of the mainstream, came out in 2012. Fulfilling the Silent Rules is next and will complete the set. Overall title is 'Affluence, Welfare, and Fine Words'. Supporting material is at http://angelexhaust.blogspot.com.

Translations. Has translated in particular poems by Jürgen Becker, Thomas Kling, Helga M. Novak, Ulf Stolterfoht, Franz Czernin, Sabine Techel, Hans Thill, Lutz Seiler, Erich Arendt, Ute Eisinger, Gregor Laschen, Gerhard Falkner, and Ulrike Draesner. Frequent translations from German and Dutch for readings at the Cambridge Conference of Contemporary Poetry. Co-editor and chief poetry translator for New Writing in German (a special issue of Chicago Review, 2002).

Co-editor of Angel Exhaust magazine, 1992-8 and 2004 onwards.

Books as editor and interviewer, Don't Start Me Talking [with Tim Allen] (interviews with modern poets) and The Lambeth Marvels (interviews with Allen Fisher).

Interviews available on-line here:
http://artrecess2.blogspot.com/2005/11/feature-poet-interview-andrew-duncan.html

http://www.signalsmagazine.co.uk/3/duncan.htm
Sample Text
Les Paul's Garage Studio
On the dressing-table with the nail-paint,
Pfleumer's rolled gold skin that stayed
On tips of gold-lipped cigarettes
and never left a leaf of Pharaoh's smile. 
Folding the sound, from the foil of scruples,
He sprayed a metal paste on plastic strip
And sold it to BASF for a
Minstrel cotton, a textile vortex.
From jeweller's wire
to suffusions of aniline dye
How small were the ripples
that laid the sand; how big were the
Blusters of musical smoke, from Ludwigshafen
And downstream.
Les Paul stripped the first Ampex that shipped
And added a fourth head
Turned, and walked straight into
Kiss of mirror halves of sound shell
Turned, and walked straight into
Brilliant cocoon from lacquer applique
Turned, and walked straight into
A stretch steady for four mint copies
Turned, and walked straight into
Wekausha, Wisconsin
By the river that runs both ways
By lost time that paints on loops
Aligned, looking down
From a ridge between two patterns,
Cutting silver away
To chase a picture on silver.
Butting sashes of fine shaved sound
A mask of narcissistic blond wood
With American-classic semiconductors pointing thataway
You put germanium together with Germany
That's when you've got
Purposeful distortions of the recorded groove
Linger o phantom as I retouch our mood
Flattering the
Dissipations of a simulacrum,
A dupe of time regained
A garage like that will never end
The Ampex Memphis pickup and fixit man
Says, Why that music won't stick to the tape
Because you haven't lubricated the tape
(from: The Imaginary in Geometry)
Reviews
A-E | F-J | K-M | N-R | S-Z | Complete List