Authors
A-E | F-J | K-M | N-R | S-Z | Complete List
« Prev Author (David Kinloch) | Next Author (Frances Kruk) »
Kristen Kreider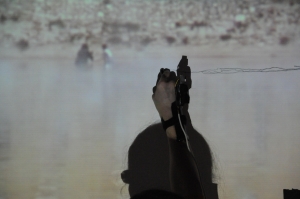 Biography
Kristen Kreider is a writer and artist. Her research stems from an interest in the poetics of thought, its materialization as form, and a concern with how artworks relate to the world. She has published poetry, essays, journal articles and a single-authored monograph entitled Poetics & Place: The Architecture of Sign, Subject and Site (IB Tauris, 2014). The latter explores how specific artworks generate meaning through a 'material poetics' in relation to place, develops a critical methodology for engaging with them, and investigates their ethical potential and political imperative. The book concludes with a discussion of the ethics of relation, opening a debate concerning the role of empathy within contemporary, politically-engaged practices in art and poetry.

In collaboration with the architect James O'Leary, Kristen's artistic practice engages with sites of architectural and cultural interest. Combining aspects of performance, installation, documentary, poetry, fiction and image-making, the work of Kreider + O'Leary exposes and interweaves the complexities of place into a fabrication of the real. They have made work in response to prisons, military sites, film locations, landscape gardens, desert environments, urban districts and gallery contexts both in the UK and internationally. Their work has been shown at venues including Tate Britain, Whitechapel Gallery and the Royal Academy as well as in the Lisbon Architecture Triennale and the Istanbul Biennial. Their book Fallingwas published by Copy Press, Field Poetics is forthcoming from Eros Press, and they are currently working on a large-scale project, Un-Governable Spaces, engaging with five sites of community and resistance globally. This project will result in a series of works and a monograph to be published by Paraclete.
Recordings
QMUL recording studio
This recording was made in the recording studio at Queen Mary University of London on 28 March 2014 by Kester Richardson-Dawes.
A-E | F-J | K-M | N-R | S-Z | Complete List
« Prev Author (David Kinloch) | Next Author (Frances Kruk) »