Authors
A-E | F-J | K-M | N-R | S-Z | Complete List
« Prev Author (Michael Kindellan) | Next Author (Kristen Kreider) »
David Kinloch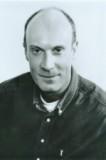 photo Unglee
Biography
David Kinloch was born in Glasgow in 1959. For many years a University teacher of French, he now teaches creative writing and Scottish Literature at the University of Strathclyde. He founded the poetry journal Verse in 1984 with Robert Crawford and Henry Hart and later became a co-editor of Southfields with Richard Price and Raymond Friel. His first poetry book Dustie-fute was published by Vennel Press in 1992. Subsequent books include Finger of a Frenchman (Carcanet, 2011), Some Women (Happenstance Press, 2014) and In Search of Dustie-Fute (Carcanet, 2017). In 2008 I helped set up the Scottish Writers' Centre. I'm a Trustee of the Edwin Morgan Trust and currently Professor of Poetry and Creative Writing at the University of Strathclyde, Glasgow.
Recordings
Stamford Hill, North London, 2007
This recording was made on 2 March 2007 at a house in Stamford Hill, north London.
I tried to select poems to read that represent a range of different concerns and styles. The W.S. Graham poem is partly about that wonderful poet but also about the Scots language which has been a source of fascination to me. 'Thresholds' expresses feelings of secondariness and belatedness and focuses on the figure of my grandfather, William Jeffrey (1896-1946), who was a poet. 'Wall' is an angry poem about being gay in Glasgow and elsewhere and the second part of 'Baines His Dissection' is a stab at a long dramatic monologue.
Bibliography
Publications
Dustie-fute (London, Vennel Press, 1992) poems
The Thought and Art of Joseph Joubert, 1754-1824 (Clarendon Press, 1992)
Reading Douglas Dunn (Edinburgh, Edinburgh University Press, 1992) with Robert Crawford
Paris-Forfar (Edinburgh, Polygon, 1994) poems
4 Carnets de Joseph Joubert (London, Institute of Romance Studies, 1996) with Philippe Mangeot
Une Nouvelle Alliance: Influences francophones sur la littérature ecossaise moderne (Grenoble, Ellug, 2000) with Richard Price
Situating Mallarmé (Bern, Peter Lang, 2001) with Gordon Millan
Un Tour d'Ecosse (Manchester, Carcanet, 2001) poems
In My Father's House (Manchester, Carcanet, 2005) poems
Finger of a Frenchman (Carcanet, 2011)
Some Women (Happenstance Press, 2014)
In Search of Dustie-Fute (Carcanet, 2017)
Other Recordings
Sample Text
LOB*

A tennis match for two voices

LAVERY: A gleam from the crock of écus drives my brush, disperses light to every corner of the canvas;
LARTIGUE: canvas could not convey the fugitive chip and charge towards the hidden ball;
LAVERY: the hidden soul of tennis deposited in a little clinking velvet pouch at the origins of the game by fine Renaissance lords; it beats at the base of the wooden pole holding up the net;
LARTIGUE: the net's a vertical trampoline nothing and no-one must touch, yet all align their posture, sweep, unimaginable leap only my camera can can upon its sly cross-hatch;
LAVERY: hatching slim lines to become the trunks of framing trees, I make shadow, contour, the three dimensions of the manicured hedge, its arch of mint; then a touch of blue, a memory of the River Loing: just the placid actuality of the Cart purling behind bland poplars I'd give French frisson to;
LARTIGUE: to and fro, fro and to... then click! Click, click!
LAVERY: Click away! My dowager black-gowned referee clicks her tongue: the ball is out; the lounger by the far right fence clicks with the girl opposite;
LARTIGUE: that click's the opposite of art: why just the light's suggestibility, the crumbs of story? Tenez! Here's a mix of limbs throwing up a lob as high as a Hail Mary;
LAVERY: and Mary is perhaps her name, a name spectators call out discreetly or with growing passion. And yet, you're right. I concede the point: this match won't gell, the figures are their figures corseted and creped, booted in plus fours, a negligé of open shirts, flat caps, hints of bowlers, of breast-pocket handkerchiefs, bonnets and a rakish panama: the life-writing of hot clothes, cool wicker chairs, a tease of circumstantial detail. Yet each shred of narrative is worth a sitting in itself, each chap a portrait for which I'd make him dearly pay. That drink of water lounging by the fence could be Whistler and up ahead the story of his influence or a fête champêtre...
LARTIGUE: a fête sportive! Watteau did the aristocratic rural thing. Please spare us the bourgeois version! Look: here is Suzanne Lenglen. Nice, 1921. A little further up the centuries perhaps but -- like the ball she's going to bat away in cricket fashion while still three feet above the ground -- exactly in line with the horizontal slat of picket fence whose gang-plank dark is echoed in the Lenglen shadow leaping like a Matisse cut-out on the court. Head turbaned up against the sun, she feeds Egyptian gestures at the net, her face an ibis of precision, Nefertiti of the tournament, the imperium of movement stilled yet somehow still in motion .
LAVERY: But is it motion that truly moves and moves us as spectators of that motion? You're right! I can't catch it on my canvas. You've won the golden set, the slam! Master of the buggy whip, topspinning moonball, slice, spank and split-step, your photos serve the racquet's sweetspot to perfection;
LARTIGUE: perfection...of shot, of frame is not the effect I'm aiming at but a sense...
LAVERY: sense! Call it sensation! The volley of sensation and I have you in a break back!
LARTIGUE: Lets break it down then, as you wish: a sense of movement's violence;
LAVERY: violence of sensation more than violence of spectacle;
LARTIGUE: spectacle is cliché, the story of points won and lost;
LAVERY: but the body lost to pressure, weight, inertia, attraction, gravitation, even germination! If I could paint these bodies -- forget about the light for once!-- not as people, as members of the Cathcart tennis club or as white smudges figuring out movement but figures experiencing sensation, sustaining the sensation of being bodies in the world;
LARTIGUE: the world! Let's settle for the tennis court just now. We seem to have changed ends. Inadvertently. Your serve...
LAVERY: My serve then aims to finish with an ace, a coup de grâce!
LARTIGUE: De grâce! Cher ami, you're way beyond the tramlines! In the rough, the grass!
LAVERY: Yet grass is surely part of it, not part, no, but a beaten Glasgow field that stretches from frame to frame dappled in every green, striated with pale mud, flecked with memory of lavender; a field that moves and curls, pushing its force up through the playing figures who in turn arch up, time stenciled through the changing textures, colours of their bodies, up to snatch the impossibly high lob and smash that force back down into the earth so that I may help you to feel not simply motion but movement in a place, a real place, athletic with life; a painting that would give you eyes all over, a canvas that invites me to take it from the easel and place it on the ground, work there, work in among the paint and mud, itself a fact of life, a future canvas where face and field will have the distances of the Sahara, a miniature Sahara placed at the feet of leaping players like a profane halo, its gold reflecting back their features, a coloured pressure balancing them, passing colours to each other like a yellow ball.
LARTIGUE: You've hit the ball boy on the head! You're just a hack, Lavery! 6-0, 6-0 I win: a double bagel, put that in your painting and smoke it!

*Sir John Lavery (1856-1941) after education in Glasgow and Paris and a spell painting 'plein-air' in Grez-sur-Loing returned to Glasgow in 1885 and painted 'The Tennis Party' set in a field beside the River Cart.
*Jacques Henri Lartigue (1894-1986), French photographer famous for his photos of tennis and other sporting occasions.

first published by Richard Price in his magazine Painted, spoken.
Reviews
'David Kinloch's previous collection, Paris-Forfar (Polygon, 1994), was one of the defining works of recent Scottish poetry (it's certainly my favourite Scottish book of the 1990s). At a time when my own interests centred rather exclusively on the contemporary British and American avant gardes, Kinloch's work came as a bolt from the blue. Marrying a deep and eclectic awareness of modern European poetry to an affinity for synthetic language which rewrote MacDiarmid as an antiquarian-voluptuary, Kinloch emerged (in that book's amazing centrepiece Dustie-fute, a long elegy for a gay man who died of AIDS) writing poetry as extraordinary as any Scot has since the death of W.S. Graham.' --Peter Manson, Poetry Review
'David Kinloch's new collection of poems, Un Tour d'Ecosse, is not so much Speed Bonny Boat as Roll Bonny Bike. A vision of Scotland from the saddles of Walt Whitman and Federico Garcia Lorca as they burn up the Highlands, the eponymous central section offers a witty and provocative vision of Scotland through the eyes of outsiders. Kinloch gives us poems in English and Scots (one resulting in a fantastic crash between Frank O'Hara and Robert Burns), poems translated from the French and prose poems. The combination is impressive, if a little dizzying at times. Stand-outs include 'A Vision of W.S. Graham's Hippopotamus in Venice', 'Conversion', and 'Section 28'. Has any other collection of poetry featured Mel Gibson so often?' --Griff Goodman, City Life, Manchester.
'Kinloch's work hovers on the hiatus between 'public' meaning and 'private' denotation. The poetry is full of impersonations and metamorphoses...a concern which Kinloch shares with Edwin Morgan.' --S.B. Kelly, Scottish Review of Books
A-E | F-J | K-M | N-R | S-Z | Complete List
« Prev Author (Michael Kindellan) | Next Author (Kristen Kreider) »