Authors
A-E | F-J | K-M | N-R | S-Z | Complete List
« Prev Author (Kaia Sand) | Next Author (Leslie Scalapino) »
Karen Sandhu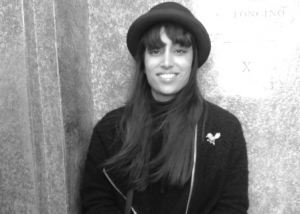 Biography
Karen Sandhu lives in London where she makes handmade books and writes poetry. Her interests include the history of artists' books and avant-garde poetics. She has a MA in Poetic Practice from Royal Holloway University of London. Her poetry has been published by HOW2, BlazeVOX and Wet Ink. She has collaborated with the Fox Reading Room, ICA London and written for The Blue Notebook: Journal for Artists' Books. Her bookworks have been exhibited at The Showroom, London.
Recordings
QMUL recording studio
Recorded by Kester Richardson-Dawes at the QMUL recording studio on 10 February 2014.
A-E | F-J | K-M | N-R | S-Z | Complete List
« Prev Author (Kaia Sand) | Next Author (Leslie Scalapino) »