Authors
A-E | F-J | K-M | N-R | S-Z | Complete List
« Prev Author (Verity Spott) | Next Author (Ben Stainton) »
Andrew Spragg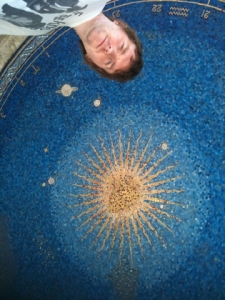 Biography
Andrew Spragg is a poet, performer and critic. He was born in London in 1984 and lives there currently. To Blart & Kid is due to be published by Like This Press in early 2013. He has had work appear in Hi Zero, Half Circle and on The Literateur. His writing was also included in Dear World & Everyone In It: New Poetry in the UK (Bloodaxe, 2013). He edits Infinite Editions, a blog that publishes free poetry postcards for download and distribution.
Recordings
Recorded in south London, spring and summer 2012
Recorded to mark the publication of cut out (Depart, 2012). These pieces were produced by Odd (Matt Cockshutt) with additional musical contributions from Andrew Spragg and Stephen Mitchell. Veronika Wilson also provided a voice. All music was recorded spring & summer 2012 in South London.
Bibliography
Sample Text
Report #0
of the many books not read or pushed to silence or
pages folded to designate margins though
incomplete and left in trace though not all of it
understood but what's with the word today you
grasp at it any way let the weight polish your tum
pinch one's own to rogue and lacunae the dew and
fathom silence by waking there is an agency fierce
wept and you who wasn't fixed as if on a number of
times
figure running to and fro find a light and push a way in.
Champ
parts separate for the slurry lagoon
not worried but levels of care wanted to cast
for all the notes I know the notes
loaned notes or contenders the trumpeter's lips
begin in bruising with practice
to the quality is shorn a brass plate a name
going unrecognised for serif and slid by the recorded
acclaim the clouds grope for one another first knowing
and we key text and for all the notes I know the notes.
Report #1
Precisely at two o'clock take up your coat and walk we have
a rendezvous secret and to a charm a life
has there been anyone seen in the indefinite years of his absence
Reviews
'This is a hugely satisfying collection that proposes poetry as a form to be stalked through for evidence and connections -- as the closing lines reveal, these poems are "leaving clues to their questions [and] it is in a / manner of speaking".' -- Vicky Sparrow, from The Literateur's review of cut out.
'Perhaps it is the lightness of touch with which absences are figured that makes this assemblage feel so inviting. The title brings into play cut-outs and scrapbooks, editing and pasting with scissors real and virtual, but what price the cutty sark of our cut silk idioms? As contemporary fiscal thugs should know, some cuts do not heal, but these reports, divertissements and superimpositions slough of the sloganeering politics of so much contemporary writing. There's a wit here that reminds me of Tom Raworth, and I can think of no higher praise.' -- Drew Milne on cut out
'Andrew Spragg's cut out requires "enduring long instances of buzzing energy" as its disturbed sentences turn themselves inside out or overlap in perplexity to "allay our
finest/structural fears," in return for which the newly-endowed reader -- cautioned not to be "begrudging lest thou/be begrudged" -- takes delivery of "a thousand mechanical hammers" for constructing thought transfers. This process is recounted in a series of informative reports compiled for our speculative scrutiny. Portions of "report #5" resemble Ohio. Scope it.' -- William Fuller on cut out
'Andrew Spragg's Notes for Fatty Cakes flickers through the landscape of demotic, rounding up the tribes of lenses language uses from plank to Planck: a mini-epic journey in the running heads below which letters, reportage and refrain record as I eyes an other. "Dost thou think, because thou art virtuous, there shall be no more cakes and ale?" Genre-kebabs on a skewer of wit.' -- Tom Raworth on Notes for Fatty Cakes
'A delightful, teasing adventure awaits the reader who sets off for the frontier with Fatty Cakes. Ranging from ocean to dry-land pub, prairie to outer space, this book's good-humoured restlessness provokes us to think about relations between self and other. While the poems' musical obliquity can please like Edgar Allan Poe or Walter de la Mare, here the very process of articulating thought is in question: not just interior embedding, transforming, unmaking, but what happens in dialogue, direct address and exclamation. Andrew Spragg is a poet who can love; this book is in love with language without losing a grip on the world.' -- Vahni Capildeo
A-E | F-J | K-M | N-R | S-Z | Complete List