Authors
A-E | F-J | K-M | N-R | S-Z | Complete List
« Prev Author (Marc Atkins) | Next Author (Richard Barrett) »
Tim Atkins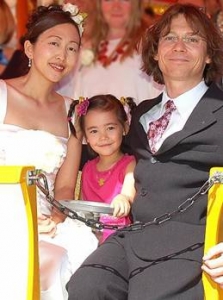 Biography
I was born in London in 1962. I lecture on Creative Writing at the University of East London and edit the online journal onedit. My star sign is Leo. My favourite colour is orange.
2001 - present: Designer and co-editor of online poetics journal: onedit.

2009-present: London correspondent for Lungfull magazine (New York)

1997 - 2001: The Poetry Project Newsletter London Correspondent, St Mark's
Poetry Project, New York

1996 - 2000: Organised and ran the reading series (with Miles Champion) at
Platform Gallery, Brick Lane, London
Notes
It's difficult to think about the many different ways of reading and reading a poem and then realise that just one of them goes into the world, repeatedly, here. The ways that I have read Horace recently include: Bertie Wooster-as-a-Fall-fan, Horace, world weary, angry & bitter, resigned-yet-compassionate, doing-the-standing-still, in a floral shirt, with a cravat, to Thomas Evans & Tom Raworth, holding my daughter Koto (for the first part), to complete silence, sweating, thinking of Sir Henry at Rawlinson End, to uproarious laughter, and to myself. That they are rather grave in this recording is due to the fact that the humour needs an audience to arouse the reader, and that the references to several painful incidents ("like Gertrude Stein at Radcliffe" for example) are always painful. They, however, work best with some chilli in the jelly. I enjoy reading the Horace poems more than any others.
"Folklore" reads (in my head) at times with a Worcestershire accent. It is a mix of West Country burr & the Birmingham clip & whine but is only one of many parts that sound themselves though the sequence. Almost none of the voices are my own, although by the end they all are.
Recordings
27 October 2010
British Library
This recording was made on 6 May 2009 at the British Library by Andrea Brady and Steve Willey.
Contemporary Experimental Women's Poetry festival October 2006
The following recording was made at the Contemporary Experimental Women's Poetry festival, held 6-8 October 2006 in Cambridge, UK and organised by Emily Critchley with help from Catherine Brown.
Stamford Hill 9/9/2006
This recording was made on 9 September 2006, at a house in Stamford Hill, north London.
One or more recordings for this poet cannot be found. Please could you report this problem to us using the 'Contact Us' page.
Video
Bibliography
Honda Ode (Oystercatcher, UK 2011)
Petrarch (Barque, London 2011)
1000 Sonnets (if p then q, Manchester 2010)
Petrarch (Crater, London 2010)
Folklore (Salt, Cambridge 2008)
Horace (O Books, Oakland 2007)
Horace (Matchbox, Manchester 2006)

Last Poems (Tolling Elves, London / New York 2003)
Sonnets (The Figures, Great Barrington, 2000)

To Repel Ghosts (Like Books, New York, 1998)
Folklore (Heart Hammer Press, Paris, 1996)
Anthologies:
The Reality Street Book of Sonnets (Reality Street 2009)
The Thunder Mutters (Faber 2005)
FOIL: An Anthology of New British Writing (Etruscan Press, 2000)
Resolute (Platform Gallery Publications, 2000)
Sample Text
ODES IV / 7
One minute I am sitting in Spud-U-Like
Intoxicated with abnegation
In the village of cats
But there I am one morning waking up to find myself in bed with both
Great compassion & the six classes of beings
The stiffness of winter
Followed by the amputation of a leg dust a shadow
And naked shingles of the world
As the great Plimp observed on more than one occasion
It is a dirty trick to scare a guy to death with banana oil
When he would rather be doing the navel gazing of a pampered recluse
"peen-bawl" featuring the grotesquerie of the
Grand Guignol
Mixed with some kind of insanely twisted Cartesian logic
One day Hippolytus
Ears crossing the calamities of 25,000 years of topsoil
When darkness falls upon a Rolling Stone
There will be no life outside Worcestershire
And that is no life at all
Reviews
'When a poet enters the act of translatione, transforms that act into outright poetic material, and does so to poems qua translationes that are scale models of difference and sameness, cross-pollination and contamination, candidly marked by misprision and imprecision... when a poet does this, is he or she actying as a poet or as a translatore?' --Kent Johnson, from a review of Horace
'Tim Atkins does for translation what Gertrude Stein did for nouns.'--Lisa Jarnot
'Hazardous and buoyant, with all the zip and sass of a Heathrow-unslough'd O'Hara. Not, decidedly, the programmatic constructivist plodding of routine translation homophonickal, not, apparently, translation exactly at all (though I suspect a rather deftly salacious argument'd carry for 'l bel tempo rimena's being auscultated as "the golden age of homosexuality," like running a forefinger around a goblet to make it sing...)' --John Latta, Isola di Rifiuti blog
Tim Atkins' translations of fourteenth-century Italian scholar and poet Franciso Petrarcha's sonnets (in Petrarch) open an entirely different kind of functional space within the gap between media, and inject it with wit, contemporary vulgarity,
and not a little libido. Crater's edition is a thing of wonder itself, featuring bright orange, blue, purple and green inks, requiring a paper knife, and fronted by an image of Krazy Kat being hit by one of Ignatz Mouse's bricks. The image
is pitch-perfect for a book full of unrequited, confused, overbearing love, considering both Petrarch's famous inspiration from afar (Laura), and Atkins' own hilarious, charming love of Petrarch --Eddie Hopely, The Poetry Project Newsletter
A-E | F-J | K-M | N-R | S-Z | Complete List
« Prev Author (Marc Atkins) | Next Author (Richard Barrett) »