Authors
A-E | F-J | K-M | N-R | S-Z | Complete List
« Prev Author (Timothy Thornton) | Next Author (Chris Torrance) »
Scott Thurston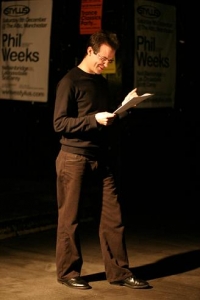 Biography
My creative practice as a writer attempts to steer a course between an awareness of the material nature of language whilst acknowledging its capacity to communicate directly or indirectly. I tend to work in an improvisational fashion, often writing short poems which respond to experience and memory in spontaneous ways. These poems build up into sequences which become records of processes of thinking and development over time. I am fascinated by how thought and language move, and the capacity of the poem to track and trace this subtle energy.
I did my PhD in Poetics at Edge Hill 1997-2002. I now run the MA Creative Writing: Innovation and Experiment at the University of Salford and co-run The Other Room reading series in Manchester. I edit The Radiator, a little magazine of poetics, and co-edit The Journal of British and Irish Innovative Poetry with Robert Sheppard. I live in Liverpool.
The photograph, taken by Peter Griffiths, shows me reading in Manchester in 2007. You can hear a recording of this performance below.
Notes