Authors
A-E | F-J | K-M | N-R | S-Z | Complete List
« Prev Author (Lisa Robertson) | Next Author (Sophie Robinson) »
Peter Robinson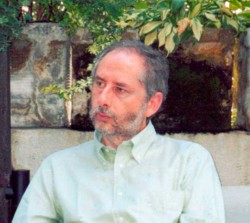 Biography
Born in Salford, Lancashire, England in 1953. He grew up in Liverpool and went to university at York and Cambridge. During the 1970s and 1980s he taught for various institutions, edited two poetry magazines, Perfect Bound and Numbers, and was involved in organizing a number of poetry festivals. From 1989 he taught English literature in Japan, first at Kyoto University, then for fourteen years at Tohoku University, Sendai, and once more in Kyoto. In April 2007 he became Professor of English and American Literature at the University of Reading (UK). Married with two daughters.
contact: School of English and American Literature
University of Reading
Whiteknights PO Box 217
Reading Berkshire RG6 6AH
Recordings
Stoke Newington, London, 2005
This recording was made on 19 July 2005, at Peter Swaab's house in Stoke Newington, north London.
Bibliography
Poetry
Poetry in Translation
Prose
Translations
Criticism
Interviews
Editor
Secondary
Sample Text
CLOSURE

In another town you turn a corner,
but it's not there any more --
the place with hunting pieces, flagons,
a close-hung mish-mash of daubs and prints.

Here clean breasts were made, minds spoken --
our waiter boning fish, all
genial, patient, hardly bothered
if once more we proved the last to leave.

*

But dust has gathered
on lintel and sill;
restoration work this morning's
at a standstill...

I squint through smeared windows,
see grayness, a gray
of no menus, mementos,
no things.

*

And I see how the vacant ex-restaurant
through its cloud of chalk
is like nothing so much as a sea shell
in which you catch talk
that talked and went so far with distant
wave-forms broken on the shore
of others' minds like swell, swell
echoing from the years before.
A-E | F-J | K-M | N-R | S-Z | Complete List
« Prev Author (Lisa Robertson) | Next Author (Sophie Robinson) »