Authors
A-E | F-J | K-M | N-R | S-Z | Complete List
« Prev Author (Holly Pester) | Next Author (M. NourbeSe Philip) »
Mario Petrucci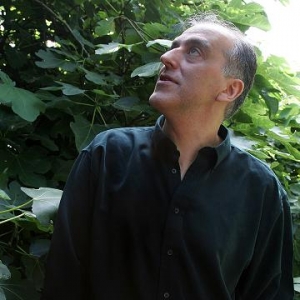 photo credit: Jemimah Kuhfeld
Biography
An ecologist and PhD physicist, Mario Petrucci implements creative dialogue between science and poetry, is co-founder of the experimental collaborative 'co-vocal' poetry group ShadoWork and the modernist pamphlet press Perdika, and has launched several novel concepts in criticism, including Spatial Form and Poeclectics.
First (and only) resident poet at the Imperial War Museum and BBC Radio 3, Petrucci is active in site-specific and cross-media projects. Fearnought (Poems for Southwell Workhouse) commingles photography with poetry, and became the subject of a Radio 4 Sunday Feature. Heavy Water: a film for Chernobyl and Half Life: a Journey to Chernobyl, sibling films based on his Arvon/ Daily Telegraph-winning poetry, gained the Cinequest award and a major showing at Tate Modern in 2007.
In recent years, more deeply influenced by the Projectivist poetics of Charles Olson, Petrucci has completed a 1111-strong sequence entitled i tulips, from which somewhere is january is an early selection. Tuned tight as piano wire around their line breaks, these are 'macro-breath' poems - though the single breath they evoke in the mind may demand more than one breath from the lungs.
'Tales from the Bridge' was a major installation of poetry on the River Thames, written by Mario Petrucci and shortlisted for the 2012 Ted Hughes Award. A centrepiece of the 2012 Olympic festivities, it was the world's largest 3D poetry soundscape.
In 2016, Mario's much-awaited versions of Montale's masterwork, Xenia, were published in English by Arc, capturing the PEN Translates award . In the same year, his 'comet poem' Philae was featured by the European Space Agency (see Recordings). 2018 saw the publication, with Bloodaxe, of his remarkable translations of the great Persian mystic poet, Hafez.
Recordings
'Beloved'

From Mario's translations of Hafez: excerpt from 'Beloved 81', recorded by the author in 2017.

Philae

Philae was the robot probe that landed on comet 67P/C–G (12th November 2014). This recording (made in 2015 by the author himself) is featured on the European Space Agency website.

British Library Sound Archive, 2009

This recording was made by Penelope Woods on 3 July 2009 at the Sound Archive at the British Library.

ShadoWork

ShadoWork is a collaborative writing and performance-training initiative co-founded by Mario, concerned with dynamic multi-vocal performances of poetry and the literary exploration of multimedia. The ShadoWork poets are: Mario Petrucci, Sarah Dudman, Martyn Crucefix, Brett Van Toen.

Bibliography

Shrapnel and Sheets (Headland, 1996) ISBN 0-903074-92-3.
Bosco (Hearing Eye: pamphlet 1999; book 2001) ISBN 1-870841-64-6 & ISBN 1-870841-77-8.
Lepidoptera (Kite Modern Poetry Series, 88 & 96; 1999, 2001) ISBN 0-907759-47-5 & ISBN 0-907759-87-4.
The Stamina of Sheep (the Havering Poems) (The London Borough of Havering/ Bound Spiral Press, 2002) ISBN 0-9539939-1-4.
Heavy Water: a poem for Chernobyl (Enitharmon Press, 2004) ISBN 1-900564-34-3.
Half Life (Poems for Chernobyl) (Heaventree Press, 2004) ISBN 0-9545317-3-6.
Catullus (Perdika Press, 2006) ISBN 1-905649-00-2 (2nd printing 2007, ISBN 978-1-905649-00-6).
Fearnought (Poems for Southwell Workhouse) (The National Trust, 2006) ISBN 978-1-84359-251-8.
Flowers of Sulphur (Enitharmon Press, 2007) ISBN 978-1-904634-37-9.
somewhere is january (Perdika Press, 2007/8) ISBN 978-1-905649-06-8.
Sappho (Perdika Press, 2008) ISBN 978-1-905649-09-9.
i tulips (Enitharmon Press, 2010) ISBN 978-1-904634-93-5

.

Nights * Sifnos * Hands (Flarestack Poets, 2010) ISBN: 978-1-906480-24-0.
the waltz in my blood (Waterloo Press, 2011) ISBN: 978-1-906742-40-9.
anima (Nine Arches Press, 2013) ISBN: 978-0-9573847-3-6.

1111 (Perdika, 1 April 2014) ISBN: 978-1-905649-18-1.
crib (Enitharmon, 2014) ISBN: 978-1-907587-80-1. http://www.mariopetrucci.com/crib.htm
Xenia (Eugenio Montale) (Arc Publications, October 2016) ISBN: 978-1-910345-53-5 (pbk); ISBN: 978-1-910345-55-9 (e-bk); ISBN: 978-1-910345-54-2 (hbk). https://www.arcpublications.co.uk/books/eugenio-montale-xenia-552
Beloved: 81 poems from Hafez (Bloodaxe Books, September 2018) ISBN: 978-1-780374-30-7 (pbk) ISBN: 978-1-780374-31-4 (e-bk). http://www.bloodaxebooks.com/ecs/product/beloved-1196

Films

Sample Text

i rather love

not things but
what lies behind
these the way a year

is sometimes glimpsed
past ear of corn or
december

come
out of blue to
one who knew only

sun - perhaps such
are best unsaid
so all might

speak of
corn & sky or
strip decembers

down to black-
scaffold
trees

where
life sings &
sings to death each

silenced thing

[from i tulips (Enitharmon, 2010) and somewhere is january (Perdika, 2007/8)]

Reviews

"Petrucci is escaping precepts applied in previous collections... He will certainly find new readers outside of 'mainstream' poetry, especially those who enjoy the canon of Black Mountain poetry and mid-twentieth century American Modernists and Post-Modernists. Mario Petrucci is bravely pushing out his poetic adventure... incorporating new energy in his already accomplished writing." Tears in the Fence

"Petrucci is somebody working with a lively circumspection in a tradition he's demonstrating not to have been merely an early-to-mid-20th-century exploration." Roy Fisher, on i tulips

"It's the sensation of singularly live words that immediately draws one toward Mario Petrucci's poems. The intensity of address in them, both 'of' and 'about' the poem, maintains its friendly but firm grip. In the process, Petrucci is seeing the world, how it all sits or moves amidst anyone's sense of ongoing purpose. He doesn't miss much. These poems are eye openers." Bill Berkson, on i tulips

"Poetry on a geological scale... a new track for poets of witness." Brendan O'Connor (Verse, 2004)

"Powerful and moving... a haunting and captivating film. A startling look at the aftermath of the world's worst nuclear accident." Mark Resnicoff (Suite 101, May 2008), on Heavy Water: a film for Chernobyl

"Heartfelt, ambitious and alive." The Daily Telegraph (Arts & Books; Sept. 21, 2002)

"The language is spare… alert to the way a poem's lines can eat into the whiteness of the page... crib is invigorated as much by an acute awareness of fragility and temporality as it is by a celebration of new life." The Times Literary Supplement

"Slows us down and shows us how to read differently... an imagistic reading experience punctuated by quietness and space. Death is transformed into a subject of calm. This gentleness and sense of measure washes through crib again and again." Poetry London

"There's certainly not much else like this around British poetry at the moment." Martyn Crucefix

"Petrucci's Xenia conveys something new: it emphasises the sequence's quotidian concerns, all its prosaic quirkiness, yet somehow also confirms how unequivocally Montale's greatness transcends the prose-like simplicity of image and tone." Rebecca West

"Petrucci's adaptations are a delight to read. They are fresh, candid, subtly humorous, and elegant. They have that audacious and multilayered richness one finds in the originals. Above all, they are uncompromising. Petrucci has clearly worked to form an understanding of Hafez's vision, artistry and devotional ambience, and he goes to the necessary length to let all that shine through." Fatemeh Keshavarz (Director/Chair, Roshan Institute for Persian Studies, University of Maryland)

A-E | F-J | K-M | N-R | S-Z | Complete List

« Prev Author (Holly Pester) | Next Author (M. NourbeSe Philip) »