Authors
A-E | F-J | K-M | N-R | S-Z | Complete List
« Prev Author (Albert Pellicer) | Next Author (Holly Pester) »
Simon Perril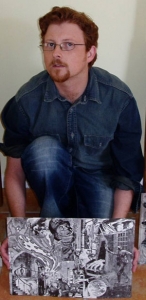 Biography

Simon Perril was born in Ilford in 1968, was too young for Punk, and grew up as a teenager under the extended reign of Margaret Thatcher. He studied English at Anglia Ruskin University (then Cambridge College of Art and Technology), and went on to gain an MA from Leeds University and a PhD from Cambridge University. After ten years in the English department at University of Northampton, he joins De Montfort University, Leicester, in January 2006.
Epiphanies: exposure to two stanzas of Coleridge's 'Rhyme of the Ancient Mariner' at primary school - and hounding my Nan until she bought me the Penguin Book of English Verse with the whole poem in it from Martin's Newsagent in Bishop's Stortford. Years later, working in Bishop's Stortford Public Library, lunch hours often spent intrigued by a copy of Pound's Cantos stranded in the town bookshop. Knowing it to be an essential encounter - but postponing it. Because of a further epiphany: a cassette of Psychic T.V.'s Dreams Less Sweet found in Harlow W.H. Smith's for £1.49. Music was always key - Metal, Zappa, Psychedelia - but this was something else. Listening to the sound of yourself listening. Searching forwards. And backwards. Accidently stumbling upon a string of record shops on Hanway Street behind the Virgin Megastore on Tottenham Court Road, London. Industrial treasure trove to supplement the second hand section of Andy's Records Cambridge - another regular haunt as I re-took a failed 'A' level at Cambridge College of Art and Technology one day a week to be able to get to college. [Jazz, particularly free, was a much later discovery; a skint MA student raiding the contents of Leeds town Library. Growing a third ear for Ayler, Mingus, Ornette, Sun Ra etc.]
And then went to CCAT full time as an undergraduate, seeking out Pound again. But needing a contemporary pulse too. Finding Iain Sinclair's Flesh Eggs and Scalp Metal Selected Poems - bought because when I picked it up the pages fell open at a mention of 'The Hands of Orlac'. Early expressionist cinema had been a passion since finding Dennis Gifford's A Pictorial History of the Horror Film in Clacton-on-sea W.H. Smith's. Initially, Mum and Dad say 'You're too young, maybe next year.' But it was still there next year, for me to fall in love with stills of Conrad Veidt , age 8 (me, not him). Gifford was my bible until discovering Lotte Eisner's The Haunted Screen in my early teens - and a remaindered book on Lon Chaney Snr too. My Dad, realising this was no passing fad, indulged me by waking me up late at night to see old Universal and Hammer horrors.
The day after finding the Sinclair, I hit another bullseye: Donald Allen's The New American Poetry antho for £1.50. And so the trail heats up, encouraged by fellow student travellers Chris Milton and Neil Griffths. Raworth's Tottering State, Maximus IV, V, VI - hand delivered to my student house by Peter Riley on a bicycle. And John James on the staff at CCAT, his office shelves lined with my wants list: Spicer, O'Hara, Duncan and passing on the address for Alan Halsey's Poetry Bookshop. Finally, finding Compendium Books - a true Higher Education institution!
Recordings
Cambridge, 2005
This recording was made on 29 May 2005, at Sam Ladkin's house in Cambridge.
Bibliography
Hearing is Itself suddenly a kind of singing. Salt Publishing. 2004. 129 pages. ISBN 1-844710-10-6.
'Drawing Attention', sequence of poems in New Tonal Language: 4pack Anthology Vol. 3 London: Reality Street Editions, 1999. ISBN 1-874400-18-0 pp. 41-65.
Volume. Folio/Salt, 1998. 22pp. ISBN 1-901994-45-7
Spirit Level. Equipage, 1996. 14pp. ISBN 0-9525400-53
Refractions. Coypu Press, 1994. 52pp.
The Paranoiac's Almanack. 1994. 28pp.
Five Poets. Coypu Press, 1995. 21pp. (Mini anthology also featuring Mas Abe, Karlien Van Den Beukel, James Lucas, Keith Sands).
Three Piece Suite. Coypu Press, 1993 20pp. (Mini anthology also featuring John Beck, Tim Hancock).
Critical writings
Simon Perril, ed. Tending the Vortex: The Works of Brian Catling. Cambridge: CCCP Books, 2001. 160 pp. ISBN 0-9539986-2-2.
"'What Rhymes with Cow / and Starts with an N'": Tom Raworth's Time and Motion Studies." In Removed For Further Study: The Poetry of Tom Raworth. Willowdale, Toronto: The Gig 13/14, 2003. Willowdale, Toronto: The Gig 13/14, 2003. pp. 108-130. ISBN 0-9685294-3-7
"Language Poetry": in Neil Roberts ed. A Companion To Twentieth Century Poetry. Oxford: Blackwell, 2001. Oxford: Blackwell, 2001. pp. 220-235. ISBN 0-631-21529-8
"Modernist Poetry and its Precursors" Co-authored with Peter Brooker in Neil Roberts ed. A Companion To Twentieth Century Poetry. Oxford: Blackwell, 2001. pp. 21-37. ISBN 0-631-21529-8
"'A Ghost is Being Built From the More / Solid Things': A Catling Overview" In Simon Perril ed. Tending the Vortex: The Works of Brian Catling. Cambridge: CCCP Books, 2001. pp.23-46 ISBN 0-9539986-2-2
"Brian Catling's The Stumbling Block: A Reading" In Simon Perril ed. Tending the Vortex: The Works of Brian Catling. Cambridge: CCCP Books, 2001 pp. 94-102. ISBN 0-9539986-2-2
"Trappings of the Hart: Reader and the Ballad of The English Intelligencer" In Nate Dorward ed. The Poetry of Peter Riley. Toronto, Willowdale: The Gig 4/5, 2000. pp. 196-219. ISSN 1481-5133
"Brian Catling's The Stumbling Block: A Reading" Performance Research 5(1), 2000. pp. 9-15.
"A Cartography of Absence: the Work of Iain Sinclair" Comparative Criticism 19 , 1997, pp.309-339.
"...The Endless Deployment / of Writing" Tom Raworth: An Exhibition. Essay published in a catalogue raisonn to accompany an exhibition of book and art works. Cambridge Conference of Contemporary Poetry 8, 1998.
Web Links
Images / Collages
Since childhood, I have been fascinated by early and silent cinema, and particularly the film still - my only access to such material in those early years of obsessive interest. It strikes me that this medium still awaits significant discussion as an art form in its own right, in the way that Benjamin, Barthes ,and Sontag have written so engagingly of photography. Around the time I began thinking about my current work in progress, Nitrate, I also began making collage or photomontage - 'synaptic foliage' I christened it. I envisage these pieces as faux film stills from 'lost' movies; motion pictures refrozen. I like the fact that they are Pritt stick, glue and scissor assemblages culled largely from photography manuals, just as Nitrate is preoccupied with cinema's emergence as a by-product of experiments - such as those of E.J. Marey - in capturing motion. The Robert Duncan, Jess Collins collaboration Caesar's Gate is also a touchstone, as are the album covers of Babs Santini (AKA Steven Stapleton).
Contact details:
29 Nene Crescent
Oakham
Rutland LE15 6SG
Coypu Press
Whilst doctoral students at Cambridge University, between 1993 and 1995, John Beck and I ran Coypu Press, producing chapbooks by both of us, and two little mini anthologies including early work by Karlien Van Den Beukel, Mas Abe, Tim Hancock and James Lucas. It was a great experience - I was so technically ignorant at the time that I didn't even realise that you could change fonts when you word process ?!!!? Hence the first publication has each of us in a totally different font. The press's name was John's idea - he had heard about the introduction of the Coypu into the East Anglian fens in the 1970s, and how it had, destructively, spread like wildfire. It became an ironic statement of intent. We even dreamt of T shirts emablazoned with the motto 'Coypu Press is a non-profit organisation with aspirations to be otherwise'.. Trouble was, John and I buckled when it came to actually summoning the courage to promote the work. So the press imploded - but not before Andrew Duncan mentioned us in 'Young Poetry in Cambridge: a Glimpse' (Angel Exhaust 12, 1995): 'The stress is on the repossession of the inauthentic, which is either radical courage or a kind of passivity which lets the indecisive hide behind the scissors and paste-pot.' Ouch - those were the days.
Coypu Biblio
John Beck, Tim Hancock, Simon Perril, Three Piece Suite. 1993 20pp. A5
Paula Naylor, Pool. 1993 Images. 4pp. A5.
John Beck, Hood. Images by Paula Naylor. 1994? 10pp. A5
John Beck, Brandy. Images by Paula Naylor. 1994. 20pp. A5
John Beck, Rare Vagrant. 1994. 24pp. A4
Simon Perril, Refractions. 1994. 52pp. A5
Simon Perril, The Paranoiac's Almanack. 1994. 28pp.
Mas Abe, Karlien Van Den Beukel, James Lucas, Simon Perril, Keith Sands. Five Poets. 1995. 21pp. A5
Sample Text
no valuables left overnight

how can I invent a passion, fulfil a wish or construct a dream in
the daytime in the way my mind does spontaneously as I sleep?
Vaneigem

choice cuts so deep as to feed sleep
   a diet of quandary. Feel
a feeling graft you to things
    a cutting bloom sings prosthetic

as limb from limb contemplates
   its loom; an obit-orbit
shuttles you through
   still more dead time. I come out

in a tremulous disquiet; new
   need playing instrumentally
me a companion to music
   remaindered, scored for binding

the spy with my face reports to whom?
   Who laps the sides of all into
which he is poured out
   vending endless self-loathing.

The dammed current must swell
   the letter box does: one hundred
wills absolutely free! Discorporate
   and come with me

upstream the source of the now
   awaits glad invention
each time an imperative to reach
   beyond survival
A-E | F-J | K-M | N-R | S-Z | Complete List
« Prev Author (Albert Pellicer) | Next Author (Holly Pester) »