Authors
A-E | F-J | K-M | N-R | S-Z | Complete List
« Prev Author (Sarah Kelly) | Next Author (David Kennedy) »
Christine Kennedy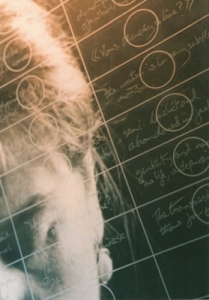 Biography
I was born in 1956 in London and have lived in Sheffield for over 20 years. I began writing quite suddenly when taking a year out from fine art undergraduate studies. I was almost 40, and my first writing was the site-specific text installation The White Lady's Casket. I am an artist and writer working with visual and verbal experimental poetics. My productivity is varied, and includes performance, website texts and the production of artist's books and printed works which are editioned, multiples or one-offs. They form part of a creative practice where word, image and presentation may be given equal consideration.
All my writings in the 2005 recordings explore the gaps between language and objects, between objects and desires, and between places and memories; the auras and traces left by attachment and detachment. A reviewer wrote of Possessions that "It is like watching light catch on precious stone; it is illuminated, then goes out, and another facet comes to light.
I have co-authored several scholarly papers on women's experimental poetry with my husband the writer and academic David Kennedy. Our book length study of women's experimental poetry in Britain from 1970 to 2010 was published by Liverpool University Press in 2013.
Notes
The studio recordings of Possessions, Lamella Needles and The White Lady's Casket were made in late 2005. They reproduce the readings given earlier that year for Sheffield Poetry International. The reading from The White Lady's Casket gives edited extracts of the published text.
Recordings
Bibliography
Online works and extracts etc
Durlston Lunaire at Dusie Kollektiv (2011)
'A Herbal Amulet for Geraldine Monk' at Blackbox Manifold online poetry magazine, Issue 1 2008
Uterine Souffle – illustrated artist's edition (2007) - reprinted in text version only in Dusie 6, Vol. 2, No. 2
Ovid's Keyholes (with David Kennedy) (2005), Ahadada Books e-chapbook
Evidence of the Enemy: Remote Viewing (with David Kennedy)( 2005) at Litter
Dusting the Mae West Memorial Library in How2, Vol 2, No. 2, (2004)
Twelve Entries from the Encyclopaedia of Natural Sexual Relations – artist's editions (2000/2003) - extract in Riding the Meridian, the Archives, Issue One, Volume Two, Women and Technology
Copy of deluxe 2003 edition of Twelve Entries from the Encyclopaedia of Natural Sexual Relations held in the Library Special Collection at the University of Northampton, and shown on the project site weloveyourbooks.com
The White Lady's Casket installation and artist's edition (1996), reprinted by Reality Street Editions in Renga + (2001) - installation photos and descriptive essay at Litter
Testament for a New Religion at Our Digital Lascaux online project (2000)
Personal Effects – handmade artist's edition (1998) - reprinted extracts in Fire, No 11 (May 2000)
Publications – Books – Critical
[with David Kennedy] Women's Experimental Poetry in Britain 1970 - 2010: Body, Time & Locale (Liverpool University Press, 2013).
Publications – Peer-Reviewed Articles
[With David Kennedy] ''I', 'You', 'Mine': Subject and Quotation in Elena Rivera's Mistakes, Accidents and a Want of Liberty', Journal of American Studies, 44.4, (December 2010): 709-723
[With David Kennedy] ''Expectant Contexts': Corporeal and Desiring Spaces in Denise Riley's Poetry'. Journal of British and Irish Innovative Poetry (September 2009, 1.1): 79-101.
[With David Kennedy] 'Poetry, Difficulty and Geraldine Monk's Interregnum', in Scott Thurston, ed, The Salt Companion to Geraldine Monk (Cambridge: Salt Publishing, 2007), pp.11-27.
'Making Walks, Making Works'. Interview with book artist Stuart Mugridge. In David Kennedy, ed, Necessary Steps: Poetry, Elegy, Walking, Spirit (Shearsman Books, 2007).
Sample Text
From Possessions:
like it Imagines mining samples and gilt Possibly rarely kept Memories kept hidden Most Holding this hand closes to actress other things of the giver doubt my daughter incomplete, or unbalanced will separate

another article Imagines a gift to remember that time attached rose on gilt Never chosen My childhood borrowings Now form Art amongst time. steel Another design of will separate to them
Reviews
Reviews etc online
Elizabeth James' blog Oceanographer of O, 'Verbi-visi 2010 selected', on the premiere performance at Greenwich Festival of 'Hobby Horse' (published in Dadadollz, 2010)
Ken Edwards' blog Reality Street, on the launch reading of 'The Cards of Ill Fortune', illustrations and experimental prose in David Annwn, ed, The Canting Academy: Responses by contemporary innovative poets to a16th century rogues' lexicon (Ispress, 2008).
Elizabeth James' blog Oceanographer of O, on Nineteen Nights in San Franciso on Monday 16 July 2007, 'Two from Sheffield (transatlantic)'
"The effect is like watching light catch on precious stone; it is illuminated, then goes out, and another facet comes to light." From the review of Personal Effects, Thomas White in Stride Magazine, June 2005
Printed reviews
Personal Effects reviewed by Cathy Courtney in 'Toi et Moi', Art Monthly February 1999
The White Lady's Casket reviewed by Stephanie Brown in Artists Newsletter, January 1997 - "Undermines the one-sided male-dominated history of the house … An unusual and thought provoking work."
A-E | F-J | K-M | N-R | S-Z | Complete List