Authors
A-E | F-J | K-M | N-R | S-Z | Complete List
« Prev Author (Jeff Hilson) | Next Author (Susan Howe) »
Rob Holloway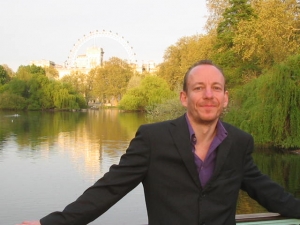 Biography
Rob Holloway writes in Clapton and teaches in Dagenham. His first chapbook was AMERICAN HEROINES (Writers Forum, 1999), and his first book PERMIT was published by the US-based poetry collective Subpress in 2009. A new chapbook MORTMAIN is forthcoming from Stem, as is a Crater issue that selects from his new long sequence FLESH RAYS. From Nov 2002 to March 2004 he hosted the poetry radio show "Up for Air" on Resonance FM. In 2004 he launched the poetry CD label Stem.
Recordings
North London, 2005
This recording was made on 8 June 2005, in a flat in north London.
Sample Text
from FLESH RAYS
SKY LID
Porous as a mouth, the organ flew. The duodenum hung looser, and young. Craving video, men and a child are emerging from an intricate bore-hole system in between Presidents. Are the burials always this anecdotal? Light from seemingly inside heat is fattening eyes my windows once swum so pass me the plastic pineapple, a bucket (for resizing), some string. Sit warming prices amidst men preparing for love. Love grows horizontally when pre-cooled by musical notation, nets air from wobbling bird throats when not. When rain falls, legs self-rinse. All the hunger's been recorded, repeatable as a desk, so move that group of people there into this shop to hear how arms sound sewn into walls! There's a fiery belly in the heart of us that will not cradle the membrane of such scenes.
PULBERRY
Shift left red sun, I'm cutting out a girl of paper. Residents are building flowers as if the teacup had guts. Standing laughing cutting enough wood to counter ice-melt, barbers are growing their head hair bareknuckled. Squeeze the left side so we can smear on more motorbike. That sparrow's feather could look like children but won't. Grown thick with glass, it's forcing the audience inside a book of knots. Helmetless, they reappear only to launch a paunch through doors so cerise-patriotic even recent torturees must abjure them. Would that my only cloud not obliterate! Alignment thus requires either I ascertain you or you switch your magnet for a man. When brick-rich, that we quarantine the echoes we mishear.
STAND AND LIGNIFY
The loss of the ant to the larger antfarm leaves one boy tree-local and me the ball you wish you'd only given me. It's more than the Inspectorate could laugh! The furry light windows left in the sun let partly in is revealing the outstanding qualities of a baggage handler. Holding you, she remembers your ears, leaves just the water waiting in a pile. With my hammer a history of nails and fish the nets they're caught in, we won't be needing life, it's claimed, just more walls to shuffle the glass. Smelling of weaponary, the lighting dims, and further bacon requires further study.
IN SITU
Move closer to the dog-track close-up but be, preferably, retractable. Delicious man, take your watch fob off, I'm feeling superficially financial. That grass is too greasy for a hat dense crosshatcher, once patterner of denser vegetation, gum glimmerer to the deepest potholes of our us. Hear your skyscrapers' trees spurt new engine songs now one leaf's the new kind of neighbour. Rinse roads as if bricks were still wrapped in their towels. Leave some paper out for making heroes out of glue. I'll stick them together with some buckets and put them into some TVs. Under the dog, sleep builds sleep's layers incrementally. I move through them shirtless and slow, known only by the size of your friends. I'll be rivers and pout at tree surgeons, feel happier when reassembling the central crabapple.
A-E | F-J | K-M | N-R | S-Z | Complete List