Authors
A-E | F-J | K-M | N-R | S-Z | Complete List
« Prev Author (Lee Harwood) | Next Author (Christian Hawkey) »
Michael Haslam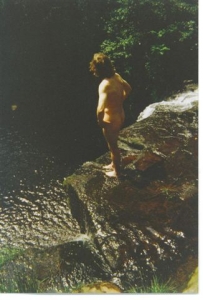 Biography
I was born in Bolton, Lancashire in 1947, and educated at Bolton School and at Peterhouse, Cambridge. In my final year (1968) I took my tutorials with Mr Prynne, in Caius. I began publishing my poetry around 1971, after Peter Riley, then in Denmark, duplicated and distributed a number of copies of a bunch of my poems to a clutch of editors of wee magazines. In 1970 I came to live at Foster Clough, near Hebden Bridge, where I still live. By the late 1970s merely living here had become my sole poetic subject. Now I call my whole project (after its first expression) ContinualeSong.

Michael Haslam, 14, Foster Clough, Heights Road, Hebden Bridge, Hebden Bridge, HX7 5QZ. 01422-884961. website: www.continualesong.com At this website can be found further details on Everything. The Three poems (and the Fourth in its original form) are now republished in Mid Life (Shearsman 2007).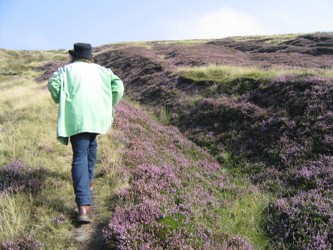 Recordings
September 2005, Colden.
This reading (and that of Maggie O'Sullivan) took place outdoors on a fine day in September 2005, at Maggie's place, Middle Fold, Colden. Occasional noises of birds, and other rural sounds, may be detected.
Bibliography
Sample Text
(following the "Introduction to The Green Woodpecker")
THE GREEN WOODPECKER
Looking forward, chopping kindling,
bright but from the disenchantment
curiously wrong, I laugh out loud
long outlawed laughs or songlike lengths
o' larks o' mercy, saying thanks I think
for animation generates or generation animates
the place of light, and then I think
the living ones perform as moving places,
all the young ones being young at once,
Huzza! along the edge belong
triumphant lapwings up in arms.
Within the fabrication of a life
a sudden breath takes like a kite,
a cold cloud warming rises to a height
along the edge and that evaporates
like laughs at a disaster.
Then it comes. Ephemeral Pontificate!
Picus Viridis! Updraughted
with a farfetched laughing cry
has me you know like reconciled
consoled and no less silly.
Reviews
"Michael Haslam, whose writing displays an astonishing charm and innocence even when dark and oblique, excells musically; there is a rush and sensation to his lyrical sequences which is achieved by an enviable mellifluousness. Haslam comes across as something of a Holy Fool, warm, modest, utterly committed" (Robert Potts, TLS).
A-E | F-J | K-M | N-R | S-Z | Complete List
« Prev Author (Lee Harwood) | Next Author (Christian Hawkey) »