Authors
A-E | F-J | K-M | N-R | S-Z | Complete List
« Prev Author (Alan Halsey) | Next Author (Kaiser Haq) »
Robert Hampson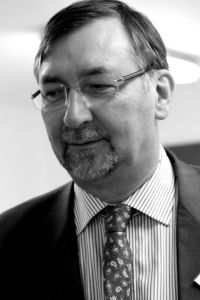 Biography
Born in Liverpool in 1948. Educated at King's College, London and the University of Toronto. Actively involved in poetry - as poet, editor and critic - since the early 1970s. During the 1970s co-edited Alembic with Ken Edwards and Peter Barry and co-organised various reading series in London. In the late 1970s co-organised 'Saturday Courses' at Lower Green Farm: whole-day events featuring Bob Cobbing, Eric Mottram and Allen Fisher. More recently, has edited another, occasional magazine purge. Co-edited (with Peter Barry) New British poetries: The Scope of the Possible (Manchester University Press, 1993) and (with cris cheek) Allen Fisher (Salt, forthcoming). Professor of Modern Literature at Royal Holloway, University of London. Runs the TALKS series (with Redell Olsen and Will Rowe), which was originally set up by Bob Perelman at King's College, London, and now takes place under the auspices of the Centre for Research in Poetics at Birkbeck College, London. With Redell Olsen, established the MA in Poetic Practice at Royal Holloway.
contact: English Department, Royal Holloway, University of London, Egham, Surrey TW20 OEX.
Recordings
Gower Street, London, 2005
This recording was made on 9 August 2005, at 2 Gower Street, London.
Bibliography
Degrees of Addiction (London: Share, 1975)
How Nell Scored (London: Poet & Peasant, 1976)
A Necessary Displacement (Orpington: Pushtika, 1978)
A Feast of Friends (Durham: Pig Press, 1982)
A City at War (London: Northern Lights, 1985)
(With David Miller) Nevsky Prospekt (Dublin: hardPressed poetry, 1988)
A Human Measure (Dublin: hardPressed poetry, 1989)
Unicorns: 7 Studies in Velocity (London: Pushtika, 1989)
(With Gerlinde Roder-Bolton) Dingo (London: Pushtika, 1994)
Seaport (Woking: Pushtika, 1995)
(With Gerlinde Roder-Bolton) higher densities: a new hampshire sampler (Woking: Pushtika, 1996)
C for Security (Woking: Pushtika, 2001)
Assembled Fugitives: selected poems, 1973-1998 (Exeter: Stride, 2001)
Pentimento (Guildford: Pushtika, 2005)
Sample Text
black widow tango

4 rebecca horn

 

black feather masks
& beds unmade
white spaces
intimate displays
within the folds
of private narratives
the fragile body
suspended
in its garment
of veins &
straps &
bandages
between pain
& pleasure
desiring machines
dream of flight
out of coded
territories
of the male
& of the female
cyborg appropriation
of the closed loop
of the familial
imaginary
still damp images
of functional
anatomies
tattooed on the
captive body
of the condemned.
Reviews
'Robert Hampson's body of work has been building up over many years, incrementally in terms of both focus and technique, yet it never puts a foot wrong, never uses a word too many in its explorations of consciousness, politics and language...' --Robert Sheppard on Assembled Fugitives
'These poems sparkle lightly along and across a grid of intersecting planes; they are spare and not information-heavy, suggesting the influence of George Oppen and the objectivist poets as well as Pound or Olson. There is a sense of play in the intercutting of different discourses and the re-working of syntax which involves both a destabilization of the perceiving subject and of subject matter' --Gavin Selerie on Assembled Fugitives
'a self-reflexive work, set in a textual field of histories, data, scientific knowledges and literature and in a language which speaks of the politics of desire and eroticism of power...'--Hilda Bronstein on Seaport
'It has an acute political thrust which emerges from the weight of juxtaposed material rather than being overlaid in a propagandist fashion; it sweeps through history, registering specific circumstances and their relation; it draws equally on popular culture and more esoteric knowledge, in a sense collapsing the divide but also highlighting the different forces which shape perception/discourse; and it is linguistically inventive, with splayed-out lines and narrow columns, wordplay, syntactical shifts, mongrel phrase magic... A key poem of the late 70s and 80s, it straddles the inheritance of American and British modernism, appropriately given its geographical and historical concerns, and it stands as a pointer to what may be done, achieving a clarity which does not evade complexity' --Gavin Selerie on Seaport.
A-E | F-J | K-M | N-R | S-Z | Complete List