Authors
A-E | F-J | K-M | N-R | S-Z | Complete List
« Prev Author (Susana Gardner) | Next Author (Chris Goode) »
Harry Gilonis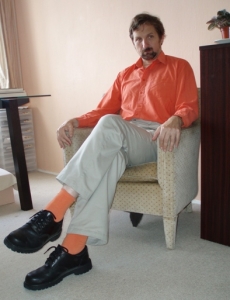 Biography
Harry Gilonis is a poet, editor, publisher, and intermittently a critic writing on art, poetry and music.
My writing has been translated into Catalan, (Scots) Gaelic, German, Polish, and Spanish. My poetry publications include Reliefs; Pibroch; Reading Hölderlin on Orkney; walk the line; and a collaborative renga, from far away (co-written with Tony Baker); as well as collaborations with visual artists: Axioms (with David Connearn), The Leiermann (after Schubert, with David Rees) and Forty Fungi (with Erica van Horn). Peter Quartermain pointed out years ago that I collaborate with my reading, which is perhaps helpful to a lot of what you hear here. After a considerable lapse of time I have recently returned to playing music, which might also be relevant. I don't know what's going to happen next either.
Recordings
Stamford Hill, North London, 2006
All these recordings were made at a private reading in a house in Stamford Hill, north London on 15 March 2006.
Three Misreadings of Horatian Odes

(uncollected). (the misreadings are, in order, those of western statesmen, liberal commentators, and the author). all three appear in QUID issue 9 'Against Imperialism' paper and online:

a misreading of Horace, Odes IV. 14
a misreading of Horace, Odes I. 29
a misreading of Horace, Odes I. 35

'Catullus played Bach...'

(from Oasis magazine, 1990 - uncollected)

'for Louis Zukofsky, a hundred years on'

(uncollected). Published as a postcard by Coracle, Ballybeg, Éire, 2005. Another reading is on the DVD which accompanies Readings: Small Publishers Fair 2004 (Research Group for Artists' Publications, Cromford, Derbys, 2005).

'Window, Light Outside'

(uncollected). In The Invisible Reader (London: Invisible Books, 1995; eds. Bridget Penney & Paul Holman)

from 'Pilbroch'

from pibroch (Edinburgh: Morning Star, 1996). (section titles -- urlar [ground]; ath ruith; suibhal; leumluath; taorluath; crunnluath [crown variation]; urlar II)

from 'Unhealed'

from unHealed. Sections have assortedly been published in ...further evidence of nerves... (Cambridge: Cambridge Series Poetry, 2005) and in Readings: Small Publishers Fair 2004 (Research Group for Artists' Publications, Cromford, Derbys, 2005); another reading is on the DVD which accompanies Readings. Further publication follows in Angel Exhaust.

Bibliography

Reliefs (Dublin [= Barcelona]: hardPressed Poetry, 1988)
Reliefs [variant reprint] (Durham: Pig Press, 1990)
Learning the Warblers (London: Writers Forum, 1993)
Forty Fungi [with Erica van Horn] (Docking, Norfolk: Coracle, 1994)
pibroch (London: levraut de poche, 1994)
Pibroch Edinburgh: Morning Star, 1996 (with [Scots] Gaelic translations by Maoilios Caimbeul)
AFAR/ALONGSIDE (Hampton Wick, Surrey: Simple Vice Books, 1996)
Reading Hölderlin on Orkney (Hampton Wick, Surrey: Simple Vice Books, 1996)
reels (London: levraut de poche, 1996)
Axioms [with David Connearn] (Cambridge: Ankle Press, 1996; reprinted, 1998)
from far away [with Tony Baker] (London: Oasis, 1998)
words for Webern, perhaps London: Form Books, 1998
walk the line (London: Last adanA, 2000)

a small selection of critical writing -- HG texts appear in these:

Ian Hamilton Finlay: Works in Europe, 1972-1995 (Ostfildern, Germany: Cantz Verlag, 1995)
AMM and MEV (Musica Elettronica Viva): Apogee Matchless CD MRCD61 (2004) -- booklet notes
Certain Trees: The Constructed Book Poem and Object 1964-2006 (Saint-Yrieix-la-Perche, Gascony: Pays-Paysage, 2006)

Sample Text

from unHealed (stanzas 73-75) -- long after the Old Welsh of the Canu Heledd

watcher wearied in tabu ringed
a herd bend in hate
grown wrong chant

watcher wearied in tabu ringed
a chant be in retch
grown wrong duty

wrath gadgetry threw way edgy
a wrath eddy a wind ode
wage idly war

Gwarthec edeirnyawn ny buant gerdennin
a cherd neb nyt aethant ym buw.
gorwynnyonn [gwr anchwant].

Gwarthec edeirnyawn ny buant gerdennin.
a chant neb ny cherdynt.
ym byw gorwynnyon gwr eduint.

Warth gwarthegyd gwerth gwyl a negyd.
ar a dyuo dra gwarth ae deubyd. mi a wydwn a oed da
gwaet am y gilyd gwrda.

(previously unpublished)

 

a misreading of Horace, Odes IV.14

quae concern of citizens honorum
afflicted in quotidian affairs

abstraction taken concrete form in troops
nuper quid Marte will not tire

inplacidum foreign nationals et
arces Alpibus milite on high

mox grave major (grave)
through rent clouds your duty

speaking to you today ruinis
through language and grammar

at my request south winds scourge
the military capability per ignis

ut barbarorum the perils
horrendamque et war

the conflict et extremo metendo
quo die quo die your country

those sacrifices are laudemque
et optatum massive brutality

imperiis decus this commitment
Medusque missiles on the

te rapidus Tigris (Tigris) violence
necessary dominaeque murderers

qui terrorism as an attack
our victory qui remotis.

You have my shaken armis.
The pieces are peaceful nation.

 

 

for Louis Zukofsky, a hundred years on

the
substance

else devoted,
I am shadow

changing thoughts
then this

let me look
on that shadow,

come,
take this

shadow
up,

unseeing
eyes

Reviews

"generous and breath-stretching" -- cris cheek

"Fine, bright. Attractive. A little dusty. Shows some signs of wear." --Abe Books

A-E | F-J | K-M | N-R | S-Z | Complete List

« Prev Author (Susana Gardner) | Next Author (Chris Goode) »