Authors
A-E | F-J | K-M | N-R | S-Z | Complete List
« Prev Author (Norman Finkelstein) | Next Author (Virginia Firnberg) »
Alec Finlay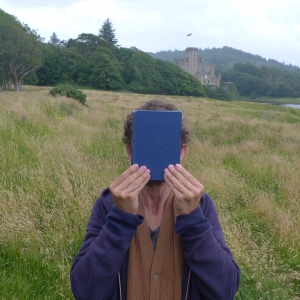 Biography
Alec Finlay (Scotland, 1966-) is a poet & artist whose work crosses over a range of media and forms – poetry, visual poems, poem-objects, sculpture, collage, audio-visual, artist blog, and new technology. Much of Finlay's work considers how we as a culture, or cultures, relate to landscape and ecology, with a specific interest in place-awareness, hutopianism, rewilding, and the common right to care for the land. He has also produced a number of sensitive works in the field of healthcare, wellbeing, remembrance, and patient-led healthcare. Finlay is also known for his political and social activism. Since 2005 he has also produced a number of books and artworks that engage with renewable energy.
Finlay established morning star in 1990. A retrospective of his publishing was held at The Poetry Centre, University of Tucson in 2018 He has published over forty books and won six Scottish Design Awards, including two Grand Prix Awards (2001, 2015). Recent publications include a far-off land (2018), gathering (2018), th' fleety wud (2017) minnmouth (2017), A Variety of Cultures (2016), ebban an' flowan (2015), and Global Oracle (2014).
Finlay is represented by Ingleby Gallery, Edinburgh. He was selected for the 2012 Sydney Biennale and 2018 Venice Architecture Biennale.
Recordings
Bibliography
2018 a far-off land, (published by morning star)
2017 th' fleety wud (published by morning star)
2017 minnmouth (published by morning star, North Light Arts)
2017 'gathering' (excerpts), No Stone Unturned, ed Kate Knowlden
2017 Tarbuck, A & Kotva S 2017, 'The Non-Secular Pilgrimage: Walking and Looking in Ken Cockburn and Alec Finlay's The Road North', Critical Survey, Vol 29 No 1, Spring 2017
2017 'tidepoems', Bless thee, Bottom, bless thee! Thou art translated, edited by Lou Rowan (Golden Handcuffs Review Publications)
2017 'Billia Croo', Where we live now: Perspectives on place and policy, The British Academy, January 2017
2016 A Variety of Cultures (published by Jupiter Artland)
2016 'The Difference', and 'In Randomania, Joiny-Uppy-Land, and the Lands of the Free and Un-free, We Used to Say', Gymnasium, edited by Ruth Ewan, Annika Eriksson and Raqs Media Collective (Site Gallery)
2016 Arboreal: A collection of new woodland writing, edited by Adrian Cooper (Little Toller Books)
2016 sound-sense-poem, Butchers Dog issue 6, October 2016
2015 Ebban an' Flowan, with Laura Watts and Alister Peebles (published by morning star)
2015 A better tale to tell: submissions to The Smith Commission (published by CCA Glasgow, National Library of Scotland, Saltire Society, Scottish Poetry Library)
2015 Some flowers among the ruins (published by Callender Park)
2015 I Hear Her Cry (published by Ingleby Gallery)
2015 Excerpts from Gathering, Reliquiæ Vol. 3, Corbel Stone Press, November 2015
2015 Arboreal Colour-wheel, with Stewart Clements, cover image, PN Review 222, Volume 41 Number 4, March - April 2015
2014 some colour trends (published by Deveron Arts)
2014 there were our own / there were the others (commissioned by National Trust, England & Wales).
2014 The Road North, with Ken Cockburn (Shearsman)
2014 Taigh: a wilding garden (morning star & Edinburgh Sculpture Workshop, commissioned by the Scottish Gov.)
2014 Global Oracle (University of Warwick Art Collection)
2014 Sweeney on Eigg (Corbell Stone Press)
2014 a-ga: on mountains (morning star & University of Sunderland)
2014 Seeding the John Muir Way (commissioned by UZ Arts)
2014 'Glenelg', 'The Singing Sands', 'What is a mountain?', from The Road North, Shearsman 99 & 100, April 2014
2014 'Islands', Transnational Literature Vol. 7 no. 1 (November 2014)
2013 thorns (sine wave peak), commissioned by the Centre for Artist Books)
2013 a company of mountains (morning star)
2013 today today today (Playspace Publications)
2013 'after Freud', bones: journal of contemporary haiku, no 2
2013 'three walks,' The Art of Walking (Black Dog)
2013 Introduction & print, Hans Waanders (Peter Foolen Editions)
2013 Schwirlauf, in Yuk & Yum, Newcastle Upon Tyne
2013 Riddle me this (limited edition card), with Hanna Tuulikki, commissioned by Secret Preston Art
2013 'tomorrow/today', Magma Magazine issue 57, November 2013
2012 Be My Reader (Shearsman Books)
2012 Question your teaspoons (Calder Wood Press)
2012 Ian Hamilton Finlay: Selections, ed. (University of California Press)
2012 'Truly Traditional. And New, Of Now', Chicago Review 56:4 (University of Chicago Press)
2012 'Reading El Monk', Gathered Here Today (Knives Forks and Spoons)
2012 'Says You', Sea Pie (Shearsman Books)
2011 'W-I-L-D-H-A-W-T-H-O-R-N-P-R-E-S-S', The Present Order: Writings on the Work of Ian Hamilton Finlay (Marfa Books)
2010 white peak / dark peak, morning star & re:place
2010 'In Conversation' (interview), Garden Design Journal (May, issue 94)
2010 'Towers That Flower', Cultural Politics Journal (vol. 6)
2009 'Circle-poem' and 'credo (not ½ but)', 2HB, Glasgow Centre for Contemporary Arts (vol. 5)
2009 'Dictionary of Imagined Flowers', Sunfish (Winter, no. 1)
2009 Mesostic Interleaved, The University of Edinburgh Press
2009 Says You, Oysetercatcher Press
2009 Mesostic Remedy, morning star publications
other printed matter and paperworks can be seen at http://alecfinlayblog.blogspot.co.uk/p/blog-page.html

Sample Text
Billia Croo


after Barry Cunliffe

culture is richest where there's
the greatest ratio
land : coast

•

this patch of the western
ocean's coruscating garden

recalls my favourite song
(mishearing) the sea's very hum-

drum … – but no, there's not
one ocean, not when such an

infinite mix of blues can
outshine the maps cerulean

•

the sea is there for a solan
to push his wings against

or plunge in, reinventing
the medium – when the light

comes right through them
the waves lets slip wrack

and tangle, pitching round
until they go breaking on

the boulder beach, crashing
under Row Head, hassling

brittlestars and urchins, or splash
near the shelduck's dozing

on their green shelf of sun –
there's no need to worry

that any wave is wasted
when there's all this motion

•

along the bay there's
the promise of a new world

from each new device connect-
ed to the cable that runs

out under the wild rocks,
into the diamond space

inside those three buoys –
this is where the metal

gets salt-wet : and that's
the only true test – the problem

is elastic : what kind of roots
will grip fast with moorings

subject to ebb, flood, flux,
in a surge of such force?

•

what's solid was once liquid
as with rock and sand

which nature divided –
like us – these waves were

tugged and formed, in
slowness, slowness that

we've lost, for there's no
way to relearn the tide's

happy knack of infinitesimal
growth, except by sloshing

around, or waiting, stranded,
on the heave of the moon
Note
Billia Croo, a bay on the west coast of Orkney, is the site of European Marine Energy Centre (EMEC), where wave and tidal energy devices are tested. The misheard song is Orange Juice's 'Rip it up': 'You know this scene is very humdrum / And my favourite song's entitled 'boredom''. On Billia Croo's meaning: 'Croo is probably the same as in planticreu, and also -kro, -kreu, -krue. It derives from ON krókr, a corner, as in an odd piece of land, or a yard, but planticreu means an enclosure for a vegetable plot (to keep out animals), as does kalykro, which is the same as kailyard. Formerly it was more often an enclosure to keep animals in, like a sty.' (Alistair Peebles, 2013). Berit Sandnes notes names such as Baillie Hill and Baillieval mean hill, from böllr (ON) 'ball'; Black Craig is nearby. Solan goose: gannet
Reviews
The Road North
"Every so often I come across a book of poems that is irresistible for the absolute 'rightness' of its project; a book that has that unerring quality of integrity, craft and communication with the reader; a book that's doing something slightly out of the ordinary, but wearing that difference in an unostentatious manner. This was that book for me. A delight."--Andy Brown, 2015, 'Effacing the Ego' Stride Magazine March 2015
'The range of poetic forms explored across the road north as it riffs in and out of Oku no Hosomichi is breath-taking and even exhilarating, as though the language of the poets is responding to the diverse undulations of the landscape itself. There are delicious haiku: "if the sea knew what / it was it wouldn't / keep coming back", counterpoised by extended poetic explorations, in which, for example, the poets find "time for a skinny dip" on "wee gravel beaches / each just big enough for one", "inviting an act, a rite / done right". There's a circular visual poem, some list poems and incantatory chants. In some, the conversation and collaboration of the poets spills joyfully over into the poems: "you climbed / and you climbed, Ken! / Ach how you climbed!"'--Gutter magazine
ebban an' flowan
"Finlay makes the simple yet arresting observation, "tidal energy is/ moored to the moon". The moon is the very stuff of poets and transformation - here, from one type of energy to another - the stuff of literature. It's irresistible."--Amy Liprot, 2016, 'Island books: ebban an' flowan', The Island Review 20 January
Question your teaspoons
'Alec Finlay – whose Question your teaspoons borrows its title from Perec – has long been something of a portolano-maker, using poetry as a means to explore space – 'to name it, to trace it' – and in so doing, to inhabit it. 'The Wittgenstein House (Skjolden),' the opening poem of 2012's Be My Reader, documents the poet's experience visiting the philosopher's house in Norway in a series of sparse modernist and off-concrete lyrics, interspersed with quotations – little found poems – from Wittgenstein's own writings. Finlay's poetry establishes a dialogue with the past, augmenting old voices with phenomenological reflections from the imagistic ('Luster fjord is black / lake blue river / eddies copper-green') to the corporeal ('The damp makes me / rheumy, glandy /eyes gone bleary'), breathing life into both by means of quiet reverence and unadorned formal exactitude. More remarkable still is 'the road north,' a year-long project undertaken between 2010 and 2011 with fellow poet Ken Cockburn. Inspired by Japanese haiku master Bashō's seminal work Narrow Road to the Deep North, both men travelled Scotland for a year, composing poems and artworks occasioned by their surroundings. Blogging the results as they went, their goal was to create a 'word-map' of the country (interested readers can now explore this 'map' in its entirety). In the autumn of 2010 the poets and a few others visited Stonypath, Finlay's childhood home, and better known today as poetry garden Little Sparta. Several of the poems from that blog post appear in print for the first time here, and set the tone for a remarkable collection in which Finlay becomes a portolano-maker of memory, tracing moments of childhood with a delicate and loving precision. For those who are familiar with the garden and the work of his father, Ian Hamilton Finlay, it also offers a fascinating and lyrical insight into the other side of Little Sparta: Stonypath, the homely and familial base from which the 'sacred groves' of the garden were constructed.'--Glasgow Review of Books
'Finlay's poetry is also deeply concerned with form as central to the experience of poetic perception: "The area I work in is shared consciousness. So that can exist in a poetic form – a formal quality that we might be able to recognize together. In a circle poem, for instance, a space that we could both occupy, in looking at. We would have a relationship to it, and that might be a bit more confidently shared than a solipsistic, confessional poem, say." Finlay's inclusive approach to form is interested in joint recognition of modes as well as joint occupation of spaces. Using form to recognize and represent joint needs, desires and ways of understanding the world are central to the success of 'today today today', and to the idea of poetry concerning illness. Certainly Finlay's poems attempt to 'shape' the self, taking small, incidental observations and producing delicate poetic artefacts that comment on shared spaces of experience:
the size of a pea,
plum
or the stone
of a peach
This poem skirts around any mention of what it is that is the size of any of these – a tumour or other growth – instead tracing commonality of size through domestic fruits and vegetables as natural, nourishing substitutes for destructive illness. Here, the poem is constructed with the nouns to the end of each line, so that they hold our focus. Only 'stone' hovers, uncomfortably hard and inert introducing a sense of vague menace, that these vegetables may not, in fact, entirely obscure the tumour's reality. To lose the self to illness is difficult. To reconstruct the self, to regain a sense of 'homelike-being-in-the-world' the discussion of everyday items, items that have a form we can immediately recognize, is to understand the idea of inclusive form. The text demonstrates that wellbeing is possible, through association with natural lifecycles, domestic environments, even in the face of frightening medical events. Indeed, as Svenaeus' theory propounds, this poem is an example of keeping the unheimlich at bay through associating with other aspects of Dasein –reconnecting the larger environment.' https://poetry.openlibhums.org/articles/10.16995/biip.11/
A-E | F-J | K-M | N-R | S-Z | Complete List
« Prev Author (Norman Finkelstein) | Next Author (Virginia Firnberg) »