Authors
A-E | F-J | K-M | N-R | S-Z | Complete List
« Prev Author (Geraldine Monk) | Next Author (Marianne Morris) »
Stephen Mooney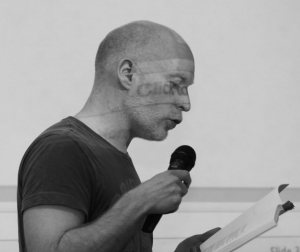 Biography
Stephen Mooney was born in Zambia, of Irish parents, and lives in London. He is a lecturer in Creative Writing and poetry co-ordinator at the University of Surrey, where he was also the Poet in Residence in 2012/13. He is an associate member of the Contemporary Poetics Research Centre at Birkbeck, and co-runs the small poetry press, Veer Books. His poetry has appeared in various places and web-places, including as part of the performative poetry grouping 'London Under Construction'. The poetry collections, DCLP and Shuddered, the latter co-authored with Aodan McCardle and Piers Hugill, were published by Veer Books in 2008 and 2010 respectively, while the trilogy, The Cursory Epic (2014), 663 Reasons Why (2016) and Ratzinger Solo (2016) has recently been published by Contraband Books.
Recordings
Bibliography
Poetry Collections
Individual poems have been published in Xcp: Cross Cultural Poetics, YT Communications Bulletin, Instant Anthology: Online, A-a-a-a-a-a, Ad ssing the Future, LUC Underground Poems, Reception, Veer Away, 'veer off', Great Works, Nth Position, Resolution Rider (Taxi Gallery), Transatlantic Howl! A Dedication to Allen Ginsberg, Intercapilliary Space, etc.
Song Work
Aesop Affable [with Michail Paliaologou] (Paxos International Music Festival, 2008)
Numb Not Memorial [with Cimeon Ellerton] (Voiceworks, 2008)
Wold Shadow/Anticipation of The Night [with Michail Paliaologou] (Voiceworks, 2007)
Performance Work
As part of the performative poetry and poetics grouping London Under Construction (LUC) , multiple performances in various mediums and in various places including: Diorama Arts Centre, Taxi Gallery, Horse Hospital, Paper Cuts, Subvoicive, ePoetics Conference 2005, The Klinker, Eton Mission, Lambs Field, Poetry Buzz, Partly Writing 3, etc.
Sample Text
Streatham Common
[ instruction: read slowly ] eyelashracture
beastviewoflondon [one word]
common leviathans
of hang
hang
hung
and ... well, ... ordinary things
still there [ instruction: altered ]
stillthere :
a sense of said
, and put my shades back on
of Streatham Commons rearing
record hereshop now, this edge
- hot work
from The Cursory Epic Pt 4 – The Crown of Kings
The legendary grasp or is it?
Porky George – YOU become the hero
356
Tory campaign office / articulates / a means of rapid escape / with your placards / derogation / standing water / take me to the top / Yog-Shoggoth for President
361
You have stabbed yourself in the / half a buttock with two eyes / Dave / You must / it's my turn / stacked / super bankers / it usually is
363
if a hero climbs up / on top of you / single-parent parasites / Porky G / if the tax code is / strike with your weapon / Ian Duncan / Syndrome / will bring balance to the / super bankers / to the tax code / Do you have a vial of / the Kingdoms
364
drive it / into their homes / Mr Osborne / spike / has utility / is asking for trouble / turn further right, or / in high heels and a wig, ok
369
Lord Tebbit / locked with a grass / a bullfrog / buuurrrp / all eyes / he says / and then / it / breaks it / in the pantry / carcass / pie / will you believe his / bitter taste / Lord Tebbit / with the meat-cleaver / in the pantry
371
descriptor / instant / health = welfare / have you eaten today? / gender / cut
374
is dressed like a woman / party ratchet / man stands there / is helpless / strike him / Lord Tebbit
384
You must fight her / her gold / her tax exile / vibro-blade / said / stiletto and suspenders / is scrounging
387
Take the right / due / Lord Tebbit / is unable to see / batter her / oh, batter her
392
Fuck me / Lord Tebbit / on the fumble table / with the meat cleaver / in the pantry / in the stockings / in the pantry / in the 18th century basque / in the coffin / Do you have a clove of garlic?
399
You say the word aloud / Lord Tebbit / we love you / in all / fiscal probability / and Porky / oozing and schmoozing
402
at the discretion of the Director / I'm coming' up, I'm comin' / Lord Tebbit / oooh / before you is a / a power figure / is it Lord Archer? / stuffed into brown / roll for it / Norman / meaty and from behind / Norman /and Conservative concession / the one for you? / There is nothing else of interest
411
Turn to / Lord Tebbit / in a hi-hat / in your backpack / whelks and lash / said / it needn't be the end of the line / oh, no! / cash for gash for
414
Lord / Baron KaiKai of Chingford / Lord / Chingford / Lord / OoOwOoO WoOo OoOwOoOOwWO oOoOoWOo
427
You do not have a / bulbous head / in a crouching / Lord Tebbit / all those hairy legs
428
Your Necromantic spell has failed / Porky George / there shall be no more / Lord Tebbit / reroll a new character and start again
432
The Random Demon table / is it / Lord Tebbit?
435
the fortress stands / and it stands, Mr Speaker / is a monument to your right / is classified / says Andrew Lloyd Webber / in the kitchen / with Lord Tebbit
439
survived the city of / has spoken / fishers of the brown trout / with only one Lord Tebbit / one Lord Archer / Do you have the password / shaft spurt / will loan you the money
441
if you like my hair / Lord Tebbit / is smoking hot / thank god! / arena players / in Tottenham / with a false bottom / Lord Tebbit / with a syringe / can you pay? / the hyperdrive
443
will offer them large, hairy / Lord Tebbit / my mother had me tested / lets get twisted / from his very grasp
446
there is no returning home / is a common occurrence / will cost 20 Gold Pieces / in a dress / and the rise of / Darth Tebbitus' / flood warning / for same sex / under the park / lights / might / put your hands up
453
William Hague / Hero Points / rumble / get ready to / priority sort / Lord Tebbit / you cannot carry two swords / in Waltham Forest
Reviews
'by the way, everyone should get a copy of estaphin's brilliant DCLP, from Veer Books . if anything could be called 'conceptual poetry' its this / but instead of being a simple poeticisation of our alienation, or a macho display of pseudo-newness / its a superb collage of language, nastily joyous & righteously exasperated, about cottaging and surveillance, using mainly found material & stuff from chatrooms etc. there's a good bit when the authorities at Canary Wharf (London's premier symbol of the occult power of capital) find out whats going on in their toilets: "men are using public toilets at the heart of the estate for homosexual sex . . . right under the noses of some of the world's most powerful companies", goes the headline. yeh, thats what 'powerful companies' are for.'--Sean Bonney, Abandoned Buildings
'Identity is something that can be stolen and abused, invented and deleted. The language in this book [DCLP] exposes this, but offers no solutions. Just before the final statement - 'XB-33 - Mlada Fronta' - we read: 'I'm not sure that piping classical music into Stratford Bus Station at ear-splitting volumes is actually a strategy'.'--Tom White, Stride Magazine
'That the ex-Pope, Donald Trump, and Han Solo continually survive as characters, despite radical inconsistencies in public declaration and perception, obviously has something sinister about it. What's the fuel of their survival, if not 'our' flesh and blood, translated into code? This book's operation is un-translation. Back to the real inside the speech. Something is happening which exceeds existing understanding and description of the operation of power, and goes beyond existing critique of language – something other than hyper-reality, hyper-instrumentality, fetishism of reference, degradation of language, 'post-truth'. Complex meldings of theology of sacrifice, business discourse, political rhetoric give some paths to follow. Ratzinger Solo shows an essential part of what it means to be inside this situation.'--William Rowe
'A key awareness opened by these texts is that the spectacle relies upon asymmetry, a fact which Mooney exposes and exploits by layering it back onto itself. Rather than exposing absences in the present by recourse to a future perspective, Mooney harnesses a magical strategy, using manifestation and repetition to force its readers to cheat a way out of their own cognitive entrapment. Unlike Debord who concedes that we must use the language of the spectacle, Mooney's stance is that language is ours if we are aware of what it is, of what we are doing. For a reader to survive these worlds in which poetry, fantasy, speculation and game constellate and clash with each other, the subjunctive orientation of conventional reading—its retrospective, posthumous direction—must undergo extinction. After all: the future is now, and our participation in the game is not optional.'--Francis Gene-Rowe and Aodán McCardle, 'Control – Information – Resistance – Game: Stephen Mooney's Antispectacular Poetry'
A-E | F-J | K-M | N-R | S-Z | Complete List
« Prev Author (Geraldine Monk) | Next Author (Marianne Morris) »