Authors
A-E | F-J | K-M | N-R | S-Z | Complete List
« Prev Author (Marianne Morris) | Next Author (Tim Morris) »
Sharon Morris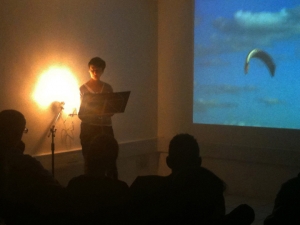 For The Oak live performance of text and projection by Sharon Morris with cello music by Anton Lukoszevieze, Crazy Wisdom, Kings Place, London, 10th March, 2009
Biography
Born in west Wales, Sharon Morris trained at the Slade School of Fine Art, UCL, where she is currently a Professor. Her artworks include photography, installations, film-poems, and live performances with projections: these have recently been exhibited in Film in Space, at Camden Arts Centre, 2013, and The Moon and a Smile, at the Glynn Vivian Art Gallery, Swansea, 2017. Her poetry has been published in a range of journals including Poetry Review and Poetry Wales, and anthologies including the Forward Book of Poetry, 2008, and Rome: A Collection of Place, 2008. False Spring, 2007, was shortlisted for the Aldeburgh Jerwood Prize for a First Collection of poetry. In 2010 she was awarded a Hawthornden Fellowship to work on Gospel Oak, her second collection, which was published in 2013 by Enitharmon Press. Her most recent publication is a series of artist's books, The Moon is Shining on my Mother, 2017, comprising poems set in west Wales published jointly by the Glynn Vivian Art Gallery, Swansea and Enitharmon Editions.
Notes
Recordings
Bibliography
PUBLISHERS
ONLINE PRESENCE
Exhibitions
'Family Portrait', tape-slide, text and projection, About Time, ICA London; Third Eye Centre, Glasgow; Arnolfini, Bristol. 1981-'2.
'Family Portrait', video, 15 mins; Franklin Furnace, New York. 1982.
'

Seascape'

, tape-slides; 14 mins. Audio Arts, Tate Gallery, 1982.
'

Requiem'

, audio work, 9 mins. Audio Arts Magazine, vol. 5, no. 6. 1982.
'

Seascape

II', tape-slide, 17 mins. Cinematheque, ICA. 1983.
'

Food as Metaphor'

, photographic installation in collaboration with Stuart Brisley and Janet Anderson, Camerawork, London, 1984.
'

Institute of Measurement and Control'

, black and white photographs text by Stuart Brisley. Spacex, Exeter and Plymouth Arts Centre. 1985.
'

We Thought We Could Walk on the Water'

, photograph and spoken text, 8 mins. Pandora's Eye, South London Gallery. 1987.
'

Where is the Moment

?', tape-slide with S8mm. film and spoken text. 14 mins. London Film Festival. LFMC. 1987.
'

The Moon is Shining on My Mother'

, installation of photographs and spoken text, 9 mins. Transformations, Chapter Arts Centre, Cardiff. 1988.
'

Each Day Everyday'

, 12 mins and 'Away Away' 4 mins. Sound and spoken text for Sound Moves, a compilation of nine women artists using sound, British Telecom Project, 1988. Sound cassette edited by S.Morris, distributed by Projects U.K.
'

Between Themselves'

, installation of 16 photographs, objects and spoken text, two 3 mins. loop cassettes. Showroom Gallery, London 1988.
'

The Sound Between'

, 22 mins. Two monitor video with text. AVE festival, Arnhem, the Netherlands and London Film Festival LFMC, '89

Green House : Yellow Lemon

, Chapter Arts Centre, Cardiff ; Spacex, Exeter ; Chisenhale Gallery London, 1989-'90.
'

Yr Ynys : The Island'

, installation of 44 photographs with spoken text 3 cassettes of 6 mins. (Solo exhibition), Ffotogallery, Cardiff. 1990.
'

Circle the Island'

, 108 photographs with mirrors, Y Filltir Sgwar, Aberystwyth Arts Centre; Rhyl Arts Centre; Ffotogallery, Cardiff, 1992.
'

Everyday'

and '

Away, Away'

cassette in Signs of the Times, MOMA Oxford and Leeds City Art Gallery, '92-'93.
'

In Touch'

no. 15

. Photo-text, black and white, in Slump, Cooltan Arts Centre, Brixton, London. 1995 (private collection).
'

Prison Riot'

, 38 black and white photographs commissioned by Director of Security for the collection of the Prison Service Museum, Rugby, 1995.
'

In Touch' no. 8.

Photo-text, black and white, Southwark Open, Cafe Gallery, London, 1995. (Southwark Collection, 1996).
London's Burning, DVD loop with spoken text, in Without Boats, Dreams Dry Up, Triangle Space, Chelsea College of Art, Feb. 24th-29th, 2012.
'The din of happiness', 16mm film-poem commissioned for 'ANTHOLOGY' by Lucy Reynolds, in Film in Space, curated by Guy Sherwin, Camden Arts Centre. Jan. 7th-14th. 2013.
'I wanted Green', 16mm film-poem, for Gospel Oak launch, UCL, Feb. 19th 2013; Cinema as Object, Slade symposium, Woburn Research Studios, March 16th 2013.
'I wanted Green', 16mm film installation, Rowing, Unit F., 443-449 Holloway Rd., London N7 6LJ; Sept. 2013.
'For the Ash: yr Onnen', The Moon and the Smile, digital photographic prints, a set of 12 scroll prints and a series of 12 artist books, images and poetry, commissioned by the Glynn Vivian Art Gallery, Swansea, March 3rd – April 23rd 2017.
Live performance of image-text works
Wish you

performance-reading for Somewhere Unseen South London Art Gallery, March, 1998
'False Spring', a sequence of text, with 16 mm. film projection, performed by Sharon Morris.
Launch of composition for cello,

Cello Blue

, by the cellist and composer Anton Lukoszevieze, based on a sonnet by Sharon Morris. Post Gallery, Los Angeles. February 14th 2004.
'For the Oak', texts and data projection, in a series on e-poetry, e and eye, Tate Modern, 30th. October, 2006; TURTLE, Woburn Research studios, 2007.
'For The Oak': live performance of text and projection by Sharon Morris with cello music by Anton Lukoszevieze, Crazy Wisdom, King's Place, London, 10th.March, 2009. Recorded version shown at Skylines, Ecopoetics festival exhibition CCANW, Centre for Contemporary Art and the Natural World, Haldon Forest Park, Exeter, Devon, EX6 7XR Haldon Forest, Exeter, June 6th-28th, 2009.
Cinema and Cimate Change, conference organised by UCL Dept, of Scandinavian Studies, Dec. 2009.
Opening of Performance Research Centre, London Metropolitan University, Sept. 12th 2011.
POLYply.5: Fear, Centre for creative collaboration University of London, RHUL, Nov.11th. 2010.
with film-poem 'I wanted green', for ANTHOLOGY Café Curio, curated by Lucy Reynolds, Camden Arts Centre. Jan. 20th. 2013
with 16mm film-poem 'I wanted green', Rowing, Unit F., 443-449 Holloway Rd., London, N7 6LJ; Sept. 2013.
'Wales new writing' a sequence of writing and audio art for Coming to Welsh with Jane Rendell, curated by Bella Kerr, Mission Gallery, Swansea, May 10th, 2013.
Poetry collections and artist books
False Spring (London: Enitharmon Press, 2007) a collection of poems 2001-2005.
Gospel Oak (London: Enitharmon Press, 2013) ISBN 978-1-907587-23-8.
The Moon is Shining on my Mother, series of 12 artist books, commissioned by the Glynn Vivian Art Gallery, and published by Enitharmon Editions ISBN 978-1-911253-32-7.
Poetry anthologies
'The Purpose of Blue' a selection of 10 sonnets in Tying the Song : A First Anthology from The Poetry School 1997-2000 (London: Enitharmon, 2000) pp.101-110. ISBN 1 900564 76 9.
'Sitting on the Fence' and

'Categorical Heart'

In The Company of Poets, anthology, (London: Hearing Eye, 2003) ed. Rety, John. pp.201-'3. ISBN 1 870841 89 1
'

For Mimi Khalvati

' and black and white photograph, Plant Care : A Festschrift for Mimi Khalvati (Sheffield/Paris : Linda Lee Books, 2004) ed. Markham, E.A., pp. 40-41. ISBN 1-872659-03-9
'The Incompleteness of Things' and

'Poor, Bare, Forked Animal'

, in This Little Stretch of Life (London: Hearing Eye and The Poetry School, 2006), pp. 53-55. ISBN: 1-905082-19-3
'

Kettle's Yard: A sequence of myth and the object'

A Room to Live In: A Kettle's Yard Anthology, ed. Yoseloff, T. (London: Salt publishing, 2007) pp. 82-91. ISBN 978 1 84471 420 9
Fold', Rome: A Collection of the Poetry of Place ed. Pursglove, G. (London: Eland, 2008) p.135. ISBN 978 1 906011 22 2.
'For the Fig Tree', The Forward book of Poetry, 2008 (London: Forward Ltd./Faber and Faber, 2007) pp.128-'9. ISBN 978 0571 23957 3 (paperback).
And the story so far. Anthology, English and Romanian arising from the poetry pRO / Univ of Bucharest collaboration, 2010. poetry pf, 2009 ISBN 9780955204012 and 9780955204029.
'Headland'. tREnD: Eine englisch-deutsche Anthologie zeitgenössischer Lyrik ed. Zank, A. (Berlin: Universität München, Lit Verlag Dr. W. Hopf, 2010). ISBN 978-3-643-10761-9 pp. 152-156. German translations by Moukrioti, C., Bross, M., and Zank, A.
'

Songs of the Aveyron and the Ariège'

: an extract. Poets in Person At the Glassblower. (Indigo Dreams Publishing: 2014) ed. Zank, A. pp.88-93. ISBN 978-1-909357-41-9
'Twice Born', Her Wings of Glass: ambitious poems by contemporary women poets, (East Preston: Second Light Publications, 2014) eds. Schneider, M.; Shuttle, P.; and Wood, D. pp.174-175. ISBN 978-0-9927088-0-1.
'

Indwelling'

, Fanfare, Poems by Contemporary Women Poets ed. French, W. and Wood, D. (London: Second Light Publications, 2015) p.103, ISBN 978-0-9927088-1-8.
'

The Will of the Heart'

, ed. Lawrence Sail, (London: Enitharmon Press, 2017).
Sample Text
Fall
feallan, fallanan, -phol --
not a question of morality,
choice or control,
that incendiary burn out of summer,
flames of maple and red pin oak,
sycamore burnt orange;
horse chestnut the first to wither, not
through drought or cold
but eaten by moths;
brown leather leaves of English oak
cleave spare to the mast of winter;
the City viewed from Hampstead Heath
as though incommensurate.
Mouldering leaves.
Rotting wood. Decay. Change
in the air.
Acorns, conkers, sweet chestnuts, beech and hazelnuts fall,
accumulate the sweet mast
of history,
when pigs and boars rooted for pannage;
seeds split open according to the laws of matter,
utterly familiar
and yet
the specifics
as unpredictable
as the way we fall in love
or into hell--
the forgotten,
the fallen.
Gospel Oak, Enitharmon Press, 2013.
Reviews
'The collection is called Gospel Oak, where the poet has lived for the past 10 years, and is full of beautifully crafted, lyrical ponderings of time, stability and impermanence…'. Andrew Johnson, Camden Review, 2013.
Karen McCarthy Woolf, Poetry London, 2013.
'Gospel Oak is not confined to the city's [London's] past. I was moved by Morris' passionate hopes for its future: "Build new London from its ruins". This collection excels in a shy music of season: "like a bell calling us, the longing/to Candlemas". … This is a poetry of patience…' Alison Brackenbury, Poetry Wales, 2013.
'Morris can do it; she can see the images.' David Constantine, Poetry London, 2007.
A-E | F-J | K-M | N-R | S-Z | Complete List
« Prev Author (Marianne Morris) | Next Author (Tim Morris) »