Authors
A-E | F-J | K-M | N-R | S-Z | Complete List
« Prev Author (Michael Farrell) | Next Author (Matt ffytche) »
Patricia Farrell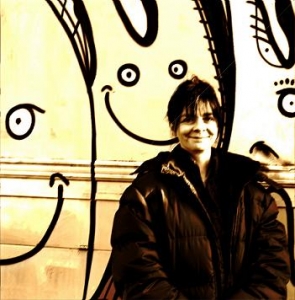 Biography
Poet and visual artist. Has produced visual work for a number of collaborative publications with poet Robert Sheppard, as well as working on pieces with the dancer Jennifer Pike Cobbing and installation artist Jivan Astfalck.
Contact: commonnotion *at* blueyonder.co.uk
Recordings
British Library 2008
This recording was made by Mafruha Mohua at the British Library on 14 May 2008.
Bibliography
Poems/visual pieces published in:
PAGES 113-120 (1987)

VerbiVisiVoco: A Performance of Poetry, (London: Writers Forum, 1992)
HORACE Whom I Hated So, ed. Harry Gilonis (London: Five Eyes of Wiwaxia, 1992)
AND No.7 (1994) garuda 3 (1994)
AND No.10 (1998)
word score utterance choreography (London: Writers Forum, 1998)
4-Pack/3: New Tonal Language (London: Reality Street Editions, 1999)
Neon Highway, issue 3 (2003)
Smoke (2003)
Stride (online magazine, 2004)
AND No.12 (2004)
the people's poet (winter 2004)
Skald, issue 22 (2006)
Shadowtrain, issue 16 (May 2007)
Shearsman, issue 73/4 (October 2007)
Great Works, issue 10 (October/November 2007)
Individual Artist's Books:
French Aster: Crown Shantung, (London: Writers Forum, 1990)
Untitled Dance Blasphemy, (London: RWC, 1991)
Turned Figure, (London: RWC, 1995)
The Four Musicians of Bremen, (London: Writers Forum, 1996)
A Space Completely Filled with Matter, (Liverpool: Ship of Fools, 2003)
The Zechstein Sea, (Liverpool: Ship of Fools, 2005)
A-E | F-J | K-M | N-R | S-Z | Complete List
« Prev Author (Michael Farrell) | Next Author (Matt ffytche) »