Authors
A-E | F-J | K-M | N-R | S-Z | Complete List
« Prev Author (Theo Chiotis) | Next Author (Adrian Clarke) »
Paula Claire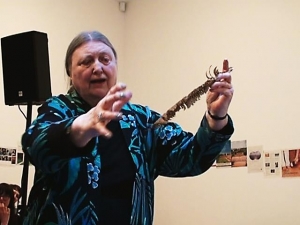 Performing Plumes for Bob; created for Konkrete Canticle performance at Bobs 70th Birthday Celebrations, ICA London August 1990. Published by PCs Little Press ICPA No 28. Bob Cobbing Tribute Evening, Raven Row Gallery London, May 2015
Biography
In May 2017 I celebrated 56 years' uninterrupted creativity. My website includes Hear My Poetry – snippets from recordings; Read My Poetry – linear examples; See My Poetry – visual poetry; an extensive autobiography of nine sections outlining my career from 1961-2009 and four YouTube slots. I kept NEWS going until 2013. My Wikipedia entry: https://en.m.wikipedia.org/wiki/Paula_Claire
MY THEMES
Extending the forms of poetry to show how the sounds of languages relate to music, how the look of languages connect with art, has been the aim of my lifetime's activities: performing, recording, exhibiting, teaching.
For me, poetry is an oral communal experience, hence I always invite vocal participation at my events. My visual expression of poetry has taken many forms: shaped poems; typewriter 'text-iles;' jigsaws, scorchmarks, photographs combined with computer graphics, 'Scrawls series' drawn direct onto the screen of my i-pad, poems in glass in collaboration with my husband stained glass artist Paul San Casciani (see Images and Artworks). To document my themes I have created 116 artists books, some unique, the rest limited editions printed on demand.
My commitment to environmental protection has resulted in performances outdoors improvising to field and place names, and to natural materials expressing our relationship with nature and research into our instinct to utter marks and text/ures as rudimentary communication systems.
I wish to have my work perceived in an international context of experimental poets worldwide. To this end since the 1970s have exchanged my work internationally to assemble my Archive from WORDtoART – PoetArtists and Performers, showing the wide-ranging approaches of fellow practitioners worldwide. This Collection is unique in GB, comprising over 6,000 items by 280+ practitioners from 25 countries. The straightforward catalogue, electronic/hard copy has taken me many years' work.
I was born in Northampton in 1939. When I began writing the year after graduating in English Hons Language/Literature from University College London (1960), I decided to use my first 2 names in honour of John Clare the Northamptonshire nature poet who wrote in the grounds near my house where I played as a child.
Headings from my website: Athens – Oxford; relationship with Bob Cobbing/Writers Forum, member of Konkrete Canticle; International Colleagues and Festivals; Founding my Archive and Little Press; Development and Synthesis of Poetry-Music-Electronics: with Steven Paxton and Musicians, Texas Tech University, and my performance Duo Resoundscore with Peter Stacey; Performance using Natural Objects, often in the Environment; Spreading the Word; 30th/40th Anniversaries of Creative Output; Recent Years (till 2009).
Recordings
Bibliography
Performances
www.otherroom.org: talk and performance of 6 poems videoed in my attic study/Archive by my husband 2012, re-presented 'From the vaults' 2016 (17.35mins).
www.magmapoetry.com Listen to my poems

Whistling Wind

and

MAGMA

from the Launch of poetry magazine

MAGMA 57

Winter 2013 Editor Ian McEwen. Contains my illustrated article on Shaped Poetry. Sound recording in Claire Booker's blog.
www.royalacademy.org.uk/event/an-aside-to-on-stage#videos Symposium convened by Sarah Jones 'the noise and voices of objects' for the Royal Academy Schools, June 2016. Morning performance: Ammonites; Phone; Luna Aria; Afternoon Performance: Trickles from the Treacle Well; Reading the Savoy; It's About Time, Hands Up!
www.paulaclaire.com LINKS: 4

YouTube

slots, 3 talking about the contents of CD

The Clue

; 1 shows excerpts from

Sunflowerpower

, interactive performance poem at Porto European Capital of Culture 2001.
www.stevewilley.com/academia/ My interview/performance in

The Sound of Writers Forum

(2010) Dr Steve Willey's film in connection with his Doctorate on Bob Cobbing.
video on Amelia Etlinger's unique fabric poems in my Archive can be found by searching under

Paula Claire Recording – Digital Collections – University at Buffalo.

www.poetryschool.com my

Sonnet in Motion

, comments by Chris McCabe, Librarian, Poetry Library Level 5 RFH London.
Bibliography
Mobile Poems, Greece (self-published, Oxford 1968)
Bob Cobbing published 19 of my works in Writers Forum, the first complete work SOUNDSWORD 1972 (8 typewriter poems for performance).
Four surveys of my work up to 2012 published through my Archive Little Press Oxford:
Catalogue One: DECLARATIONS Poems 1961-91 (nos 1- 382), intro by Eric Mottram (1991)
Catalogue Two: DI-VERS-ITY- Extending the Forms of Poetry, Poems 1991-2001 (nos 383 – 588) (June 2001)
Catalogue Three: GOING FOR GOLD Part Two: Poems 2001-2011 (nos 589 – 795), intro by Robert Hampson (2012
GOING FOR GOLD Part One: My Life in Poetry: 50 Years Sustained, intro by Mirella Bentivoglio.
I am working on

Catalogue Four

(nos 796 -1094 to date).
SEE JIG SAW an essay in/on concrete poetry. Poem objects series; 2 essays on concrete poetry; documentation from my Archive. PCA SVP No 38, Oxford 2009.
WORDS

W

ORK

W

ONDERS Anthology of 25 Selected Poems 1961-2010 to celebrate 40 Years of Performance. PCA SVP No 39 Oxford 2010.
Chapter about

Konkrete Canticle

and Bill Griffiths in

The Salt Companion to Bill Griffith

(Salt Publications, 2007)
My chapter on

Working with Bob Cobbing in the 1970s

:

CLASP: post modernist poetry in London in 1970s

Editors: Ken Edwards and Robert Hampson, Shearsman 2016 (photo of me wearing my Universe Robe on front cover).
ANTHOLOGIES/MAGAZINES (select list)
Test Tube, ed. Will Parfitt (Cardiff 1969)
Poetry Review 61.3 Autumn 1970): selection of visual poetry by Peter Mayer
Kroklok 1, ed. Dom Sylvester Houédard (London: Writers Forum 1971). Launched with performances by dsh, Bob Cobbing and me at the ICA London.
De Tafelronde, ed. Paul De Vree (Antwerp, 1971)
Typewriter Art, ed. Peter Finch (Cardiff 1972)
Writers Forum 100 with performances, ed. Bob Cobbing (London, 1973)
A; AB; ABC; ABCD; ed. Jeremy Adler (London 1972-4)
Poetry Review 65.4 (Winter 1974), ed. Eric Motram: my cover

Cucumber Wilt x 500

from my photomicrograph soundscores

Codesigns

WF 1974.
Ceolfrith Press No 26

Bob Cobbing and Writers Forum

, marking Exhibition; performances by Bob and me, Sunderland 1974.
RAWZ Editor Chris Cheek London 1977.
Alembic 7, Editors Ken Edwards and Robert Hampson, Kent 1978.
DOC(K)S Special Postcard Issue Summer 1979 with Exhibition, Lara Vincy Gallery Paris, 1979. Editor Julien Blaine, Ventabren France.
Reality Studios Vol 2 No 3 Spring 1980 Food theme. Ken Edwards London 1980.
EAR mag east. Vol 6 No 5 Fall 1981 My article

Use of the Voice in Sound Poetry

New York USA 1981. They omitted illustrations so bpNichol published it complete in

OPEN LETTER

Fifth Series No 7 Spring 1984.

The Notation of my Sound Poetry

with 13 illustrations. Toronto Canada.
Kite No 1, Editor Chris Broadribb Cardiff 1986.
LOST & FOUND TIMES No 19 May 1986, Editor John M. Bennett, Columbus OH USA.
KALDRON 21/22 Editor Karl Kempton, documenting exhibition VISUALOG 3, CA USA 1990.
Writers Forum 500: VERBIVISIVOCO Editors Bob Cobbing and Bill Griffiths WF London 1992.
UMBRELLA Vol18 1995 Editor Judith Hoffberg: her interview with me in my Archive; includes my visual poem celebrating the artistic friendship between JH, Paula Hocks (book artist) and me. Pasadena CA USA.
SYMTEX AND GRIMMER No 3 1998 Editor Chris Jones, England and Alistair Noon Germany.
My Performance Poetry article in

Reading the Applause

, NAWE and University of Huddersfield, 1999.
Sounds and Words – 8 European sound and visual poets, Marcus Edition, Naples 2006.
The Dark Would Editor Philip Davenport. Two vols: 1 hard copy; other Kindle. Manchester 2013.

THE OTHER ROOM

Anthology 5, 2013. Editors: Tom Jenks, James Davies, Scott Thurston, Manchester 2013.
MAGMA mag November 2013 My article

The Shape of Poetry

, illustrations from my Archive and my scorchmark

Magma

.
Typewriter Art Editor Barrie Tullett Laurence King London 2014.
The New Concrete Editors Victoria Bean and Chris McCabe Hayward Publishing London 2015.
The Art of Typewriting from the Sackner Archive, Editor: Marvin Sackner, Thames & Hudson London 2016.

Visual Poets in Europe

Editor Sarenco, IMAGO MUNDI Benetton Foundation, Fabrica, Italy 2016.
Six i-pad Scrawls in online poetry anthology www.alternativepineapple.com; Issue Two, November 2017.
RECORDINGS
VINYL LP:

Konkrete Canticle

: Side 2 Arts Council 1971, in connection with Exhibitions in Liverpool and Oxford
Cassettes Published by my Little Press:

Fellowship of the Green Parrot

also released by Underwhich Audiographics, Toronto (1986),

PHOS PHOR

(1987),

Automatic Doors

(1989),

Stepping Stones

also released by the bpNichol Memorial Fund Toronto (1991).
CDs

The Dundee Telegrams and other Communications

with the Steven Paxton Music Group Texas Tech University 1990. THE CLUE my poetry/music Duo

Resoundscore

with Peter Stacey, My Archive 2010.
Video

ARAU CARIA ARAU CANA

performance with children by historic monkey puzzles, Poltimore House Exeter, Spacex Gallery Children's Project 2001.
EXHIBITIONS (select list)
?concrete poetry Stedelijk Museum Amsterdam 1970; toured to Walker Art Gallery Liverpool 1971; MOMA Oxford 1972. Performance at each Opening Event
Materialisation of Language Curator Mirella Bentivoglio Venice Biennale 1978. Performance
Open and Closed Book contemporary bookarts: concrete poetry section, V&A London 1979.
Between Speech and Poetry Munster Museum Germany 1979. Performance with Konkrete Canticle
Experimental Poetry Town Hall Valencia Spain 1984.
First Festival of International Living Poetry Curator Fernando Aguiar Figuiera Da Foz Portugal 1987.
International Concrete Poetry Sao Paulo, Brazil 1988.
Visual Poetry Melbourne City Library, Australia 1990.
Homage to Gutenberg, Corona Del Sur Press, Malaga Spain 2002.
Crisis in the Countryside Spacex 3 Exeter 2002. With performance
Images of Rupture – Visual Poetry Curator: Fernando Aguiar, Douro e Vale de Coa, Portugal 2002.
OINOS/WINE Theme. European Visual Poets, Patras European Capital of Culture 2006, subsequently shown in Limassol, Cyprus.
Visual Poetry Exhibition Poetry Library SBC London 2013. With recorded performance
Sample Text
CHRYSALIS
chrysalis
chrysanthemum
Silence is golden
gilding the lily
gilt on the gingerbread
gold leaf
in the Far East
the technique of circular breathing
essential for the eloquent playing of the flute
began with the gilder's art
wafting gold leaf
with the merest of breath upon
statues of the Buddha
Here I blow on a booklet of gold leaf
Silence is golden
Etruscan grain work
the gold applied to Russian porcelain is
burnished
with the tooth of a wolf
golden opportunity
golden rain
Flight TWA 800 exploded
raining bodybits into the sea
I quote from a Sunday Supplement
'including 900lbs of theatrical glitter
that would confound the pathologists
by coating some of the
dead
in
gold'
Reviews
'Her performances produce a participatory environment of acoustics, visual signals, properties, body movements, electronic technologies and her audience and readers: events that disturb with pleasure. She invents poetry as endless creative discovery, with an ease that thoroughly disguises the effort, while leaving us to appreciate the methods. The true artist goes beyond unformulated truths, reveals the endless possibilities of imagination and forms. Paula Claire is an example of this artist and art's social necessity.' Eric Mottram, Introduction to Catalogue One DECLARATIONS Poems 1961-91 (Oxford 1991).
'Paula created a fantastic buzz during her tenure with us…and added immeasurably to the education experience of the students. They quite simple never encountered such a charismatic and intelligent advocate for concrete and spoken poetry…as I recall her engagement with my students at Oxford Brookes, I see a figure of great warmth and also great authority and purpose…she knows what poetry is good for and how to show others that vision.' Michael Corris, Professor, Meadows School of the Arts, SMU Texas USA.
A-E | F-J | K-M | N-R | S-Z | Complete List
« Prev Author (Theo Chiotis) | Next Author (Adrian Clarke) »