Authors
A-E | F-J | K-M | N-R | S-Z | Complete List
« Prev Author (Steve McCaffery) | Next Author (Luke McMullan) »
Karen McCarthy Woolf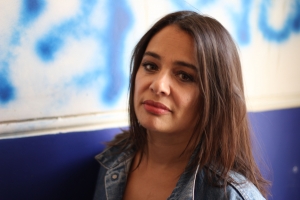 Biography
Karen McCarthy Woolf was born in London to English and Jamaican parents. She is a writer, editor and critic, whose debut poetry collection An Aviary of Small Birds was selected as a Guardian/Observer Book of the Year, shortlisted for both the Forward and Fenton Aldeburgh prizes 2015 and described in The Poetry Review as 'extraordinarily moving and technically flawless'.
In 2013 she was awarded an Arts and Humanities Research Council doctoral research scholarship at Royal Holloway, University of London, where she is investigating new ways of writing about nature, the city and the sacred. Her drama Dido of Kenwood, a fictional imagining of the life of an aristocratic mixed-race girl who lived in Hampstead in the 1760s, was broadcast as a BBC Radio 4 Afternoon Play in 2006.
Karen was writer-in-residence at the National Maritime Museum in the summer of 2015, responding to an exhibit on migration, which culminated in the collaborative publication Voyage with visual artist Sophie Herxheimer, which was described on BBC Arts as work that is 'stunningly sophisticated and subtle'.
In the last year she has represented British writing at tours and festivals that have taken her to Singapore, the United States, Sweden and the Caribbean. She was a selector for the Faber and Faber New Poets Scheme, is on the steering committee of The Complete Works – an Arts Council-funded national development initiative aimed at widening cultural diversity in poetry publishing. Karen has an active interest in cross-platform collaboration: her writing has been commissioned as an installation, selected for Poems on the Underground, produced as a poetry/choreography film and dropped from a helicopter over the Houses of Parliament by the Chilean arts collective Casagrande.
As a creative writing tutor she has worked everywhere from universities, prisons and refugee detention centres to Buckingham Palace.
Recordings
QMUL recording studio
These recordings were made on Monday 11 July 2016, at the QMUL recording studio on Mile End Road, by Andrea Brady.
Bibliography
Books (author)

Books (editor)
Magazines & Journals
Cross arts
Sample Text
Of Roadkill and Other Corpses
After the birth she spends a year and a half taking photographs of dead animals and prizes the most pristine. Her collection includes a mole, its pink, fleshy digits, spread wide like oars; an open-eyed fieldmouse with a blade of grass and a bluebottle on its flank; a hawk in a stream; a fledgling wren; a flattened rabbit in threshed straw, its hind legs splayed like an X in a crossword square; a field littered with disintegrating geese, their ribs and feathers matted to form a hardened, gelatinous web. There is also a radiant mallard surrounded by a constellation of dandelion flowers and clocks and finally, a pony on its back at the side of the road that cuts through Dartmoor. The pony's legs stick up into the air and a cylinder of dung protrudes half way out of its anus. The pony's genitalia are exposed and she can be identified as a mare.
Reviews
'[McCarthy Woolf has] a powerful command of form and rhythm.' - Alan Brownjohn, Poetry Review

'I loved Karen McCarthy Woolf's technically perfect poems of winged heartbreak' - Maggie Gee, The Observer - The New Review, 29.11.2015
'Visceral and tender, the work is also palate-cleansing, the poems fresh and contemporary.' Poetry Book Society
'Extraordinarily moving and technically flawless...Birth/death is the most mythologically charged binary. We think of Eliot's 'Journey of the Magi'. Julian Stannard, The Poetry Review
'A beautiful, painful, pitch-perfect debut.' Kate Kellaway, Guardian/Observer
'A striking combination of delicacy and directness...The poems are thoughtful, timeless and resonant.' Bidisha, BBC Arts
A-E | F-J | K-M | N-R | S-Z | Complete List
« Prev Author (Steve McCaffery) | Next Author (Luke McMullan) »